Kamala Harris' smashing of the glass ceiling is the same as Mrs Thatcher's… an irrelevance to those in society who need most help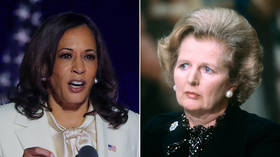 The ascent of Kamala Harris and initiatives to help women progress in politics are being feted, but are ultimately meaningless for the most disadvantaged. It's real change rather than cosmetic change that's needed.
Whenever I am told to listen for a glass ceiling shattering or to get ready to 'level up', I am sceptical. The knowledge I have of the history of my family, my community and my class, along with life experience, has taught me that glass ceilings are shattered for other people and not for working-class women.
I suppose the first time I saw the myth of the glass ceiling shattering in my lifetime was in 1979, when I was an 11-year-old girl living on a council estate, part of a family that for generations had lived a hand-to-mouth existence, as did everyone else around me.
In 1979, I left my junior school to go up to a comprehensive. I had already been told numerous times by my teachers that although my stories and writing were good, my maths and my behaviour were so bad I was considered a failure.
My final report from junior school said, "Lisa could be a clever girl if she focused on her maths… she is very poor and has no skill."
Also on rt.com
Britain's working class need a New Deal that overhauls housing, education and benefits to see them through the post-Covid crisis
At six years old, I was tested and my reading age was 13 and yet the focus was always on my poor behaviour, which amounted to arguing with the teacher, asking too many questions and my inability to sit on the carpet quietly. As a working-class girl, these attributes meant my failure and demonization were already in the post.
That same year, the glass ceiling was shattered by Margaret Thatcher, the UK's first woman prime minister, but no one in my street heard it. Thatcher's political rhetoric for many years was that she was an ordinary British housewife just balancing the housekeeping, and she could do the same for the country.
This would not have been a good sign for the women in any of the houses on my estate, because 'balancing the housekeeping' meant going without meals for themselves so the men and the children could eat, or getting their kids to wear their coats in bed throughout winter so they could pay the rent rather than buy extra blankets.
The only breaking glass we heard on our estate was when we threw stones at the windows of the factories that were starting to close just for something to do.
Over in the US, another glass ceiling has recently been smashed with Kamala Harris set to be appointed vice president, the first woman of colour to hold such a powerful position.
Also on rt.com
'I used to push for working class kids to go to university, but no longer: they are toxic institutions of prejudice'
I imagine that black, working-class women in places like Erie, Pennsylvania – a city which has one of the lowest median incomes for black families in the US – heard the glass breaking in exactly the same way we did on a North Nottinghamshire council estate in 1979.
For some, the temptation of breaking glass ceilings has been a call to arms mostly heard by middle-class women in the media and on university campuses, where there have been pushes in recent years to 'level up'.
Over in the US, we have seen the rise of EMILY'S List, a campaign that supports, fundraises and trains 'progressive women' to enter politics and become elected as Democratic party candidates.
In the UK, a similar campaign, The Activate Collective, has been set up to support women entering politics, although not through any specific political party. It receives some funding from the Joseph Rowntree Trust and actor Emma Thompson has donated £50,000 ($66,000).
The campaign's website and mission statement say that trust in Westminster politics is crumbling among the population, and consequently democracy is being threatened. As a result, it believes that politics can be reinvigorated by the election of women of colour, working-class women and disabled women. I cannot disagree with its statement.
Also on rt.com
Posh male students holding competitions to shag 'poor' girls shows the total lack of respect working-class women get in Britain
However, the promise of yet another glass ceiling being broken through business as usual – the party-political system that is part of the state apparatus which oppresses working-class people and without which it cannot survive – is implausible. It'll make as much difference as Mrs Thatcher's election did to women's rights.
Our party-political system is like a game of musical chairs. New players can sit in the seat whenever the music stops, but it's always the same game. While the intentions of these initiatives are always good, the reality is they always serve the same people and the middle class find new ways to use the advantages they already have to sit in the seats.
Real system change that addresses the true horrors of the intersection of class, gender and race is the only change that matters for those who live their lives far away from the glass ceiling in the thick-walled basement of poor education, unaffordable and unsafe housing and soul-destroying work, terrified their children's lives will be the same.
So, for me, learning, for example, that a 'progressive' middle-class woman from Cambridge University just broke a glass ceiling I didn't even know existed by becoming a professor is just another Thatcher moment – at best irrelevant and at worst another level of boss to have to put up with.
Think your friends would be interested? Share this story!
The statements, views and opinions expressed in this column are solely those of the author and do not necessarily represent those of RT.
You can share this story on social media: