Burning issue: If US veterans poisoned by military toxins deserve compensation then so do millions of innocent foreign victims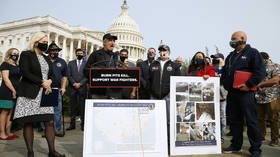 There were renewed calls this week for the US government to pay compensation to military veterans who have been sickened by toxic exposure due to unregulated waste disposal at overseas bases.
"Burn pits" are giant areas adjacent to US bases where all sorts of garbage is disposed of by incineration in open air conditions. Some of these pits can cover an area of 10 acres in which all sorts of waste is burnt with jet fuel oil, including plastics, computers and tires.
It is estimated that some 3.5 million veterans have been affected by pollution from burn pits while serving at overseas bases. Diseases associated with the pollution include brain cancer, lymphoma, chronic bronchitis and emphysema.
Senator Kirsten Gillibrand is one of the co-sponsors of a bill going through Congress which seeks to make it easier for veterans to obtain financial compensation to help with medical bills or to sustain bereaved families.
Joe Biden, who declared victory in the US presidential election, is expected to bring the issue to the fore. His son Beau who served as an army major in Iraq died four years ago from brain cancer. Biden previously told US media that he believed burn pits emitting cancer-causing chemicals were responsible for deaths among veterans, and he vowed to highlight the problem.
Speaking this week on Veterans Day, Gillibrand told CNN's Pamela Brown about "horrible cancers" that countless former soldiers have been afflicted with from exposure to pollutants that went into the air and groundwater near overseas bases.
We have a great deal of hard work left to ensure that all of our veterans are cared for. An estimated 3.5M veterans were exposed to dangerous burn pits and other toxins during their service. We have to get them the care they need. pic.twitter.com/AtJMHcauhI

— Kirsten Gillibrand (@SenGillibrand) November 12, 2020
Gillibrand, who serves on the Senate's Armed Services Committee, has previously condemned the lack of government assistance to these veterans as a "moral outrage". When she launched the compensation bill in September, the Democrat lawmaker remarked: "Burn pits are so dangerous they were outlawed on US soil, but they were used all over the world."
There are 33 countries and territories listed in the bill where burn pits are suspected of causing diseases in veterans. They are: Afghanistan, Bahrain, Burkina Faso, Cameroon, Chad, Diego Garcia, Djibouti, Egypt, Ethiopia, Gabon, Ghana, Iraq, Jordan, Kenya, Kuwait, Kyrgyzstan, Libya, Mali, Niger, Nigeria, Oman, Pakistan, Philippines, Saudi Arabia, Somalia, South Sudan, Sudan, Syria, Tajikistan, Tunisia, Turkey, United Arab Emirates, Uzbekistan and Yemen.
There is estimated to be over 250 sites where burn pits were extensively used. At a US base at Balad, Iraq, the incineration dump reportedly covered 10 acres (equal to about 10 soccer pitches).
The cause for justice for veterans is similar to that of troops who were sickened by toxic herbicides known as Agent Orange during the war in Vietnam. The Agent Orange Act 1991 provided financial compensation to cover health damage and deaths.
However, in making the case for burn pit veterans it only underscores the need for reparations to communities where these bases were located. If millions of troops were sickened from toxins spewing into the air and seeping into soil and groundwater then what about the local communities which had to endure the same toxic exposure?
What's more, the Pentagon is accused of covering up the health dangers.
Political analyst Randy Martin says that Department of Defense instructions dating from at least 1996 were well aware of environmental contamination from unregulated waste disposal at facilities. He calls DOD Instruction 4715.4 dated June 18, 1996, a "smoking gun" as it explicitly mandates pollution prevention and safe disposal of hazardous waste at all military facilities.
A 2010 report by the US Government Accountability Office on open pit burning in Afghanistan and Iraq stated: "The military has relied on open pit burning to dispose of this waste mainly because of its expedience… The continued burning of prohibited items… do not reflect current [DOD] guidance."
Indicating negligence, or worse, cover-up, the GAO report added: "US Forces in Afghanistan and Iraq do not sample or monitor burn pit emissions as provided by a key CENTCOM regulation, and the health impacts… on individuals are not well understood, partly because the military does not collect required data on emissions or exposures."
Also on rt.com
Mother of all ironies: US veterans are returning to Vietnam 'for a better life'
Veterans may well succeed in obtaining compensation in the future. But that justice is unlikely to be extended to foreign nationals who have also suffered from the toxic legacy of US bases in their countries. The Agent Orange Act 1991 does not provide reparations for the estimated tens of thousands of Vietnamese debilitated from dioxin contamination.
There is no compensation for Iraqi people who have suffered cancers as a result of the use of depleted uranium in US munitions during the war on that country.
The burn pit issue is another insult to injury. US lawmakers and comedians like Jon Stewart are vocal and plaintive in highlighting the plight of veterans, but that should also apply – even more so – to millions of other innocent victims.
Still, the question of compensation should not distract from the bigger issue of why there are 800 American military bases around the world polluting dozens of countries. The most fitting justice is for the US to close down these bases and remove its toxic boot print from the planet.
Think your friends would be interested? Share this story!
The statements, views and opinions expressed in this column are solely those of the author and do not necessarily represent those of RT.
You can share this story on social media: