'Epidemic of birth defects & cancer in Iraq after US-led war'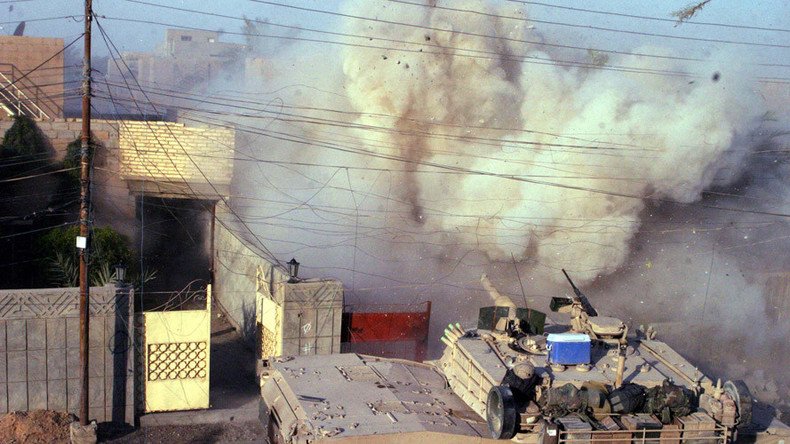 Samples taken from Iraqi children living in Iraqi cities bombed during the US-led campaign show lead poisoning, which is a result of pollution caused by American military bases and the war, says Mozhgan Savabieasfahani, an environmental toxicologist.
November 7 will mark 12 years since the beginning of the Second Battle of Fallujah in 2004, which was conducted by US, Iraqi and British troops. The US-led assault on Fallujah, a stronghold of the Iraqi insurgency west of Baghdad, became one of the major operations during the Iraq war.
It's alleged that chemical weapons could have been used during the bombardment. Many scientists and researchers believe that an increased rate of health problems among the Fallujah population, including birth defects and cancer, are consequences of those attacks.
It is still officially unknown what substances were could have been used. Only the use of white phosphorus has been confirmed by the US.
"We still do see the impact of those bombardments," Savabieasfahani told RT.
She took part in a study conducted in Fallujah in 2009-2010. The goal of the study, she said, was to see "what kinds of heavy metals we find in victims of these bombardments" and the findings revealed "very high levels of mercury and lead."
The team of researchers also spoke to 70 families who have continuously lived in Fallujah.
"I can recall clearly that some of those families – maybe 3 or 4 percent of the people we interviewed – said that they were exposed to white phosphorous," Savabieasfahani said.
Asked to comment on whether any other chemical substances were used during the US-led war in Iraq, she said, "It is really difficult to guess what has been used."
"But what I can comment on is the results of our research, which we have done in three different cities in Iraq. We have looked at samples from children and their parents, who have lived in cities that have been massively bombarded, including Fallujah, Hawija, and Basra. I am in touch with physicians in Nasiriyah. What we see in samples is very high levels of lead in children's' samples, including teeth. We see lead poisoning in the children of Iraq, who have been exposed to bombardments and other pollutants from US military bases," Savabieasfahani said.
Lead, she explained, is "a very pervasive neurotoxic compound" which has an immense impact on children.
"It causes diminished IQ. It causes various behavioral changes in the child. It is a very well-known toxic compound to development of children. We see very high levels of lead in children of Iraq, which tells us that the young have been poisoned by lead, which comes from pollution created by American military bases, as well as bombardments," the toxicologist said.
The group of researchers examined the level of lead in Iraqi children's baby teeth and discovered that it was much higher than normal.
"One individual, for example, had 50 times more lead when compared to healthy children in Iran or in Lebanon. What it tells you is that these children are living in an environment that is very high in lead, specifically, and other toxic metals. It is impacting their development and it is impacting their health. One of the most important impacts of lead is the effect it has on nervous system, on the development of the child, which will cause diminished intelligence, diminished IQ, and it has a very irreversible and terrible impact on the ability of the child to reach its full potential as a human being. This would be a very huge cost for the Iraqi government to help these children, who are being impacted by lead poisoning," Savabieasfahani told RT.
She said that a large number of articles were published by Iraqi scientists, who are concerned about the "very steep rise, very sharp rise in the number of cancers."
"To me, it seems like these two are major issues right now in Iraq in terms of public health: the epidemic of birth defects, as well as cancers," Savabieasfahani said.
The statements, views and opinions expressed in this column are solely those of the author and do not necessarily represent those of RT.
You can share this story on social media: