Trump's ban on investing in Chinese firms shows he'll keep heat on Beijing until he leaves White House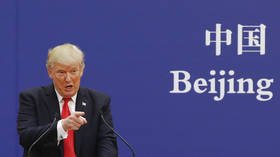 President Trump's latest executive order prohibits Americans from investing in 31 Chinese companies and is a clear attempt to disrupt Belt and Road. It illustrates there will be no easing off on China over the next two months.
On Thursday evening, Donald Trump's administration revealed a new executive order targeting 31 companies linked with China's military. The order, commencing in January, bans Americans from buying shares and investing in the firms through associated funds, although it does not prohibit dollar transactions.
While well-known companies such as Huawei and Hikvision are included, close investigation of the list of firms affected finds many are associated with infrastructure and construction, such as China Railway Construction Corp, China State Construction Group, and China Three Gorges Corporation. The designations show the administration has no intention of easing up on China in the wake of its pending departure.
Also on rt.com
Hong Kong sanctions are a 'kiss of death' for Biden from departing Pompeo, who wants to ramp up cold war with China
In the US alone, the impact of the designations will be negligible. US investors hold $43 billion in Chinese stocks and securities, and only a small portion of this vast sum can be attributed to the affected firms, which are largely state associated. But that isn't really the point.
The move has a very subtle strategic purpose, made clear by the nature of the companies involved. It is not so much about the military as it is a comprehensive effort to decouple the US from China's trillion-dollar Belt and Road Initiative (BRI), which has sought to invest in infrastructure around the world.
Trump's latest maneuver is to ensure American funds play no part in it, and to also pursue broader containment against other 'national champions', such as Huawei.
The BRI is a vast program of Chinese infrastructure investment which spans 138 countries across five continents. It has the potential to re-write the global economic order and reshape investment and supply chains in their entirety, especially on the Eurasian landmass.
Companies such as China Railway Construction Corp, for example, have pioneered new high-speed lines in multiple countries, as well as creating new freight routes which span continents, such as lines all the way from China to Germany.
Also on rt.com
China's disqualification of pro-democracy lawmakers is a calculated bid to reduce US influence in Hong Kong
It is no surprise that the program has attracted the hostility of the US, which sees it as an imminent threat to its hegemony and has sought to smear it by claiming it constitutes nothing more than 'debt trap diplomacy', whereby China deliberately engulfs countries in debt commitments to strategically control them.
Under the Trump administration, Washington has sought to pursue confrontation with China as a strategic competitor and target Chinese companies that are successful globally, such as Huawei.
Each time, it has used 'national security' as justification, irrespective of the actual facts. In doing so, it has sought to strategically limit China, firstly by depriving companies of vital US parts and components in supply chains and secondly, if applicable, by forcing them out of markets in allied countries. Some companies went on the Commerce Department's 'entity list', which prevents US tech firms from exporting to them.
Now, the Trump administration is upping the ante with a move which will stop US capital from reaching these companies, thus ensuring Americans are not willingly funding firms deemed as challenging the strategic interests of the US. The continued appetite of investors for China's markets is a headache for China hawks, and the timing of the executive order for January is designed to coincide with Joe Biden commencing his tenure as president, thus forcing him to accept that legacy.
Also on rt.com
China's new sanctions against American defence companies have the potential to cause major damage to the US military
There is zero probability the new president will reverse this, especially given he would have to face a hostile Republican Senate, with Marco Rubio praising the latest move. It would be politically untenable to do so. Thus, while it does not actually impact US-China investment ties in any meaningful way – something that Wall Street remains enthusiastic about – it nevertheless matters strategically.
Ultimately, the administration has no qualms about attacking Chinese firms that pose an explicit challenge to US hegemony in areas that matter. And according to the executive order, these 31 companies represent the backbone of not only "China's military modernization," but also play a pivotal role in the country's overseas infrastructure investments and projects. They represent a global vision the US wants to stop at all costs.
However, the Belt and Road Initiative is of course going to continue, and as Beijing tomorrow signs a landmark Pacific trade agreement with 14 other countries, there's no stopping other countries from seeking deeper economic ties with it. In light of this, the least Washington can do is ensure that America itself is not contributing to the BRI and herein lies the logic of its latest anti-China maneuver. The truth is, though, that it's unlikely to make a serious difference in the end.
Think your friends would be interested? Share this story!
The statements, views and opinions expressed in this column are solely those of the author and do not necessarily represent those of RT.
You can share this story on social media: