Pompeo's bid to woo strategically vital Sri Lanka is another example of US' growing anxiety over China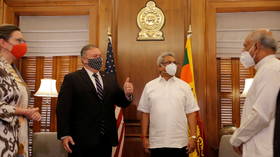 Given Sri Lanka's proximity to India and importance to international shipping, it's no surprise Mike Pompeo is trying to extend the US' influence there. But Colombo would be crazy to cut its ties with China, as he wants.
The latest stop on US Secretary of State Mike Pompeo's 'anti-China' trip across Asia was a potentially significant one: the strategically important island of Sri Lanka.
After signing several military agreements with its neighbour India, Pompeo came to the island with an unequivocal message: Beijing is bad. He told officials in Sri Lanka that China's Communist Party is a "predator" and having invested extensively on the island, it has made some "bad deals."
He proceeded to state that only the US could be a "friend" and "partner." However, whether the country's government, which has taken a very pro-China position in recent years, takes that seriously or agrees with his interpretation of its relationship with Beijing is another thing. It certainly makes for a strategic dilemma.
Given its relatively small size, Sri Lanka has been at the forefront of geopolitical interest for a long time, especially when it comes to China's extravagant Belt and Road initiative (BRI). Its location matters.
Situated in the Indian Ocean, just off the coast of the subcontinent, the island's allegiance bears a heavy weight in determining the balance of power within the region. Sri Lanka's ports link a vast region from the east coast of Africa and the Arabian Peninsula toward Southeast Asia and beyond. For international trade and shipping, this matters enormously.
Traditionally, Sri Lanka was India's very own sphere of influence and backyard, much to the island's disdain. However, its growing relationship with Beijing has changed the game. With the island becoming a key focus of the BRI and China having gained a lease over the country's controversial Hambantota port, alarm bells have been ringing in New Delhi and Washington at China's growing ability to shape the economic future of the Indo-Pacific region and the future of intercontinental shipping.
As a result, the focus on Sri Lanka and the BRI has been stronger than for other locations, because to America and India, it really does matter.
It's perhaps not surprising, then, that these strategic considerations saw Mike Pompeo turn up with one simple, yet ill-presented message: 'Don't do business with China'.
But this sentiment is not motivated by sincere concern for the island or its well-being, but to simply attempt to undermine the credibility of China as an economic partner and expand the influence of the US there. His rhetoric builds on the wider discourse of 'debt trap diplomacy', which has been associated with the island. This is the claim that Beijing's lending in Belt and Road countries is deliberately set up with terms that mean the host nations will never be able to repay China, which subsequently allows it to gain geopolitical leverage over them.
Also on rt.com
Modi playing a high-risk game as he stands firm with US and takes aim at China
It's a convenient Cold War fantasy which, as per Pompeo's comments, seeks to portray Beijing as a bogeyman to project Washington's own anxieties. But what is more important to consider is what does Sri Lanka itself think about this? And what will it do? Despite the US' vilification of China, Colombo continues to hold a warm relationship with Beijing based on a history of non-alignment and developing world solidarity.
It simply does not see eye to eye with the West on this kind of thing. China will never be 'the enemy', and it remains highly skeptical of the Western foreign policy agenda.
Thus, much to Pompeo's disappointment, the island will never buy into the 'zero-sum' portrayal of China as an expansionist threat. Beijing's investments are not only essential for the island's economic development, but having China as a player allows it to find balance and uphold its interests in dealing with India. Thus, it will keep Beijing in the game wherever possible.
If, on the other hand, Sri Lanka was to discard China and follow the path the US wanted it to take, this would result in it being militarily, strategically and economically dominated by New Delhi. As a smaller nation and, more markedly, as a non-aligned one, Colombo wants to sustain a 'best of both worlds' approach between all the related parties.
Without shutting out China, it may, for example, see the situation as an opportunity to court more money and investment from the US and India, while carefully avoiding political pitfalls and military related commitments.
Given this, Sri Lanka finds itself a key chess piece in the growing rivalry of the great powers within the Indo-Pacific region. Pompeo has come to town with some warnings, but these revolve around America's own geopolitical ambitions and aspirations rather than a call for friendship, and he doesn't disguise his motives very well. It's really not about what the island thinks, but China's clout in a strategically pivotal location.
However, the patronizing nature of his comments overlooks the fact that Sri Lanka knows better than he does what is in its best interests, and for that reason probably isn't going to jump into Washington's arms as a devout ally any time soon. And, if anything, shutting out China would ultimately damage its position even more.
Think your friends would be interested? Share this story!
The statements, views and opinions expressed in this column are solely those of the author and do not necessarily represent those of RT.
You can share this story on social media: