Obama's spin on history and 'protesting injustice' makes Biden look like he supports lawlessness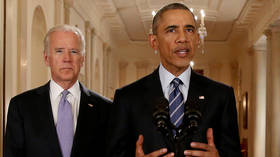 Barack Obama's recent speech backing Joe Biden made clear that people's right to protest was an integral part of US history. But there's no comparison between the American Revolution and Antifa's destruction of our cities.
Possibly the most high-profile people to have backed Joe Biden as the next president of the United States have been Barack and Michelle Obama. The former first lady cut a cynical promotional video that I've already dissected, and recently the former president was in Florida to give a speech on behalf of Biden. That speech addressed racial division in the US, and portrayed the rioting we've seen across the US this year within a frame that reeked of historical ignorance and spin.
Barack Obama is very good at spin and has a tendency to distort history to make an argument. He's like a Buzzfeed writer with a much better vocabulary. In his speech, Obama stated that "this country was founded on protesting against injustice" and that Joe Biden and Kamala Harris know how important protest is. While his claim about the founding of the US is absolutely true, comparing the American Revolution to the mass rioting led by BLM and Antifa is absolute nonsense.
The event that started the movement towards revolution in the US was the Boston Massacre, which saw British soldiers opening fire on unarmed civilians. At the time, the rights of Americans were being infringed upon by the British in ways that no citizen should have to put up with. The revolution that Americans fought for was to allow basic rights, such as freedom of speech and government representation.
A bunch of brats setting cities on fire in 2020 over perceived racial 'injustice' is not comparable, especially when you consider the recent case of Walter Wallace, who was shot after approaching police officers with a knife when they had told him to put it down. But as we have seen all year, BLM and Antifa will use any excuse they can simply to break stuff, steal stuff and hurt people. As such, Barack Obama isn't simply being historically ignorant on purpose here. He's pushing a level of rhetoric that encourages this sort of behavior. And by doing so, he fails to realize that it does not make Joe Biden look good.
Protests against injustice don't involve assaults, thefts, mass property destruction, threatening neighborhoods with a prop guillotine and passing around rhetoric about murdering cops. A line has been crossed, and a former president going out of his way to spin it into something that it is not helps no one. Anyone who has seen these events unfold or has watched them on the news is not going to be fooled by Obama's sweet talk. You can't simply deny reality in a nice tone and expect people not to catch on.
Also on rt.com
Wayne Dupree: Americans have seen this Obama-Biden team before and chose to vote in Trump. And you know what? They'll do it again
With the election being so close, you would think that Obama would understand this is not the time for these kinds of words. This is not the time to use flowery phrases to excuse bad behavior. People are upset that their mayors and governors are allowing the rioting to happen. So when the former president gets on a stage and makes excuses for it by misrepresenting a history that we hold as dear as we do, all he does is make it look like the Democratic party prefers lawlessness over the law.
I don't see that being something that people are going to vote for.
Think your friends would be interested? Share this story!
The statements, views and opinions expressed in this column are solely those of the author and do not necessarily represent those of RT.
You can share this story on social media: