Another 'hack' job? Censorship of the Hunter Biden story shows Twitter & Facebook have a big dog in the US political fight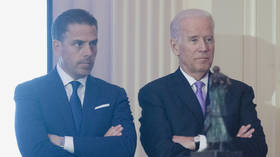 By suppressing news of Joe Biden's son's alleged emails, the social media titans have revealed their political stakes. That should make them ineligible to protections granted by Section 230 of the Telecommunications Act.
This week, the New York Post dropped a veritable bombshell smack in the middle of the 2020 presidential battlefield with a story so explosive it should have reverberated from sea to shining sea for many weeks. Instead, the news was duly squashed under the jackboot of Twitter and Facebook. The effort to smother the news backfired, though, instead kicking up a discussion of the social media giants having too much control over the spread of information that could be of interest to millions.
As most readers probably know by now, the Post reported this week that Hunter Biden had introduced his father, Joe Biden, the current Democratic presidential contender, to the head of Burisma, the Ukrainian energy firm where Hunter was a paid board member. What makes this revelation so significant is that not only was Joe serving as vice president at the time of the alleged introduction, but he has gone on record as saying he knew nothing about his prodigal son's overseas business dealings.
The rabbit hole travels much deeper, however, considering that Joe Biden publicly bragged about withholding one billion dollars from the Ukrainian government unless it removed a prosecutor who was investigating Burisma at the time. And deeper still when it is remembered that Donald Trump was impeached for simply asking the Ukrainian president to investigate Joe Biden's activities in the country.
Had the social media monsters had no political 'dog in the fight,' so to speak, the Post story would have lit up Twitter and Facebook like Saturday night at the amusement arcade. Instead, both platforms quickly yanked the plug on the story, preventing even the Post from tweeting it out. Twitter explained its decision by saying the article had violated its policy with regard to "hacked material."
That excuse does not hold a drop of water. According to the Post, Hunter Biden's emails were found in a laptop delivered to a computer repair shop in Delaware back in April 2019 – allegedly by Hunter Biden himself. When the laptop was never retrieved, however, the shop owner assumed legal ownership of the device as was his right. In other words, there was no illegal hacking of the device, as suggested by Twitter. In fact, the computer repairman was sufficiently concerned with what he had found on the laptop that he promptly handed the device over to the FBI, also providing a copy of the hard drive to Rudy Giuliani, a member of Trump's legal team.
If Twitter was genuinely concerned about the origins of the Biden email story, going so far as to block even the government's ability to retweet the Post story, then how does one explain the company's decision not to interfere with the New York Times and its exposé on Donald Trump's tax status? After all, the Times never mentioned who provided the US president's financial documents, which have still not seen the light of day. Think about that. The Post story was censored over documents it can actually produce, while the Times story was put on the fast lane to public consumption with zero physical evidence to support its claims.
Also on rt.com
Caitlin Johnstone: Imagine if MSM consistently applied the evidentiary standards it's applying to Hunter Biden's emails
Why was Twitter not suspicious that the New York Times had received hacked material, as very well could have been the case? It would be very difficult to explain that as anything other than naked political interference and meddling, which Silicon Valley and the Democratic Party, by the way, would have us believe is the sole purview of Russia.
Should Twitter and Facebook lose Section 230 immunity?
Needless to say, the Republicans, forever whining that they have been unfairly targeted by Big Tech, have called on Twitter CEO Jack Dorsey to appear before the Senate as early as next week. But we've been down this dead-end road before. Every several months, the Silicon Valley CEOs make their star-studded photo-ops in Washington, swearing up and down before Congress that they are detached, apolitical animals, with the end result being that absolutely nothing changes. Maybe this time around, concerned Republicans (and Democrats) should finally do what they've been promising for so long, and that is to deprive Big Tech of its immunity by rescinding Section 230 of the Telecommunications Act of 1996.
For the uninitiated, Section 230 grants social media companies such as Twitter and Facebook immunity from legal action taken as a result of bad information posted to its platforms. This frees Big Tech from having to perform the grueling fact-checking demanded of regular publishers; rather, they are simply supposed to serve as a free flow of information.
Yet ever since the defeat of Hillary Clinton in the 2016 elections, and the concomitant rise of Russiagate, Big Tech went against the spirit of Section 230, creating algorithms in its alleged battle against 'fake news' as a back door to creating its desired narrative. At the same time, it outsourced fact-checking to third-party organizations, among them ABC News, Snopes, Associated Press, and the Atlantic Council, each of which naturally has its own political ax to grind. With unsettling frequency, however, the ax has an uncanny way of dropping on the right-leaning creators.
In fact, back in May, Twitter even marked one of Donald Trump's tweets as potentially misleading. And now it seems that more than just the Republicans have noticed.
This week, Federal Communications Commission Chairman Ajit Pai promised to "move forward with a rulemaking to clarify" the meaning of Section 230.
Judging by Pai's past record, this may signal a new dawn for social media, in which people are granted access to platforms that do not censor their content based on political considerations, as the First Amendment demands. Instead of taking away Big Tech's immunity from legal responsibility, however, it would be best to keep it intact, on condition there would be no more monkey business with users' accounts. Nothing less than total free speech. Is this a dream too far? Possibly.
In any case, it would be poetic justice if the outcome of the 2020 presidential race between Trump and Biden ultimately comes down to the actions of a Delaware computer repairman, for repairs are certainly in order at this critical stage in US political history, dependent as it now is on Big Tech.
Think your friends would be interested? Share this story!
The statements, views and opinions expressed in this column are solely those of the author and do not necessarily represent those of RT.
You can share this story on social media: