'Son of b***h got fired': Joe Biden forced Ukraine to sack prosecutor general 'in six hours'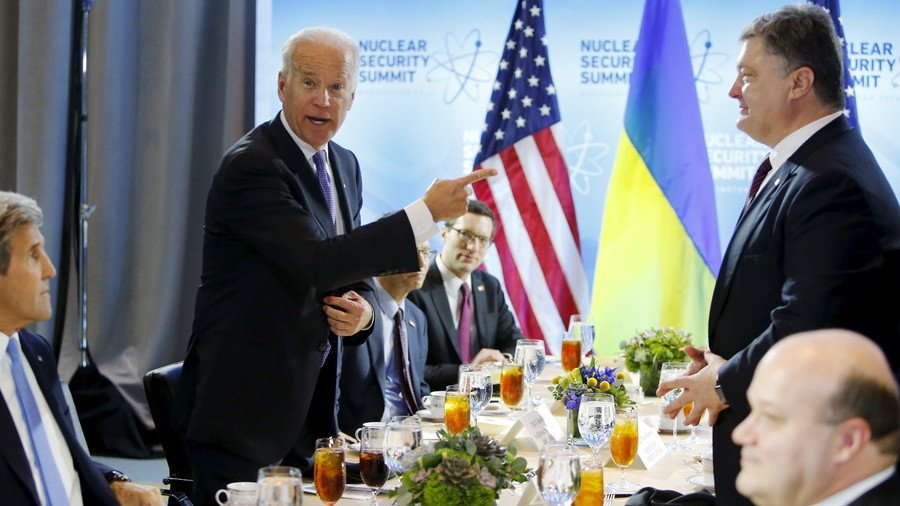 Former US vice president Joe Biden boasted that he had a word to say in another state's internal affairs, admitting to have pressured the Ukrainian government into sacking a prosecutor general in just a few hours.
"I looked at them and said: 'I'm leaving in six hours. If the prosecutor is not fired, you're not getting the money,'" Biden said during a meeting of the US Council on Foreign Relations. He was referring to Ukrainian President Petro Poroshenko and former Ukrainian prime minister Arseny Yatsenyuk. Biden added that the prosecutor was then fired.
"Well, son of a b***h. (Laughter.) He got fired."
The incident that Biden referred to dates back to late March 2016. At that time, the then-US vice president met Ukrainian government officials to discuss the situation in Ukraine as well as US financial assistance to Kiev. Biden apparently used US guarantees of a third loan worth $1 billion as a means of applying pressure on Kiev. "I said, 'I'm telling you, you're not getting the billion dollars,'" he said at the meeting on Tuesday, recalling on the incident.
The then-Ukrainian prosecutor general Viktor Shokin was indeed removed from his post by the Ukrainian parliament on March 29, 2016. Two days later, Kiev announced that Biden had met with Poroshenko and "informed him about the US decision to provide [an] additional $335 million for reforms of the security sector of Ukraine." It also said that "possibilities for providing the third loan guarantee of $1 billion" were "open." Poroshenko officially dismissed Shokin on April 3, 2016.
Earlier, Biden also boasted of other cases of US interference in Ukrainian internal affairs. In a book titled 'Promise Me, Dad: A Year of Hope, Hardship and Purpose,' which was published in November, the former vice president said that he openly demanded that former Ukrainian president Viktor Yanukovich resign back in 2014.
He also claimed that he had to direct almost every step of the Poroshenko administration after it came to power, following a chain of events that started with a coup that ousted ex-leader Viktor Yanukovich and gave rise to the Ukrainian crisis. Biden also admitted that he "had been on [the] phone with either Poroshenko or… Yatsenyuk, or both, almost every week" for months.
However, Ukraine was far from the only country pressured by Washington at that time. During the Tuesday meeting, Biden also revealed that the US administration "spent so much time on the phone making sure that everyone from… [former French president Francois] Hollande to [former Italian prime minister Matteo] Renzi wouldn't walk away" from anti-Russian sanctions.
Europe initially sought to avoid from the sanctions campaign against Moscow, the former US vice president said. He also added that German Chancellor Angela Merkel was almost the only major European leader who "was strong enough to… stand with" the US on this issue, even though she "did not like it" and supported Washington only "reluctantly."
You can share this story on social media: