Galloway: 'Long Covid' IS a thing. It may well be a long time before Trump is clear of it and it may bring Boris Johnson down...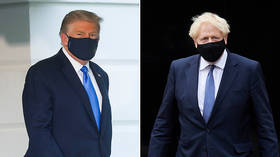 If, as we hope, the US president recovers, he will not be the same boisterous brawler he was before, judging by the post-Covid deflation of the much younger British PM, which already has seen Tory sharks sense blood in the water.
The GLE (Greatest Living Englishman), Professor Michael Rosen spent 70 days in hospital with the coronavirus, much of it in a coma. Now on sticks and talking, though not so volubly as before, he is blind in one eye and deaf in one ear. It remains to be seen to what extent the former Children's Laureate, poet, raconteur and phenomenally successful children's author will rediscover his creative mojo.
His is, apparently, a "Long Covid." Though not an official medical term, it is growing in use among the many people who have suffered the virus for more than two weeks. Sufferers have reported a range of symptoms outside the regular Covid complaints (cough, fever, loss of taste and smell), including muscle aches, memory loss and depression.
Michael Rosen·10m1. My oxygen take-up was 582. I was on a ventilator or I would have died. On for 48 days. With big blood clots in pulmonary arteries caused by Covid 3. Lost hearing in one ear, most of sight in one eye, feeling in toes - caused by Covid. https://t.co/Ryk9JvbvLU

— Michael Rosen (@MichaelRosenYes) October 3, 2020
At the time of writing, Donald Trump is in the Walter Reed Memorial Hospital in Washington, where we know he was placed on oxygen. He's the same age as Rosen though considerably less eloquent, even in good times. In the Showtime television drama 'The Comey Rule' (which for all the world would have been better on the Disney Channel), a dewy eyed-look at American liberalism and a pastiche of caricatures of everyone else, the actor playing Donald Trump played him as Neanderthal man, something not quite human.
Also on rt.com
'Roid rage'? Trump confuses internet with barrage of all-caps tweets from hospital
Like everything else in the drama, this was untrue. Trump is as human as everyone else stricken with this virus and, given his underlying conditions, it may put his health in serious danger. If he survives, he is unlikely to be the mauler he was last week in the presidential debate in Cleveland, Ohio.
Boris Johnson is considerably younger than Rosen and Trump, and more fluent in Latin than Trump is in English. But he too is half the man he was. As a Covid survivor for whom, according to his doctors, it was "touch and go," Johnson returned to work too early. Though he will have figured he had no choice with the Covid enemy at the gates, he has appeared increasingly like his 'Spitting Image' blimp but with half the air having been let out.
In the House, on television, and by all accounts in private conversation, Boris Johnson is not the man he used to be.
Also on rt.com
'A new low': SNL gloats about Trump's Covid-19 diagnosis, gets not so warm welcome on Twitter
The Conservatives – the most ruthless political machine in history – are gathering to switch off his political life-support machine. It will be blamed on the 'Long Covid'. The same men in grey suits who gathered to murder the heir apparent RAB Butler at the bedside of the stricken Prime Minister Harold MacMillan. The same men who, before my very eyes, murdered Margaret Thatcher's premiership with tears in theirs, will not tolerate their commanding position in British politics, an 80-seat majority less than a year ago, being thrown away by a deflating Boris Johnson.
He inexplicably lurches from hither to tither, blowing billions and achieving nothing either in the field of public health or in saving an economy teetering on the brink of catastrophe. All this, while failing to rally the public behind him with the faded photocopy of his once vibrant personality, have done him in.
Remember you read it here. Boris Johnson is an ex-parrot. His race is run.
Think your friends would be interested? Share this story!
The statements, views and opinions expressed in this column are solely those of the author and do not necessarily represent those of RT.
You can share this story on social media: