Trump's campaign was half dead. Catching Covid might just be the boost he needs to win the election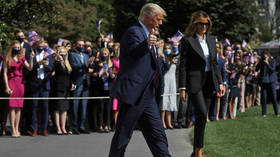 It didn't do Britain's Boris Johnson any harm, did it? Covid-19 nearly killed him, but the drama did give him a shot in the arm with the electorate. Here's why the same might happen for Trump.
So, he's finally got it himself. Flouting the guidelines of his own advisers, pretty much refusing to wear a face mask, turning up to crowd pleasing events. Lots of people in a confined space. Only two days ago, for example, the president was pictured tossing campaign baseball caps into the crowd during his campaign rally in Duluth, Minnesota.
No face mask. No gloves. Nada.
Trump seemed to really believe the thing could never get to him. The rules everyone else has to live by though, after all, have never applied to him.
He eventually got it, though.
Not re-election (yet), but Covid-19.
Donald Trump and his wife Melania apparently caught the disease from Hope Hicks, one of his closest advisers.
And the first couple now join the 7.3 million other Americans who have contracted Covid-19, and pundits – some with unfettered glee – are taking punts on the odds of him joining the US' 208,000 fatalities.
Trump, at 74, sits perfectly in the age bracket of being most at risk – and he's also obese. He's not a drinker nor a smoker and he plays regular rounds of golf, though he does zip around the holes in a buggy. He's also partial to fast food, big dollops of ice cream and big fat steaks.
The immediate political prognosis by the pundits was that his catching the disease was a disaster for his campaign to get re-elected next month. 'Trump's coronavirus infection poses political challenges for the trailing incumbent', said the LA Times headline, while New York Times wrote that it "could prove devastating to his political fortunes given his months of playing down the enormity of the pandemic."
I take the completely opposite view, however. If he survives, he could be about to hit the winning streak he so desperately needs. It could be a shot in the arm for his campaign. Literally.
It can be a win win, actually, when you stop and think about it... so long as he doesn't die, of course, which is probably unlikely.
Also on rt.com
'Praying for their health & safety': Joe Biden reacts to Trump and first lady's positive Covid-19 results
Trump's performance in Tuesday's first presidential debate with Joe Biden was, most observers agree, a car crash. A total disaster.
A similar showing at the next debate (currently scheduled for October 15) would have done nothing to help his bid for re-election. And he has another one after that too. But how can he possibly participate now? On a video call from his White House quarantine bed? Unlikely. Who's gonna do his hair?
He can say he's too sick to fight, or that quarantine killed his campaign and all that. Hey, maybe he can even postpone the election, as he mooted as an option a few weeks ago. Even political experts don't seem to know"what happens next?" in terms of the election.
This is Trump's term in office: anything can happen.
The polls have been consistent for ages now too, Trump has been trailing Biden by up to a dozen points or so – depending upon the timing and the poll. The president has consistently been hanging around the 40 percent mark.
But, here's the thing, 40 percent of Americans would probably vote for Trump – even if he was dead. Trump said it himself in 2016 during a speech in Iowa as he was running for the Republican Party nomination: "I could stand in the middle of Fifth Avenue and shoot somebody and I wouldn't lose any voters."
Most elections are not won on the extremes, on the edges. Most elections are won somewhere in the middle. And a sick president, battling back personally from illness and powering on through, rising up off his sickbed to cross the finish line on election day.... that's got to be a winner for any election strategist.
It's an easy sell.
'Trump Beat The Virus'. Bumper stickers, hats and badges are sure to be made, followed by 'Trump Beats Biden'.
The 'undecideds', those folks in the middle, surely they're the people most susceptive to such an argument. A strong man in a national time of need, what could be stronger than a man who just wrestled and beat a killer?
Boris Johnson, the British PM, contracted the disease in April and ended up in intensive care and it did, for a short while, actually seem like he was at death's door, with Foreign Minister Dominic Raab standing in for his duties.
Johnson later said staff at St Thomas's Hospital in London had saved his life. Especially two foreign nurses, Jenny and Luis, "who stood by my bedside for 48 hours when things could have gone either way."
It was a national drama, played out on TV and online. Precisely where Donald Trump is most comfortable.
Trump even said as BoJo recovered that it must have done wonders for his popularity ratings with Brit voters. Trump always thinks in ratings. Tuesday night's debate debacle pulled in over 73 million prompting a tweet from Trump: "Someday these Fake Media Companies are going to miss me, very badly!!!" The number of exclamation marks is always an indication of its importance in Trump's world.
BoJo's pal on the other side of the Atlantic isn't even in hospital. Yet. He may well recover far more swiftly than Boris did. The news so far is that the president is only suffering mild "cold-like symptoms."
To really ramp up the drama, Trump needs a spell in the hospital. His campaign needs intensive care treatment. Even resuscitation.
BoJo, though he does like a drink and a big meal, is only 56. Trump is almost two decades older. Brazil's President Jair Bolsonaro also beat the disease, but it seems he only had a very mild case. Bolsonaro is 65 and considers himself an athlete.
Did the president already have the virus on Tuesday evening? He was in shouting distance of Joe Biden, who will be 78 in November. Both Vice President Mike Pence and Biden's running mate Kamala Harris must be licking their lips, if the cards fall their way just maybe... maybe. The odds on one or the other being elected president next month have doubled since Trump announced he had the disease.
Fans of Trump, or even those people who just don't like to see a fellow human being suffer, will be hoping the president recovers.
Boris tweeted today: "My best wishes to President Trump and the First Lady. Hope they both have a speedy recovery."
Republican Party organisers will also be hoping for a speedy recovery: to the Trump campaign.
Think your friends would be interested? Share this story!
The statements, views and opinions expressed in this column are solely those of the author and do not necessarily represent those of RT.
You can share this story on social media: