Be careful! Cycling champ's fate shows that tweeting emojis in support of Trump might cost you your job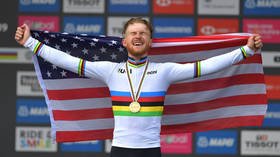 The Trek-Segafredo cycling team has suspended junior road race world champion Quinn Simmons over "incendiary" tweets that show support for Donald Trump. Is this really all it takes to lose a career today?
The first tweet in question from Simmons came in response to Dutch CyclingTips journalist José Been calling Trump a "vile, horrible man" and informing any of his supporters to unfollow her on the social media platform.
"My dear American friends, I hope this horrible presidency ends for you. And for us as (former?) allies too," Been tweeted. "If you follow me and support Trump, you can go. There is zero excuse to follow or vote for the vile, horrible man."
Simmons, who is 19, responded with the word "bye" and a black hand-waving emoji.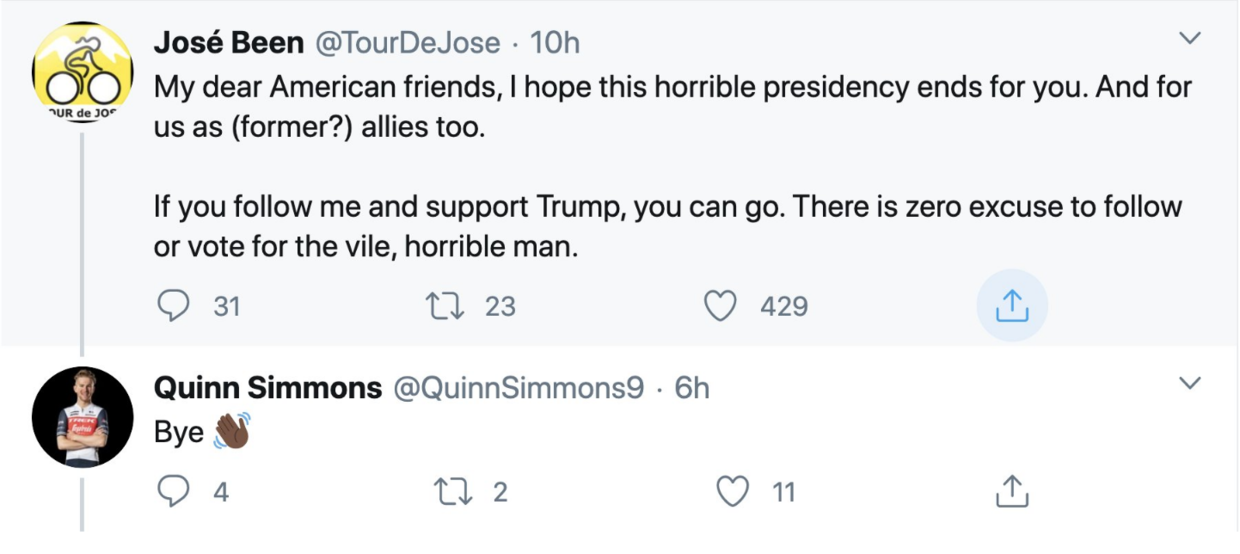 In response to another user asking if he is a "Trumper," Simmons said "that's right" and added a US flag emoji.
The riposte was so explosively offensive that Simmons' team benched him "until further notice."
"Trek-Segafredo is an organization that values inclusivity and supports a more diverse and equitable sport for all athletes. While we support the right to free speech, we will hold people accountable for their words and actions," it said in a public statement.
The company went on to claim Simmons' statements were "divisive, incendiary and detrimental to the team."
The team also slammed Simmons' tweets as "racism" and said they will "help him understand" the "appropriate tone of conversation an athlete in his position should maintain."
In response, Trek-Segagfredo does not condone comments or actions from its riders that add to divisive conversations. The Team will work with Quinn to help him understand the appropriate tone of conversation an athlete in his position should maintain.

— Trek-Segafredo (@TrekSegafredo) September 30, 2020
Trek-Segafredo claims it is for "inclusivity" but that's not the truth at all, because the "inclusivity" it speaks of does not include someone who supports Donald Trump. It makes no specific reference to what, exactly, is so "incendiary" about Simmons' tweets, so one can only assume it is the simple expression of support for Trump. The only other questionable part of his tweets is the choice of a black hand for the emoji, but since the conversation has nothing to do with race, it's difficult to see the reason behind the choice, besides pure ignorance.
This ignorance, however, has led some groups, including Diversity in Cycling, to accuse Simmons of a "form of blackface," but that is more than a stretch, considering the history of blackface compared to a digital emoji, and Trek-Segafredo makes no specific mention of this.
No, Quinn. The furore is not about your political beliefs it is about your racism. You used a black hand gesture, a form of blackface. You know the history of blackface, right? It is used by extremist racist groups. @TrekSegafredo 100% correct to suspend you. Listen and learn. https://t.co/uvxIle5bb4

— Diversity In Cycling (@diversecycling) October 1, 2020
If that really is the offensive part of his tweets, is it worth Simmons being suspended for? Perhaps a company that preaches "inclusivity" would want to sit a 19-year-old teammate down and have a conversation before throwing them to the wind and scoring easy points with liberals. If he had used such an emoji while expressing a liberal viewpoint, would he be in as much trouble? More than likely not, so critics who dismiss the Trump support as not being part of this decision are fooling themselves.
Also on rt.com
Snowflakes at Spotify want Joe Rogan canceled for 'transphobia'. His real crime is success as a free thinker
The company says it supports a "more diverse and equitable sport," but the truth is such a fantasy does not include people who back Trump. Let's compare the tweets from Simmons and Been. Her message is the opposite of inclusive. Been is literally telling anyone with opposing politics to remove themselves from her liberal Twitter bubble. Even if Simmons' tweet is offensive, it is itself a response to someone showing a clear bias and anger towards one group of people.
Going forward, Trek-Segafredo and other companies who run for the hills the second they are revealed to be keeping company with a conservative should be honest about their bias and no-tolerance policy for thought that breaks from the liberal mainstream, instead of hiding such intolerance behind virtue-signaling nonsense.
Like this story? Share it with a friend!
The statements, views and opinions expressed in this column are solely those of the author and do not necessarily represent those of RT.
You can share this story on social media: