Spoiled rich kids are driving 'BLM' rampages and are never held accountable for their behavior – just like the cops they revile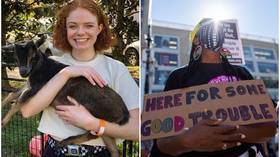 Many were shocked when a wealthy young woman was charged after a Black Lives Matter riot in NYC. But that wealth means she won't have to answer for her behavior – not unlike the murderous cops she's supposedly protesting.
Those born into wealth often grow up without ever being disciplined for their misdeeds, coddled by nannies and guilty parents and handled with kid gloves by local authorities when their transgressions can no longer be covered up. Clara Kraebber, the 20-year-old charged with first-degree rioting over the weekend after she was part of a group of eight accused of causing $100,000-worth of damage in lower Manhattan, fits the profile to a T.
Ironically, her sense of invulnerability mirrors that of the cops who killed George Floyd, Eric Garner, Daniel Shaver and every other unarmed person who's died at the hands of police confident they'll go unpunished for their crime. The 'bad apples' of the police force know they can take out their frustrations on the local population because prosecutors are unwilling to alienate law enforcement, lest they never be able to get another conviction.
Also on rt.com
Millennials can't afford property so don't care about protecting it. Why are we surprised they're setting fires and smashing cars?
But why would someone like Kraebber run around with black-bloc Antifa types intent on destroying property? She's a college student home from Rice University, which like most schools shut down in the spring due to the pandemic. She's likely bored out of her mind, being denied the usual 20-year-old's entertainments of underage drinking and partying.
And she's been protesting for years: media coverage of her latest legal troubles revealed she was at an NYC march for Ferguson shooting victim Michael Brown at the tender age of 14 and has been seeking out more radical groups ever since.
Kraebber, whose parents own not just a $1.8 million Upper East Side penthouse but also a four-fireplace mansion in the Connecticut suburbs, doesn't have to worry about the "don't s*** where you eat" directive that keeps pissed-off urban residents and small-town cops alike from unleashing their darker urges on their home streets.
The New York Post quoted several small business owners who, while they were sympathetic with BLM's message, found their approach – as seen on Friday night in Manhattan's window-smashing rampage – counterproductive. The viewpoint is one many New Yorkers who've been on the wrong end of the NYPD tend to agree with.
But like those same abusive NYPD officers, many of whom call the Long Island suburbs or the far reaches of Staten Island home, Kraebber can retreat to the safety of her family's Litchfield County mansion at any time – and, indeed, had already done so when she was contacted by the Post, which called to ask about her arrest on Saturday. She doesn't have to deal with the fallout of her actions in the overcrowded, pandemic-panicked city.
One of the rioters arrested in NYC is the daughter of an architect and psychiatrist. The family owns a $1.8 million apartment and a home with four fireplaces in Connecticut. https://t.co/MOZ0ptVSIc

— Zaid Jilani (@ZaidJilani) September 6, 2020
Even before bail reform, her family would have paid to spring her from jail, and now, they merely need to pony up for a good lawyer to get her off the hook for the four-year sentence she faces on those riot charges. And with city prosecutors – not just in New York – increasingly unlikely to hold rioters accountable for their actions, the country can expect a lot more troublemakers to bloom when they realize they can get away with anything short of murder and have prosecutors turn a blind eye.
While 'LARPing' – live action roleplaying, essentially playacting at being revolutionaries or militiamen – is a charge more often leveled at the clashing 'armies' of Trump supporters and Antifa types in Portland and Seattle, Kraebber and her wealthy brethren truly deserve the label. And even those who play lawyers in real life – New York's Urooj Rahman and Colinford Mattis, for example – have gotten into revolutionary "character," allegedly playing firebombing anarchists in the current BLM production.
But the joke's on Kraebber and her fellow 'protesters', who are doing the bidding of those same police they are supposedly demonstrating against by driving small business owners and law-abiding New Yorkers into law enforcement's arms.
Also on rt.com
NYPD's release of an attempted rape video to hype up New York's return to the bad old days of crime will backfire in the long run
Potential allies who might have come out and demonstrated against abusive cops are instead driven to call 911 as they see the black-clad umbrella-wielding posse descending on their store. Those who genuinely believe in the fight against police brutality – which is a real problem, especially in cities like New York, Louisville, Mesa, and every other metro area that has seen police kill innocent people with impunity – would be wise to condemn, even expel, the Kraebbers in their ranks.
Certainly Kraebber and her friends shouting "every city, every town, burn the precinct to the ground!" – as they reportedly did on Friday – is not going to win a lot of friends among the city's permanent residents when the police are the only thing standing between this roving mob of bored "youths" (as she herself described her protesting pals years ago) and their being able to feed their families, or keep them alive.
Because as the spoiled rich kids run around breaking windows, the violence in New York keeps growing. Five people were shot in the early-morning hours of Labor Day alone during Brooklyn's J'Ouvert festival. While the event is somewhat notorious for outbreaks of violence, this year's was over the top, wounding even a six year-old child – and has been mirrored by a massive spike in assaults and murders across the city.
New York is only sinking, and while Kraebber's parents might be able to afford to lose their investment, those who have no suburban redoubt to flee to have no choice but to live with the results.
Think your friends would be interested? Share this story!
The statements, views and opinions expressed in this column are solely those of the author and do not necessarily represent those of RT.
You can share this story on social media: