NYPD's release of an attempted rape video to hype up New York's return to the bad old days of crime will backfire in the long run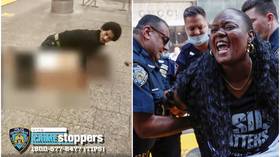 New York police, feeling the hate amid a nationwide movement to defund cops, were criticized for releasing video of an attempted rape at a subway station. Trying to create an atmosphere of fear to show their worth is a bad idea.
An apparent broad-daylight rape attempt in a subway station in New York's posh Upper East Side neighborhood, filmed by a bystander and released to the public by the New York Police Department, shocked the nation over the weekend. New York, once considered the safest 'big city' in the US, seemed to be sliding catastrophically back into the grimy, crime-ridden 1970s.
Also on rt.com
'Do as they say': Minneapolis police warn people to obey criminals for their own safety as violent crime surges amid BLM protests
Some thought the cops had crossed a line by releasing the video, filmed at the Lexington Avenue and 63rd Street subway station. In full view of bystanders, a man recently identified as Jose Reyes appears to simulate sexual activity with his 25-year-old victim after knocking her down when she reportedly got off the train to get away from him. Reyes has a sizable rap sheet, including other subway offenses, police said.
While the NYPD often releases surveillance camera still photos of suspects when seeking tips from the public to solve a crime, high-resolution videos like the latest clip are rare. Video of a crime in progress is seldom released, because even if the alleged perpetrator seen in the video is guilty, such clips bias a potential jury and may violate the privacy of both victim (who was blurred out by the NYPD before it released the clip on Sunday) and the alleged perpetrator.
So why were New Yorkers treated, without warning, to the high-resolution clip of this attack? The clarity of the video added to the shock value,and some rape victims and victims' advocates accused the police of insensitivity towards survivors. Was this deliberate?
Only the NYPD knows for sure why it posted the footage, but it reeked of attempted pushback against the "defund the police" movement famously-liberal NYC has embraced in the wake of Minneapolis police officers' killing of George Floyd on Memorial Day.
The violence unfolding in high-megapixel detail on a cop-free subway platform was a not-so-subtle reminder to the New Yorkers who've flooded the streets in recent months with chants like "All Cops Are Bastards [ACAB]" that the boys in blue are "needed."
New York is in the midst of a crime wave the likes of which hasn't been seen in decades, with shootings up more than 200 percent over the previous year - yet aside from local outlets, most US media continues to concentrate on the victims of police misconduct, rather than the work of the "good apples" in uniform doing their jobs correctly.
The subway assault can hardly come as a surprise given the suicidally stupid policies New York City has adopted amid the coronavirus pandemic. Like many Democrat-run states and cities, New York's government released over a thousand "low-level" criminals from prisons and jails as the pandemic swept across the nation, offering up the justification that prisoners needed space in order to not contract the virus. While most were locked up on minor offenses or nearing the end of their sentences, those released included dozens of sex offenders - and hundreds of them have been re-arrested since then, many more than once.
This was on top of as many as 125,000 accused criminals accused criminals set to be cut loose from pre-trial detention starting late last year under bail reform laws that stripped bail requirements from supposedly non-violent crimes including third-degree assault and promoting a sexual performance by a child. Cash bail disproportionately punishes the poor, and reform is a necessary step towards fixing the US' broken criminal justice system. However, eliminating it without a nuanced understanding of who is likely to victimize the population if released almost guarantees the streets will be flooded with emboldened criminals, overwhelming law enforcement resources.
Also on rt.com
Millennials can't afford property so don't care about protecting it. Why are we surprised they're setting fires and smashing cars?
The NYPD have long loathed New York Mayor Bill de Blasio, and previously staged a "work slowdown" in an attempt to sabotage his reform efforts. It didn't work in 2014 - crime actually went down - but in 2020, with crime spiking as a very natural outcome of soaring poverty and unemployment, the police seem to be getting precisely the optics they want. Indeed, city officials have as of Monday called for an investigation into whether the NYPD is once again staging a "slowdown" to give New Yorkers a taste of what life would be like if the police went away.
However, the city is already experiencing a massive exodus, especially of its wealthier residents - the type who live around 63rd and Lexington, where the assault took place. Sick of high rents and high taxes - and starved of the perks that typically come with city living, like arts and entertainment, quality restaurant dining and New York's once-legendary 24-hour public transit system - more and more are decamping to the suburbs or less expensive cities, taking their tax dollars with them. The city is facing an ever-larger budget shortfall, guaranteeing more cuts to services - including the police - in the future.
Thus, the NYPD, in its scramble to convince city-dwellers their lives depend on "backing the blue," may overshoot its mark and end up defunding itself.
Like this story? Share it with a friend!
The statements, views and opinions expressed in this column are solely those of the author and do not necessarily represent those of RT.
You can share this story on social media: