English Premier League's axing of $700m TV deal with China shows football is a tool in West's cold war against Beijing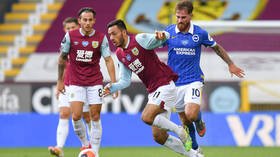 European football is in desperate need of money, having been dramatically affected by Covid. So the ending of a massive TV deal with China makes little sense - until you consider the wider geopolitical situation.
There have been a number of peculiar developments in European football since play resumed after a lengthy hiatus due to the Covid-19 pandemic. But the canning of a lucrative Chinese TV deal by England's Premier League is perhaps the clearest sign yet that we are in the midst of a unique period for the beautiful game.
Modifications like an increased number of substitutions and water breaks to keep players hydrated in rising temperatures have been odd, as has watching teams play in cavernous stadiums while canned crowd chanting plays on the broadcasts.
With European leagues on the verge of a new season, some of the pandemic regulations and baggage will be carried over, as evidenced by the ongoing drama at Barcelona following their monumental 8-2 thrashing at the hands of Bayern Munich in the Champions League semi-final.
The humiliating loss precipitated the overhaul of the Catalan giant's front office, the firesale of long-standing players and the transfer request of the club's best player, Lionel Messi.
Also on rt.com
Shameless football bosses have lost all sense of reality in the Covid-19 crisis by putting money before lives
The consequences will certainly rumble on even after the Blaugrana talisman opted to stay at the only club he has ever known, saying that no team would be able to pay the astronomical €700 million buyout clause in his contract, especially given the state of many of Europe's top teams and leagues. Messi himself took a 70 percent pay cut as Barcelona braced itself for a €154 million loss due to the lockdown.
But the Argentine wasn't alone.
Arsenal became the first Premier League side to institute a pay cut due to the Covid-19 crisis back in April, with teams across Europe taking similar steps thereafter. Some, like Champions league semi-finalists Lyon went as far as placing their team on unemployment so that the state would cover salaries.
Arsenal later announced it would lay off staff in spite of their wage cuts, angering fans while also somewhat vindicating their estranged star Mesut Ozil, who refused the cut on the grounds that he wanted to know where the money was going.
Also on rt.com
Football and politics never mix well. Shirts emblazoned with 'Black Lives Matter' legitimise the movement's extreme aims
The pandemic was also a factor in the breakdown of a controversial bid from a Saudi Arabia-backed consortium to purchase Newcastle. While various issues were being discussed and weighed up given the involvement of Saudi Arabia's sovereign wealth fund in the takeover effort, the impact of the pandemic on football was cited.
"Unfortunately, the prolonged process under the current circumstances coupled with global uncertainty has rendered the potential investment no longer commercially viable," the group said in a statement.
This came just weeks after a report showed Premier League clubs could lose upwards of £500m due to the pandemic. In addition to losses from matchday tickets, money was returned to commercial partners, including broadcasters, some of whom agreed to £330m in rebates from the UK's top division in June.
The impact of the Covid-19 pandemic on the bottom line of European football leagues will most certainly be felt across this new season, and likely for a number of seasons yet.
In spite of this seemingly dire financial circumstance, the English Premier League chose to end its contract with China's PPTV, the League's biggest overseas TV deal, supposedly because of non-payment in March. While there were reportedly weeks of negotiations, no compensation package was agreed with the Chinese broadcaster.
Wow. The Premier League has announced it has terminated its biggest overseas TV contract, with PPTV in China. Was worth $650m over three seasons. Deal terminated after one season. Another big hole in clubs' finances that will now need to be filled.

— tariq panja (@tariqpanja) September 3, 2020
Just as no team can afford to pay for €700 million for Messi, certainly no league can afford to forgo nearly $700 million in revenue when you are playing in empty stadiums. But unlike the drama at Camp Nou, this isn't just a commercial dispute, nor is it even about football.
In recent years, the United States has been increasingly concerned about China's growing influence in the world, fueled by its capacity and willingness to invest in infrastructure projects like the Belt and Road Initiative. Since the outbreak of Covid-19 across the globe, however, the enmity has intensified, with the Trump administration levying a barrage of tariffs and sanctions aimed at hamstringing Beijing.
The White House has even targeted Chinese social media outlets like TikTok and more recently, the Confucius Institute in its multi pronged offensive against the Asian powerhouse.
The Confucius Centers are a propaganda arm of the Chinese Communist Party and serve as hubs for disinformation and malign influence at American universities. Do not be fooled, they are not cultural centers. https://t.co/o9mL2s5eJz

— Secretary Pompeo (@SecPompeo) September 6, 2020
Washington has also been increasingly brazen in its efforts to pressure countries into taking more adverse positions towards China and in particular, Chinese companies and capital.
Nowhere is this more evident than the seemingly all-out war to keep Huawei out of 5G networks in North America and Europe, including in the UK. In spite of a January review determining Huawei could remain as a supplier in the country, the UK reversed its decision citing US sanctions on the Chinese telecommunications company.
Back in July, China reportedly 'demoted' Premier League matches broadcast in the country, likely signalling that the country anticipated what would happen a month later. The cold war between the west and the Chinese had entered football.
It took some time, but many of us have now got used to the obscenity of transfer costs and salaries, and will soon become accustomed to the new realities of post-pandemic professional football. So, like fake crowd noise and teams transformed into playthings of billionaires before that, we might as well accept that the sport we love will be dragged into the geopolitical morass that our world finds itself in.
Think your friends would be interested? Share this story!
The statements, views and opinions expressed in this column are solely those of the author and do not necessarily represent those of RT.
You can share this story on social media: