Shameless football bosses have lost all sense of reality in the Covid-19 crisis by putting money before lives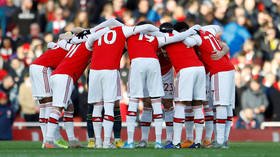 The beautiful game is showing its ugly side with pure greed driving the desire to resume playing in Western Europe. It's a waste of resources, puts players at risk and fans shouldn't accept it.
"It's bollocks. Football shouldn't even be spoken about coming back until the numbers have dropped massively."
Crude as it may be, the words of Newcastle United and English international defender Danny Rose convey the only view that is correct.
Yesterday, England's Premier League – the richest in the world – held a summit about how to solve the issue of concluding its 2019/20 season.
The arrogance of these prawn-sandwich eating suits is staggering. While they sat there pontificating about a game, the UK's death toll was continuing to rise, hitting 32,065.
The daily increase was 210, the equivalent of nearly 19 football teams.
To put that in perspective, that would mean every player dying from all bar one of the 20 clubs in a normal set of fixtures in the English Premier League.
The league's chief executive Richard Masters said: "Whatever happens, there's going to be significant loss of revenue for clubs. That is inevitable."
Also on rt.com
Back in June? English Premier League could potentially return as soon as JUNE 1 as UK government gives green light
Where are the morals?
It shows the lack of morals in football that when British healthcare workers are battling to save lives with a severe shortage of Personal Protection Equipment, this excuse for a leader is appealing for sympathy for financial losses.
Doctors and nurses are wearing swimming goggles as they can't get proper visors and have to reuse single use masks and gowns while they do all they can to save as many lives as possible.
Britain's biggest selling newspaper, the Sun, reported on the meeting with the headline 'Money Talks'. Apparently, the clubs have already lost £375million from broadcasters, and if they were not to play again this season it could rise to £762million. But the deals covering 2019 to 2022 are worth a staggering £9.2billion. And the top players make £350,000 a week.
Either way, even talking about money is vulgar as people die.
Long-time footballer reporter Mark Irwin referred to the financial losses in his column as "the Sword of Damocles."
It's a sport. Lose money and shut up.
Also on rt.com
Premier League's 'Project Restart' plans face more scrutiny as Brighton see THIRD player test positive for coronavirus
Putting players at risk
Aside from pure financials, there's also the question of players' safety.
Germany's Bundesliga makes its return this weekend – the first major league in Europe to do so. Even though Germany has a fairly low number of deaths (7,661 at the time of writing), what are they thinking of?
The entire Dynamo Dresden squad had to be quarantined a few days ago after two players tested positive for Covid-19.
Over in Spain, which has been ravaged by the virus, footballers are training as the plan is to restart the league in June. But this week, five players across the top two divisions tested positive.
And in England, EPL side Brighton confirmed another of their squad has Covid-19, the third positive result since the pandemic began.
Also on rt.com
Which of Europe's footballing elite could be the biggest WINNERS and LOSERS from the coronavirus chaos?
Portugal hopes to get going soon, too, but midfielder David Tavares from champions Benfica was asymptomatic and shocked when his results showed he had the virus this week. Three others at rival club Vitoria Guimaraes also tested positive.
And all while self-isolation has been in place.
Household names such as Manchester City's Kyle Walker have hardly helped the game's PR effort. He was caught having a party with sex workers and then drove across England to visit family members. Another, Jack Grealish of Aston Villa, crashed his Range Rover into parked cars the morning after a late-night party with friends, resulting in the police attending.
There have been other guilty parties too, highlighting the sheer hypocrisy of football with many of the players involved using social media to urge fans to obey lockdown rules.
Waste of resources
Of course, if footballers are to go back onto the pitch, they will need to be tested for the coronavirus, repeatedly. Those resources and valuable tests have to be taken from somewhere else to be used on footballers.
Let's end this abhorrent practice now.
Give the tests to older folks in care homes who badly need them, give them to medics who need the all-clear to help others, give them to teachers so maybe schools can reopen.
Forget the professional athletes who are only being tested so they can generate revenue.
Sadly, some of the players are all too aware of this and feel like they're being marched back onto the field of play with a cattle prod.
In Germany, the players are staying in hotels – shut off from anyone else. Hold on to your hats, as official regulations state they are to even make their own beds to avoid unnecessary contact with anyone else.
The games will be played in empty stadiums for the same reason. Manchester City's star striker Sergio Aguero admitted: "The majority of players are scared because they have family, they have children, they have babies."
Also on rt.com
'Truly sorry': Liverpool shamed into REVERSING staff pay decision during coronavirus crisis
Are players supposed to avoid their kids in case they've contracted Covid-19 during games or at training?
And what about older parents or grandparents?
There's also the issue of BAME people being four times more likely to die from the virus, according to research.
Even when socio-economic factors are taken into account, black people still have double the chance of losing their life compared to a white person, with other ethnicities not far behind.
Are we seriously asking some players to take a greater risk with their own mortality due to their skin colour, with a virus we don't understand and have no vaccine for?
A pointless exercise
All in all, you can't escape the overriding question: What is the point of all of this?
Football is known as the people's game. But the vast sums of money in Europe's major leagues mean that it stopped being that a long time ago.
Ticket prices are so high, the vast majority of working-class parents can't afford to go with their children. To watch it on TV, you need to fork out for multiple subscription packages – again, beyond the budget of many families.
Plus, the return of games is all going to be behind closed doors, so no fans will be there anyway.
What is expected to happen, as was shown with games pre-lockdown but without a crowd, is that supporters will congregate outside the stadium anyway.
Also on rt.com
Sterilized balls & silent stadia: 10 ways football will be VERY DIFFERENT when it finally returns
So to recap, the football world's idea is to trap players and coaches in a bubble, lock them in hotels so they can't encounter anyone else, shuttle them to and from games on sterile buses, let them play matches in empty stadiums and ask them to trust they won't contract Covid-19.
And we're doing all this while corpses pile up so some billionaire fat cats can avoid losing money.
Football is proving that it's no longer the beautiful game, it's a self-centred cesspit of greed.
Summing up, just how twisted was the recent ludicrous contribution from West Ham United's vice-chairman, Karren Brady?
Lauded as a businesswoman, and even a member of Britain's House of Lords, her big input was letting the public know that she was working hard on devising a way to disinfect the grass at her club's stadium, the site of London's 2012 Olympics.
Seriously?
Mr. Rose was spot on, it's bollocks.
Like this story? Share it with a friend!
The statements, views and opinions expressed in this column are solely those of the author and do not necessarily represent those of RT.
You can share this story on social media: