Ahead of a vital election, Trump has called on Biden to take a drug test. Why don't BOTH old guys take this idea seriously?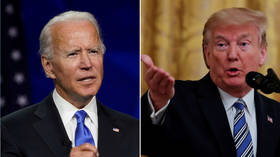 With just over a month to go until Donald Trump and Joe Biden square off in the first of three presidential debates, Trump made a typically bombastic demand of Biden: that the former VP be drug tested before the showdown.
The president argued that Biden "wasn't even coherent" throughout much of the primary season, before suddenly sharpening up when he faced Vermont Senator Bernie Sanders. "It wasn't that he was Winston Churchill because he wasn't," Trump said, "but it was a normal, boring debate … We are going to call for a drug test because there's no way – you can't do that."
Also on rt.com
We gotta talk about Joe Biden's cognitive decline because his US media cheerleaders won't… it's so like the sad fate of Brezhnev
Trump's comments were seen by some in the media as another jab at Biden's mental state. After all, the former vice president often forgets where he is and what he's talking about, blunders through speeches, and slurs his way through simple sentences. Trump has capitalized on this, dubbing Biden "slow Joe" and jeering "he doesn't know he's alive."
Joking aside, what if Trump is onto something?
Consider for a moment what's at stake here. This year's election has been described by politicians and pundits on either side as the most important in recent history. In a speech at the Republican National Convention this week, Trump himself called it the "most important election in the history of our country," while Sanders, now drumming up support for Biden, called it a chance to remove "the most dangerous president in American history" from office.
Fond as they are of hyperbole, neither man is wrong. A victory for Biden is a chance for the Democratic establishment to reassert itself and prove that Trump's shock win in 2016 was an aberration, and a minor speed bump in the long march of the progressive left. Likewise, a win for Trump would send the Washington elite into a tailspin and give him carte blanche to implement his 'America First' agenda, this time free of Russia investigations, impeachment hoaxes, and all the myriad efforts to oust him from office.
Shouldn't both sides be sending their best and brightest?
Also on rt.com
Beset by rioters & criminals & ruled by shady oligarchs, here are 6 reasons why my beloved USA is becoming a banana republic
Also a factor is age. Trump is 74 years old and Biden 77. If elected, Biden would be the oldest president in history, and would assume office at the same age Ronald Reagan left the White House - himself exhibiting the telltale signs of Alzheimer's disease. If Trump wins, he'll beat Reagan's record by one year.
Ten percent of white Americans over the age of 65 suffer from Alzheimer's and related dementias. After 65, the risk of dementia doubles every five years. Even if Biden was speaking coherently, he would have a one-third chance of developing dementia by the end of his first term. Likewise, while Trump may appear sharp, he's twice as likely to be losing his marbles now than he was in 2016.
Modern drugs can mask the symptoms of cognitive decline fairly well. Donepezil, Galantamine, Memantine and Rivastigmine are all used to boost memory, attention and the ability to perform simple tasks – like using a phone. Aside from these prescription medications, a candidate looking for a quick pre-debate fix could swallow some Adderall, a legal amphetamine that boosts cognition, short term memory and attention span, not to mention whatever experimental cocktails these two might have access to.
Also on rt.com
Democrats think a political discussion with Cardi B is a path to victory, but Joe Biden can't even handle that
I'm not suggesting that either candidate is a chattering speed-freak. Trump's opponents have beaten that drum before, accusing the president of railing Adderall every time he sniffs in a speech. Biden, on the other hand, looks like a man who could use an infusion from Doctor Feelgood.
But it would be nice to know for sure. Most Americans would likely balk at the idea of sending a medicated husk to negotiate with allies and outwit adversaries. Let the two men competing for this position lay their cards on the table, and let the American public use this information to inform their decision.
After all, this is the leader of the free world we're talking about, the man who, with a flick of his finger, could doom the planet to nuclear holocaust. It's probably best if this leader remembers where he left the tapioca pudding.
Like this story? Share it with a friend!
The statements, views and opinions expressed in this column are solely those of the author and do not necessarily represent those of RT.
You can share this story on social media: