NBA ratings slip, but UFC is on a steady rise – are politics to blame?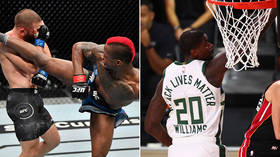 The NBA, the world's 'wokest' sports league, is seeing its ratings in continued decline. Meanwhile, the UFC's 'prelim' ratings are on a steady rise, which begs the question: do people want politics with their sports?
The National Basketball Association isn't exactly roaring back to business after the coronavirus lull. It's TV ratings are seeing a decline in the millions, no doubt with a corresponding hit to the pocketbook. This corresponds with a ramp-up of political messaging, up to and including putting Black Lives Matter on the courts. As it has gone on and they haven't let up, ratings seem to be stuck in a lull. It doesn't seem that millionaire athlete LeBron James spouting about being afraid to be black in America is resonating with viewers. They'd rather just see someone put a ball in a hoop over and over again.
And that's exactly what they're deprived of when NBA postpones playoffs because of a political stunt by Milwaukee Bucks, who refused to show up in solidarity with BLM protesters. The most vocal, LeBron James' Los Angeles Lakers included, have called to cut the season short altogether.
Also on rt.com
Division in the NBA protest ranks? LeBron James 'adamant' about canceling playoffs following 'tense' boycott meeting
Meanwhile, the UFC's prelim bouts have seen an increase in viewership. It continues to go up from 900,000 average viewers to 1.173 million. Now, preliminary fights for the UFC very rarely have any star power to them, unless it's the final bout on the prelims. At that point, you may see a promising up-and-comer or someone on the bottom end of the top ten. The real meat is on the pay-per-view, obviously. Such an increase is uncanny, but there is a theory to why we are seeing this rise.
Though Dana White is a friend of Donald Trump and has defended him in public, UFC broadcasts are largely apolitical. The broadcasters keep the discussion solely on fighting, and that's it. You're not going to hear anything about BLM, Joe Biden or Donald Trump. You can expect to get the analysis and the play by play. There are no BLM slogans anywhere instead of ads on the Octagon. The social media profiles stick to the combat as well. It's a nice departure from what other sports are doing.
This supports the general theory that "going woke" for an entertainment or cultural outlet leads to going broke. Though that statement isn't accurate 100 percent of the time, there's definitely some validity to it. Politics are not a fun thing to think about. Nobody wants to start discussing abortion law or the application of John Locke's philosophy to politics while they're watching the Super Bowl. You don't want to be that guy at the party, because you're going to be seen as a major downer. So when you're putting "Black Lives Matter" on your play area when people chanting those same words are burning cities, it's not the best look.
The UFC is a great example of focus on product. You know what you're getting, and it's reliable. Someone is going to get punched in the head, and someone may tap out. You may even see a bone break. Fun times for all! There's a security in the programming that you're just not getting with other sports. With the NBA at this point, you may as well watch replays of the DNC or overlay a Joe Biden speech with the programming. It's just not fun to watch.
If you can't make it fun to watch, people will tune out. People go to sports to escape. If they can't escape to what you're offering, are you worth anything at that point as entertainment?
The statements, views and opinions expressed in this column are solely those of the author and do not necessarily represent those of RT.
You can share this story on social media: