Belarus is a chance for multilateralism and European integrity to prevail – unless the US co-opts it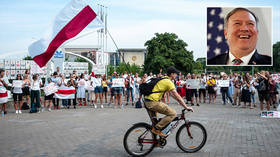 What is unfolding in Belarus is a grassroots movement – but there's a danger of it being co-opted by America's campaign of pressure on Russia. As long as it isn't, though, the events could be a step to genuine European integrity.
On February 10, 2007, Russian President Vladimir Putin delivered a famous speech at the Munich Security Conference in which he described the dangers of a unipolar world order under the hegemony of the United States. Seen in Russia as a "prophetic" speech to describe the trajectory of modern diplomacy and in the West as the moment Russia diverged sharply from the North Atlantic Treaty Organization (NATO), it's hard now to deny Putin's assessment as it relates to events around the world.
"The [unilateral] model itself is flawed because at its basis there is and can be no moral foundations for a modern civilization," Putin said at the time.
If this statement wasn't obvious before, certainly the year 2020 has vindicated Putin. The administration of US President Donald Trump, in the middle of a global pandemic, is edging the world closer to a new Cold War on an almost daily basis. Secretary of State Mike Pompeo has categorized the conflict as one of "freedom versus tyranny," in the exact dualistic mindset that Putin referred to in Munich in 2007 as "live ammunition" left over from the Cold War of the 20th century.
American allies, many of them NATO members, understand what's going on. Last week, Secretary Pompeo embarked on another European trip, visiting the Czech Republic, Slovenia, Austria and Poland to beat the war drums against Russia and China – forcing the Central European countries to take a side. But the trip didn't pan out as he hoped.
"I came here to remind the Czech people that we stand prepared to support you if those countries [Russia and China] try to bully you, we'll be right there, alongside of you," Pompeo said in Prague on the first leg of his trip.
"We are a sovereign country and I do not see any substantial threat here," Czech Prime Minister Andrej Babis said, standing next to the secretary.
"When it comes to Russia and China, we follow the same line as the European Union. We share the same opinion as our allies. But we don't have a major problem here."
Pompeo was thoroughly snubbed while in the Czech Republic. The EU member state refused to sign a memorandum that would have guaranteed a government contract for a new unit at the Dukovany nuclear power plant to an American firm over Russian or Chinese bidders. The Czech prime minister also reiterated in an interview with local media after the secretary left that the Czechia would not exclude Huawei from its 5G development.
This was not the only leg of his trip that ended unfavorably – pretty much nothing turned out the way the Trump administration wanted. European leaders are realizing that America is not a stable ally and that unilateral actions are a threat to European integrity. Certainly, however, there are contentious issues that deserve attention and aren't imported from abroad, the situation in Belarus being one.
Peaceful protests have swept the Eastern European country, only growing after President Alexander Lukashenko secured his sixth term in an election widely understood to be fraudulent. For his part, the embattled president has made clear that another election will not take place but is willing to accept a constitutional referendum in the future that could lead to one down the road.
While certainly a grassroots effort against the perennial leader, there lies a serious problem in the uprising in Belarus – the lack of a clear ideological direction from the opposition and a potential power vacuum that could further escalate tensions between Russia and NATO. There's no doubt that Western operatives have long been active in the country – groups backed by the US, American propaganda networks and the like.
An army of reactionary pundits in the region are watering at the mouth over these developments, eyeing escalations with Russia – who Lukashenko claims will guarantee his government's security – as an endgame.
The previously mentioned Czech prime minister, who is pushing for an EU-level response to the situation alongside Polish Prime Minister Mateusz Morawiecki and others, said this week that Belarus is ripe for a revolution similar to the Czechoslovak Velvet Revolution of 1989. This is alarming, indicating a potential 'color revolution' at play that could see the genuine democratic struggle in Belarus end in a neoliberal hellscape if co-opted by foreign powers.
Despite its lack of ideological clarity, however, the opposition has maintained a pragmatic position on international relations.
Also on rt.com
Lukashenko says videos of Russian troops in Belarus are 'fake' – Minsk more worried about NATO movement in Poland & Lithuania
"Our official position is that we will maintain friendly, transparent relations with Russia. We are focused on pragmatic work and partnership with all countries,"said Maria Kolesnikova, a representative of the Viktor Babariko election camp, and member of the newly-formed power transition council.
Meanwhile, the EU and its most powerful member states have only called for a new, internationally observed election – not regime change. Even the Czech prime minister has flatly denied any involvement from the worst actors of all, the Americans, saying that it's a strictly European affair and that Belarusians must determine their own future – apparently a common position of the Visegrad Four (V4) made up of Hungary, the Czech Republic, Slovakia and Poland, according to him. So-called nation building of the American style doesn't seem to be on the agenda.
The sum of these developments may seem hopelessly convoluted, and the opposition may appear to be ideologically empty, only waiting to be co-opted by a foreign power, but without American involvement diplomacy could ultimately prevail.
There is no question that Lukashenko has lost the long game despite winning the election; these protests will not end in a dud and possible EU sanctions without a fresh election would only plunge the country into more chaos. At the same time, Russia will almost certainly not enter Belarus to prop up Lukashenko as some speculate – Russia and Belarus are brotherly states, not Russia and Lukashenko.
From this perspective, the situation in Belarus is actually a perfect chance for the EU and Russia to cooperate in foreign policy to ensure stability without ruinous American involvement. And perhaps more important than this discussion of geopolitics is that, without such meddling, the Belarusian people are much more likely to secure a leadership, still under the same basic framework, that is accountable and adaptable. This would be a serious victory for European integrity and peace in the region.
Think your friends would be interested? Share this story!
The statements, views and opinions expressed in this column are solely those of the author and do not necessarily represent those of RT.
You can share this story on social media: