S. Korea is amassing military power to be 'a mid-sized shark with sharp teeth'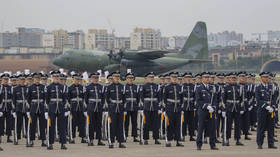 Seoul's new national defense plan for the next five years will see $250 billion spent on missiles, subs, fighter jets, and its first aircraft carrier. It's an ambitious plan that has wide geopolitical implications.
If you think South Korea only excels at churning out slick smartphones and feminine-looking boy bands, you are wrong. Last week, the Republic of Korea's Ministry of National Defense released its Intermediate-Term National Defense Plan for fiscal years 2021 to 2025. The blueprint calls for military spending of 300.7 trillion won ($253 billion) over the next five years, with a substantial portion of the money earmarked for developing and manufacturing an array of impressive weapon systems.
Among the high-end weapons South Korea plans to develop are its own interceptor system, similar to Israel's Iron Dome, to defend the country's core infrastructure against North Korea's long-range artillery threats. The Defense Ministry will also order a variety of missiles to equip South Korea's indigenous fighter jet, the KF-X, which is a 4.5 generation aircraft currently under development.
The KF-X project is the largest undertaking ever by the South Korean defense industry, with some $15 billion earmarked for it and with the end product set to be delivered to the Air Force in 2026. Another project involves the establishment of an independent South Korean GPS. The South Korean military is expected to gain an expanded tactical capability once it has its own GPS.
The government also plans to roll out enhanced ballistic-missile submarines in the next five years that would be capable of carrying more missiles than their existing Dosan submarines, which have six launching tubes. South Korean defense officials have hinted the new subs could be powered by nuclear reactors instead of diesel fuel, thus introducing South Korea into the exclusive club of nations capable of building nuclear-powered submarines.
Seoul's list of planned military acquisitions is complete with the country's first aircraft carrier, getting South Korea into another prestigious geopolitical club, consisting of those nations who can build and operate flattops. The 30,000-ton carrier will be equipped with US-made F-35B fighter jets, which have short takeoff and vertical landing capability.
No longer a shrimp among whales
Maintaining 600,000-strong armed forces and rolling out increasingly sophisticated weapons, South Korea is already quite a respectable military power. It needs a strong military in order to deter North Korea, which is still Seoul's main designated adversary. A 'surprise attack' from the North is considered the chief military threat.
But it is not only about the menace from the North. The Republic of Korea's Defense White Paper refers to "omnidirectional security threats," hinting at the major power neighbors situated to the west (China) and the east (Japan). Tellingly, one mission for South Korea's aircraft carrier will be to "enable the military to more effectively suppress threats and dispatch forces and materials to a disputed region in the sea." Seoul, of course, has a long-standing dispute with Tokyo concerning sovereignty over the Dokdo (Takeshima) islands in the Sea of Japan (called the East Sea by Koreans).
It looks like South Korea no longer wishes to suffer in its traditional role of "shrimp among whales." It cannot become a whale itself, but it could turn itself into a mid-sized shark with long sharp teeth. South Korea's defense industry is now sufficiently advanced to grow such deadly teeth for the nation's military.
South Korea has emerged as one of the very few countries able to make sophisticated military hardware across the three main domains (land, sea, and air), even though many of its defense products are still based on Western (mostly American) designs and use Western-sourced technology. The defense industry with its rising exports is viewed by Seoul as a new growth engine for the economy. Furthermore, the ability to produce state-of-the-art weaponry boosts international prestige, which is important for a nation obsessed with its advancement in global rankings.
Also on rt.com
If the West keeps sidelining Russia, it could create a giant North Korea and land in big trouble
Toward an armed neutrality?
It is clear that Seoul will continue to increase its military capabilities. What is far less certain, though, is South Korea's future strategic posture. Since the late 1940s, the ROK has been firmly aligned with the US, being a junior partner in the alliance with Washington. Due to that subordinate position, South Korea has little choice but to follow Washington's line when it comes to major issues of international politics and security.
South Korea's limited sovereignty vis-à-vis the US is an open secret, albeit never recognized publicly by high-level politicians, South Korean or foreign. It fell to Russian President Vladimir Putin to call a spade a spade. In April 2019, at a press conference after meeting North Korean leader Kim Jong-un, Putin referred to Seoul's "shortage of sovereignty during the adoption of final decisions."
Putin's undiplomatic bluntness was likely caused by Moscow's dissatisfaction with the results of economic cooperation with Seoul. In 2017, President Moon Jae-in declared the New Northern Policy to expand trade and investment with Russia. Yet almost nothing came of Seoul's pledges of economic projects, with the Kremlin suspecting – for good reason – that the South Korean government was afraid to move forward because of the mounting anti-Russian sanctions imposed by the US.
To underline Moscow's displeasure, a few months later, a Russian military aircraft reportedly breached South Korean airspace over the Dokdo islands, the first violation of the ROK's airspace since the end of the Korean War.
Of course, it is not Russia that will move Seoul to decide its strategic identity. There are much more powerful forces at play that could push the country toward more independence – and away from allegiance to the US. One force is Korean nationalism. Unlike the castrated nationalism of America's main European allies, such as Germany, South Korean nationalism is genuinely strong, with many Koreans feeling uncomfortable about the unequal alliance with the US.
The progressive nationalistic camp, represented by the current president, Moon Jae-in, has a long-term vision for South Korea as a fully sovereign and independent state, not a dependent ally of Washington. Incidentally, the accelerated pace of growth in military expenditures under Moon is being justified by the need to achieve "self-determination."
Also on rt.com
Caitlin Johnstone: MSM smear merchants target critics of Establishment China narratives
The China question
The other factor that bodes ill for the ROK–US alliance is China. Washington increasingly sees military cooperation with South Korea as necessary for countering China rather than North Korea. This puts Seoul in an extremely awkward position. The South Koreans do not perceive China as a major threat. Unlike a number of China's neighbors, such as Japan, India, Vietnam, or the Philippines, South Korea does not have serious disputes with Beijing. At the same time, becoming a frontline state in the intensifying antagonism between the US and China creates enormous risks for Seoul, especially considering South Korea's economic dependence on its giant neighbor.
As Sino-American tensions rise, South Korea will face a choice: opting for strengthening bonds with the US, thus becoming part of the containment of China, or distancing itself from Washington, moving toward neutrality. Despite the rhetoric about the "iron-clad" alliance with the US, Moon and his camp may be tilting toward the option of neutrality.
To be sure, during the almost 70 years of alliance, powerful pro-American vested interests have formed in the ROK, especially among the military, foreign policy bureaucracy, and expert-academic community. There is also the problem of ingrained psychological dependence, as several generations of South Koreans have been taught that the country's security is impossible without American protection.
This suggests that the movement toward neutrality will likely be cautious and incremental. South Korea may go the way of Thailand, retaining a formal alliance with Washington, but simultaneously maintaining close and friendly ties with Beijing. At the same time, Seoul will be bolstering its military capability to pursue more autonomy and self-sufficiency in national defense. It is also quite possible that the ROK will follow Japan's example in adopting a 'virtual' nuclear status, meaning a country that does not possess nuclear weapons but has all necessary components and technologies to quickly become a nuclear power once the political decision is made.
Fifteen years from now, could South Korea become a nuclear-armed nation that maintains armed neutrality between the US and China? I, for one, would not be surprised by such a metamorphosis.
Think your friends would be interested? Share this story!
The statements, views and opinions expressed in this column are solely those of the author and do not necessarily represent those of RT.
You can share this story on social media: