Is Pyongyang blowing up an inter-Korean liaison office a once-off act of aggression, or the start of a wider military conflict?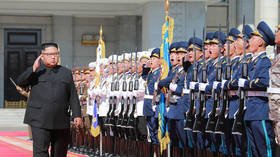 Amid a growing row over defectors, propaganda and stalled peace talks, tensions are rising on both sides of the Korean Peninsula as the US turns inward.
Inter-Korean relations reached a new low point on Tuesday when Pyongyang chose to blow up the North-South border liaison office. When I wrote the day before that things on the peninsula had taken a turn for the worse and the North was threatening a military response, I hadn't expected that action to begin so quickly. But, regrettably, it has. So where do inter-Korean relations go from here?
Things are not looking good for the near future. The fact that Pyongyang actually executed such an aggressive threat against the South increases the possibility that they might put their other threats into action as well, including taking further military action and moving troops to border regions disarmed under previous inter-Korean agreements.
Seoul's patience with Pyongyang is growing increasingly thin, with the Presidential Blue House issuing a statement today saying: "We sternly warn that if North Korea takes steps further aggravating the situation, we will respond strongly to it." This is quite a harsh tone coming from the current South Korean administration, given they have been fully invested in making peace with the North since day one.
Still, this recent explosion brings up more questions than answers. Is Kim Jong-un's younger sister, Kim Yo-jong, calling the (literal) shots now, given that it was her that started making the threats in the first place? And why would the North risk alienating Seoul to such an extent over, ostensibly, some propaganda leaflets sent over the border by defectors and activists in the South? That can't be the only reason. They have a much bigger strategy going on, with bigger-picture objectives in mind.
Several factors are at play here that might have pushed Pyongyang over this edge: an economy ravaged by the Covid-19 crisis; a halt in talks with the US; and stalled progress on inter-Korean relations. These are all major sources of frustration for the North Korean leadership and this latest fit of rage seems to be a manifestation of that.
The South is a much easier target for Pyongyang to vent its frustrations at than, say, the US. Pyongyang knows that it will always be in Seoul's best interest to work towards a stable relationship with them, so it's not difficult to see why they might perceive such a risky move as worth it. They seem to be in quite a desperate position and are clearly willing to go to extremes to get the US back to the negotiating table.
Also on rt.com
'Conniving human scum': North Korea is very angry at the South, but it's not Seoul's attention it wants
But the prospects for any major positive breakthrough on the peninsula are rather slim for the time being. The US is far too busy at home to have time to actively deal with the Korea situation and it would be a risky feat politically for Trump to attempt any kind of diplomacy with the North as of now.
The only way things could move in the right direction would be if the US had a sudden change of heart and was willing to finally allow the reduction or removal of certain sanctions currently in place against the North. This would be a major help to Pyongyang, given that it is currently suffering serious economic problems caused by the border closure with China over the coronavirus.
It will also be important to keep a close watch on the North Korean leadership over the next few weeks. Will Kim Jong-un make a statement or issue his own threats or will he continue to leave all this to his sister? If it's the latter, it will be all the harder to predict what course of action Pyongyang will choose in the near future. We are living in worrying and troubling times.
Think your friends would be interested? Share this story!
The statements, views and opinions expressed in this column are solely those of the author and do not necessarily represent those of RT.
You can share this story on social media: