Overdue antidote to Black Lives Matter's poisonous ideology arrives in the form of Britain's 'strictest teacher'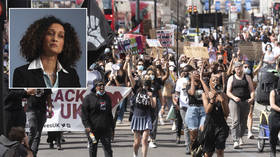 The toxic ideology of the BLM movement is promoted by its race campaigners at the expense of any other idea. Unless you agree with its false claims and the underlying belief that Britain is intrinsically racist, you are the enemy.
Negotiating your way around any conversation centred on race has become a social minefield. Say the wrong thing and 'boom!' you're treated as a card-carrying member of the Ku Klux Klan and ostracised from your bien pensant pals for life.
BLM campaigners in the UK push one line: black people are the permanent victims of oppression, white people are collectively guilty of perpetuating discrimination.
That's it. No ifs, no buts, no grey areas, no dissent. Own it!
In this country, BLM is a secretive, opaque umbrella organisation of many different groups with no distinct leadership yet, somehow, through marches, pulling down statues and by seizing hold of the narrative on social media, they have become the arbiters on race matters.
But maybe some relief is here. The newly-launched Equiano Project, named after the 18th Century former slave Olaudah Equiano, the British African community's first political activist, brings a cool breeze of common sense into the stifling atmosphere created by the UK adherents of the Black Lives Matter movement and their toxic, imported brand of identity politics.
"I have established a new movement — @EquianoProject — in order to present an alternative vision; one that embodies the positive values of freedom, openness and dialogue rather than the negative soundtrack of grievance and antagonism."Me @MailOnlinehttps://t.co/1qGvi7gSAS

— Inaya Folarin Iman (@InayaFolarin) August 4, 2020
Founded by 24-year-old Inaya Folarin Iman, a writer, campaigner and former Brexit Party candidate, the project wasted no time getting down and dirty on this hot topic, with an online event this week that could have a lasting effect on the tone and content of the race conversation in Great Britain.
London head teacher Katharine Birbalsingh tore into the notions of unconscious bias training, decolonising the school curriculum and making the study of historical black figures compulsory, pointing out that the latter is just the sort of institutional racism that BLM decries.
She said "Anyone who has ever overcome any obstacle in life knows that if you spend all your time worrying about how insurmountable it is, you will never overcome it.
"I am not going to spend my time begging the white man to undergo unconscious bias training, it'll distract me from doing what does work, which is getting kids to learn their algebra, turn up on time and deliver."
Miss Birbalsingh, admittedly, does have form on the race debate, as the head of what the BBC calls 'Britain's strictest school.'
Speaking in June about Instagram's 'Black Box Day' – where users posted a black box image on their account – the head teacher unloaded on the woke middle classes posting messages online.
She said, "You're some PR guy, you work in town, you earn a nice bit of money, you have a nice flat and car. But you put a black box on Instagram and you're now a cool non-racist. You're a good guy.
"Actually doing good takes a lifetime. The thing about doing good is that it gets you enemies. You're not part of the group."
"...you work in town, you earn a nice bit of money, you have a nice flat and car. But you put a black box on Instagram. you're now a cool non-racist. You're a good guy.Actually doing good takes a lifetime.thing about doing good is that it gets you enemies" https://t.co/YYcAfp6Oex

— Katharine Birbalsingh (@Miss_Snuffy) June 13, 2020
Ah, Miss Birbalsingh, you are a gem! But I digress...
Back at the Equiano Project event, academic Helen Pluckrose also took aim at BLM, explaining the effects of their poisonous dogma on both sides of the race divide.
White people are, she said, "expected to accept and acknowledge that they've been unavoidably socialised into racism, that they have internalised white supremacies and they need to affirm this in meetings and talk about how they are to dismantle the system of whiteness."
Meanwhile, members of the BAME community were "expected to testify to a particular kind of racism that they are experiencing in almost every sphere of their lives and if they fail to do this then they either have internalised white supremacy or are callously trying to advantage themselves at the expense of other people of colour."
Pluckrose, something of an avid Twitter user, has hit the nail bang on the head. So maybe the Equiano Project, a broad collection of, let's face it, mainstream liberals and similar-minded academics, will prove to be the advance guard. Their input into the narrative on race in Britain is certainly welcome.
Also on rt.com
Forever Family protestors dressed as black paramilitaries look like Britain's NFAC, and are not helping the fight against racism
Because, as a direct result of the deeply divisive BLM dogma, we saw the emergence of the FF Force in London at the weekend, with their paramilitary gear, balaclavas, raised fists and aggressive posturing all pushing the claim that Britain is so racist that the only hope black people have is to organise their own resistance.
Forgive me for being blunt, but all this is garbage of which it now seems I'm not the only one disinclined to digest. So thank heavens that the reinforcements for the voices of sanity have arrived.
And not a moment too soon.
Think your friends would be interested? Share this story!
The statements, views and opinions expressed in this column are solely those of the author and do not necessarily represent those of RT.
You can share this story on social media: