Trump overturning Obama's plan to compel suburbs to build low-income housing is not racist. It's sensible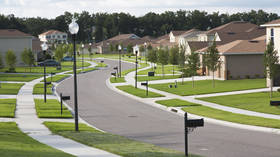 The president has been called a "segregationist" for repealing an order forcing suburbs to build "affordable housing" or lose funding. But it's got nothing to do with race – 35% of those living in the 'burbs are non-white already.
President Donald Trump this week repealed an Obama era executive order called the AFFH (Affirmatively Furthering Fair Housing). It was gutted quickly after Trump took office, but Trump finally repealed it completely on the 29th of July. The original act was blatant social engineering, which would have forced suburban towns to build high-density housing in the middle of low-density areas.
To no one's surprise, the political left has already tried to brand this as racist. Connecticut Democratic Senator Chris Murphy outright called President Trump "a segregationist." Kevin Liptak and Gregory Wallace at CNN stated that Trump was trying to "stoke racial divisions" with the administrative rule change. This of course ignores the fact that non-white populations in suburbs have been rising since the 1990s, and is now up to 35 percent of the total, according to the left-leaning Brookings Institute.
But hey, why let facts get in the way of a good narrative? The fact that the suburban population reflects the overall diversity of the country means absolutely nothing to the political left. Any time you oppose the idea of social engineering like the AFFH, you are a racist. Granted, as I've seen in my own life, you're branded a racist for challenging any narrative.
There are two realities at work here. The first is that the original executive order was a disastrous idea even in concept. Low density areas would have to scrap zoning laws, build bigger water and sewer lines, expand social services, add mass transit, and so forth. This would increase taxes, making life for those who don't want to live in a giant city too much like… living in a giant city. It defeats the purpose of a low-density area! It makes about as much sense as a vegan restaurant introducing steak to the menu.
The second is how much it ignores reality. As I mentioned earlier, more and more people who are non-white are fleeing to the suburbs. The appeal of those areas and that type of life isn't something that has anything to do with skin color. It has everything to do with quality of life. As someone who lived in the suburbs of Chicago in the 1990s, I know it's never been a 'whites only' type of life. Ever. If there was even a shred of discrimination in those neighborhoods, the federal government would snap down on it before you could blink.
Also on rt.com
This is a critical point in US history. We've entered a dangerous, chilling period that could lead to a race or civil war
Segregation is not something that exists in the United States. We threw it out with Jim Crow. People are fleeing to the suburbs, and want the suburbs to remain the suburbs, because it's calm and peaceful. It doesn't have the trappings of a big city life. There's less crime. There's less noise. None of these things have anything to do with skin color. The white picket fence and two-story house lifestyle is something that all Americans find appealing, because it's something we all dream of. But this just shows how much the media is out of touch with America.
If you want to live in the suburbs and don't want it to be the city, I suppose you're not black, according to CNN and the Democratic Party. How classy of them.
Think your friends would be interested? Share this story!
The statements, views and opinions expressed in this column are solely those of the author and do not necessarily represent those of RT.
You can share this story on social media: