Tommy Robinson flees UK with family after claims of 'arson' attack on wife's property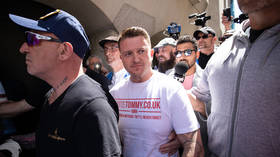 Anti-Islam activist and ex-English Defence League leader Tommy Robinson says he's trying to permanently relocate his family outside of the UK because "they're not safe." It follows an alleged arson attack on his wife's property.
In a video posted on social media on Tuesday, the controversial right-wing activist insisted that he knows who the perpetrators are, and believes that it "wasn't Muslims" but that it may be people linked to the Black Lives Matter movement.
Robinson, 37, claimed that he had a video evidence of the arson attack, saying they upped and left the UK because his wife had "had enough of everything."
I'm looking at relocating my family which is pretty hard to do, especially with Covid.
He revealed that he was searching for schools for his daughters and in the process of finding a "permanent relocation" for his family.
Robinson – real name Stephen Yaxley-Lennon – complained that the UK government's quarantine rules would mean he would be unable to fly back to Britain to attend a demonstration on Saturday. It's led many people on social media to speculate that he may be in Spain.
Allegations of an arson attack on Robinson's wife's home have not been confirmed by Bedfordshire Police, but they "do have a record of reported car arson in June," the Independent's Lizzie Dearden reports.
The former leader and co-founder of the EDL – a right-wing social movement hostile to immigrants – is currently facing a libel trial over comments he made, allegedly defaming a Syrian boy who was filmed being attacked in a school in Huddersfield in 2018. Solicitors acting on behalf of the 16 year-old refugee are seeking £100,000 ($129,000) in damages.
Also on rt.com
Syrian refugee schoolboy 'waterboarded' by bullies, to sue Facebook over Tommy Robinson claims
The right-wing activist spent time in HMP Belmarsh last year for contempt of court after he filmed defendants in a grooming trial and streamed it live on Facebook. The high-security prison in London is currently holding WikiLeaks founder Julian Assange.
Robinson was originally sentenced to nine months, but was told in July 2019 that he would only serve 10 weeks in prison, due to time already served for the same offense.
Think your friends would be interested? Share this story!
You can share this story on social media: