Wayne Dupree: NFL star is a hero for saying he won't kneel for the National Anthem and 'screw anybody who has a problem with that'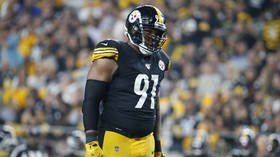 Pittsburgh Steelers defensive end Stephon Tuitt, 27, should be celebrated for rejecting the Left's messages of disrespect and divisiveness and for standing up for what is right.
Many of you might have stopped watching National Football League games due to their propensity of adding politics to a sporting game, but this should make you feel better, even for a second.
Pittsburgh Steelers defensive end Stephon Tuitt publicly stated on his Twitter account that he wasn't going to kneel for the National Anthem and anyone that had a problem with it, tough.
Also I'm not kneeling for the flag and screw anybody who have a problem with that. My grandmother was a immigrant from the Carribean and age worked her ass off to bring 20 people over the right way. She had no money and educated herself to be a nurse. She living good now.

— stephon tuitt (@DOCnation_7) July 27, 2020
This is what's wrong with most of today's young people; they didn't have a grandma like the one Tuitt is describing or parents who were capable of providing a good example. The whole Democratic Party AND a lot of Republicans could learn something about America from this guy.
This my friends, is what a hero looks and sounds like. A man with respect for our great country. A man with a message of unity, not hate, not anger, and not the divisiveness coming from people trying to divide us and tear our great country apart. Hearing this message was just what we need as a country. Nowhere in the world do people have the opportunities we have here in the United States. Every one of us needs to be grateful we live in this country. And I want to thank him for his uplifting words. It gave me a feeling of overwhelming pride.
Good on Tuitt, and I applaud him, but the damage is done. The thought of the rest of these crybaby millionaires using their bully pulpit to further their Marxist cause is untenable.
Tuitt's grandmother's inspirational story should be told to every citizen, especially the children. More stories should be told of the many legal immigrants who persevered and succeeded in life in the US. You never hear about these people from the biased leftist media. I grew up with and worked with black folks from the West Indies during my life. They are great, hard-working people who appreciate this great country. Sadly, they were often ridiculed by US-born blacks as 'Uncle Toms' simply because they value education and hard work. They should be celebrated instead of those who condone lousy behavior and victimhood.
Tuitt will no doubt be unmercifully pressured by the sheep on the Left to change his tune. If he still backs what he said today, then he should be the face of the NFL. If he caves like New Orleans Saints quarterback Drew Brees, we are back to square one.
Believe it or not, I'm old enough to remember a time in this country when you used sports to get away from politics and just enjoyed watching or being at a game with your family and friends. Maybe I've lived too long.
Many Americans came from different countries and backgrounds for the freedom and independence that the American flag represents. And we respect this and are glad that other people understand that, and don't fall for political agendas.
Did ANYONE ever think that we would ever be debating whether or not to STAND for our National Anthem? This just goes to show how the MARXIST COMMUNIST LEFT has infiltrated our schools and universities and indoctrinated our children. This is truly one of the most despicable and pathetic things I have witnessed in my life.
Also on rt.com
'Iron Mike' Ditka blasts NFL kneeling protests, says those who disrespect national anthem should 'get the hell out of the country'
While the National Anthem plays, I wish that the US cemeteries from around the WORLD would be shown on the jumbotron TV, while the self-absorbed, whining multi-millionaire players kneel like pouting brats. They are pathetic.
I do have a question. If you won't stand for a few minutes to honor the people and country that provided you the best opportunity in the world to be free and prosperous, what will you stand for? Yes, the USA is not perfect; but please provide a list of better places to live!
By the way, if you missed it, his family emigrated here in the right way, and that takes time and effort, so imagine how all the people doing like his grandmother feel when they see people – some probably from their own countries – just come here illegally and then get protected by Democrats while they process their immigration application.
This is why I hate when the Left combines those two groups as one and just says, immigrant. There is a difference between a legal immigrant and an illegal immigrant. Those on the Left, along with the US media, like to pretend it's a race issue but it's not. We fully accept any legal immigrant regardless of their race, just not people who think they are more important than the people doing it the right way. Hey, I just figured out why liberals like illegal immigrants so much: both groups believe they are entitled and more important than the people taking the legal route.
Think your friends would be interested? Share this story!
The statements, views and opinions expressed in this column are solely those of the author and do not necessarily represent those of RT.
You can share this story on social media: