'Never Forget'?: When it comes to 9/11 anniversary ceremony, honoring the fallen must take a backseat to Covid-19 precautions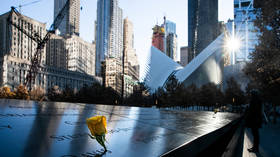 Family members of the victims of September 11, 2001, terrorist attacks won't be allowed to read the names of their fallen loved ones at this year's anniversary event due to coronavirus, as Black Lives Matter protests rumble on.
It turns out that the live readings – easily the most poignant part of the annual ceremony in memory of the nearly 3,000 people that were killed in the terrorist attacks – are deemed too dangerous in the Covid-19 era. The National September 11 Memorial & Museum said Friday in a letter to families of the victims that recorded readings will be used instead "out of an abundance of caution and in line with the guidance regarding social distancing."
The decision sounds nonsensical on its face. The families are still invited to gather at the event; they just can't give their tributes on stage. Does the virus spread more easily at an extra three feet of elevation? But put in context, the move is another galling brick in the wall of coronavirus absurdities inflicted on Americans by their leaders.
Also on rt.com
Ankle monitors, house arrest, & armed guards: Covid-19 enforcement measures ramp up even as lockdowns wind down
Think about the things that the likes of Mayor Bill de Blasio and Governor Mario Cuomo have decided are safe and the things that are unsafe. Throughout their lockdowns, "essential services" such as abortion clinics and liquor stores just had to be kept open. Even today, in the last of four phases in the reopening process, church services, gyms and indoor restaurant dining remain banned. Elective surgeries, including such critical procedures as joint replacements, were halted for two months.
This kind of crisis reveals which things are important to our rulers and which ones aren't so much. For instance, keeping abortions and tax-generating liquor and lottery ticket sales going was absolutely necessary. September 11 remembrance is not a priority.
Anyone who was in New York in the aftermath of the attacks can probably recall the eerie feeling of seeing those "Never Forget" signs and murals. It was almost unimaginable then that anyone would need to be reminded of that horrific day.
But "Never Forget" seems to have gone out of fashion. What's really hot today is Black Lives Matter. There was no "abundance of caution" to be found as massive crowds of anti-racism protesters demonstrated across the nation after a black Minneapolis man, George Floyd, was killed in police custody on May 25.
Also on rt.com
'You should be ashamed': Obama's ex-adviser slammed for celebrating NYC triumph over Covid 'from the epicenter to zero deaths!'
The BLM protests were the most essential of essential services. Many of the protesters were maskless, and many of their "largely peaceful" demonstrations escalated into riots and looting. Minneapolis and St. Paul suffered what Governor Tim Walz called the second-most destructive incident of civil unrest in US history.
But not to worry. The BLM protests were to be embraced. De Blasio even helped paint the BLM mural covering the street in front of Trump Tower. Public health officials who had been admonishing the rest of us about social distancing saw too much merit in the BLM protests to stand in the way. Johns Hopkins epidemiologist Jennifer Nuzzo tweeted, "In this moment, the public health risks of not protesting to demand an end to systemic racism greatly exceed the harms of the virus."
We should always evaluate the risks and benefits of efforts to control the virus. In this moment the public health risks of not protesting to demand an end to systemic racism greatly exceed the harms of the virus. https://t.co/s9DagyjQ1J

— Jennifer Nuzzo, DrPH (@JenniferNuzzo) June 2, 2020
The hypocrisy made a mockery of the coronavirus restrictions that continue to be imposed on the rest of us. It made the seemingly arbitrary rules appear like Public Health Theater. Being told now that reading the names of September 11 terror victims and heroes is unsafe makes the script even less believable.
Also on rt.com
9/11 memorial to lost firefighters destroyed by vandals in New York State
Like this story? Share it with a friend!
The statements, views and opinions expressed in this column are solely those of the author and do not necessarily represent those of RT.
You can share this story on social media: