Now muzzle RT as part of the UK's 'new normal'? Clearly Starmer hasn't heard that a free press is a hallmark of a democratic state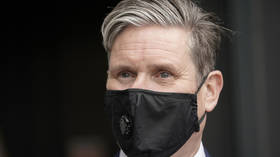 Labour leader Keir Starmer has asked PM Boris Johnson to "look again" at the licensing for RT to broadcast in the UK, showing that however authoritarian we think the Tories are, HM Opposition are now even worse.
Don't say you weren't warned. The investigative journalist Matt Kennard revealed a few months ago the new Labour leader Keir Starmer's meeting with the head of MI5 and his close relationship with the hardline neocon Times newspaper. Kennard asked Starmer five questions, but he never answered. I think we can work out why.
Starmer is a tool of the Establishment. His job is to 're-domesticate' the Labour party after the Corbyn era when the party, however briefly, went off the rails and hinted that it might offer something rather different to what had gone on before.
'Re-domesticating' means Labour becoming even more hardline than the Tories on a wide range of issues. Foreign policy is one area. The Tories sanctioned Russia after the Skripal case, but Starmer wants even more. The so-called 'Russia report', released on Tuesday, provides the pretext. Never mind that it was like Private Frazer's story of the 'Auld Empty Barn' – there was nothing in it (as you can see from this hilarious clip below); Starmer wants some serious bear-baiting to follow.
"One way the government can seek to clamp down on Russian influence is to prevent the spread of Kremlin backed disinformation," the world's most boring lawyer droned in parliament. He then mentioned RT.
Clearly Sir Keir hasn't heard that a free media is the hallmark of a genuine democratic state. Usually it's only despots who call for television stations they don't like to be shut down. No one forces anyone to watch RT, so why is Starmer so bothered?
He's bothered because RT – and indeed the whole concept of a pluralistic media poses a threat to his authoritarian globalist world view. RT dares to give the microphone over to people the former QC does not approve of. It implores us to 'Question More' while Starmer, the extreme centrist, who played a key role in the persecution of the journalist and WikiLeaks publisher Julian Assange, wants us to 'Question Less'.
Neocons in all parties have been gunning for RT ever since it started broadcasting in the UK in 2014. Look at the Labour MPs who have been taking the same line as Starmer on Russian media. Chris Bryant called for RT to be shut down in March 2018. His opposition to Russian media outlets operating lawfully in the UK however didn't stop him going on Afshin Rattansi's Going Underground programme to promote his new book. Bryant was one of the signatories to the Founding Principles of the hardcore neocon Henry Jackson Society.

And yes, you've guessed it, Sir Keir's first article on becoming Labour leader in 2020 was published by… The Times.
Also on rt.com
Brexit opponents hoped 'Russia report' would show Moscow's interference, but it only showed awful blindness of UK foreign policy
Starmer has been called the new Tony Blair but in fact he's worse. For all his faults, Blair was not a Russophobe. I don't think either that he was particularly censorious. Blair also – and even his biggest critics will agree with this – did possess some personal charm. He could when he wanted to, charm the birds from the trees, Starmer is so wooden that birds nest in him.
But the dull-as-dishwater new Labour leader poses an even greater threat to freedom in the UK than Boris Johnson – and that's saying something given how many freedoms we have lost already this year in Britain. Just look at that ludicrous, 'virtue-signalling' picture Starmer tweeted of himself wearing a face visor.
We clapped for our carers every week but, for the first time, I could say thank you to them in person.Care workers have been on the frontline against coronavirus.We owe them so much. pic.twitter.com/a79uPfec6x

— Keir Starmer (@Keir_Starmer) July 18, 2020
This is about getting us to accept a hideous 'new normal' of enforced mask/visor wearing and permanent social distancing. Any 'left' party remotely concerned with solidarity should be trying to bring people together. Labour wants to keep them apart and keep them muzzled. Literally.
Johnson answered Starmer's RT jibe with a funny line about the Labour leader having more flip-flops than Bournemouth beach. At least that showed BoJo – whatever else we think of him – was a human being. There appears to be no human side at all to Starmer. He is a bleak, censorious authoritarian who wants to impose his chilling, anti-human vision of the future on everyone. Decent Labour Party members who voted for him were like lambs to the slaughter.
Whether its mandatory face masks, enforced social distancing or calls to close down TV stations, freedom has never been this threatened in the UK in our lifetimes. We all need to fight back against the utterly grim New Totalitarians.
Think your friends would be interested? Share this story!
The statements, views and opinions expressed in this column are solely those of the author and do not necessarily represent those of RT.
You can share this story on social media: