Why the calls to ban TikTok? China is so heavily invested in UK already it could access our private data whenever it wants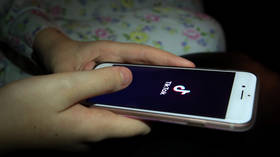 The call from ex-Tory leader Sir Iain Duncan Smith to ban video-sharing platform TikTok over Chinese access to private data is more to do with pleasing Donald Trump than any new concerns with complex UK-China ties.
As the UK steels itself for a bumpy economic ride both post-pandemic and post-Brexit, you have to wonder what motivation is really underpinning the threat to ban TikTok, the wildly popular video-posting platform over apparent concerns about its data collection and usage.
With Britain forging its own future path through the sunlit pastures of global trade, the creation and maintenance of relationships with the big hitters in key industries assumes paramount importance.
Of course, if there are good reasons for not doing business, then by all means, pass. India has banned TikTok over concerns about data privacy, as have Indonesia and Bangladesh due to offensive content, with Pakistan issuing a final warning.
But also considering a ban is the USA, seemingly motivated by TikTok users exploiting the platform's reach to sabotage ticket sales at a Donald Trump rally last month. Like most of his anarchic claims, this seems a little inflated but hey, let's give Trump the benefit of the doubt.
Also on rt.com
It's madness for UK to threaten China, so why aren't media and MPs speaking out against Bojo's crazy plan?
However, if the UK follows suit and bans our right to watch short video clips of make-up tips, pranks, synchronized dance routines and confused pets then, in light of the 'Trump's poodle' allegations that followed the scrapping of Huawei's involvement in the UK's 5G network, it would be good to know we had our own legitimate reasons.
Because you gotta wonder...
If the treatment of data is really such a sticking point, then why hasn't Facebook been shown the door? What, with its commercial activities alongside breaches and hacks, you could well be forgiven for posting no personal information at all on the social media platform.
Surely, there has been enough to slam the door in Mark Zuckerberg's face? But he's still out there, making billions, without a care in the world, except maybe in China.
Twitter is not much better. Just last week, a major hack saw those responsible holding former US President Barack Obama, billionaire Bill Gates and others to bitcoin ransom after successfully accessing their personal accounts.
Also on rt.com
Why India's TikTok ban could help establish it as a major player in the tech world… and cause big problems for the Chinese
If the government was truly serious about ensuring that tech giants treated the personal data we volunteer to them with the utmost privacy and respect, then there'd be no Facebook and no Twitter operating in the UK.
While TikTok owner ByteDance is an independent Chinese company, the worry, presumably, is that at some time the Chinese government is going to ask it for a favor that it will have no option but to return.
Anyone, particularly a foreigner, who does business in China knows that success relies absolutely on having an influential partner, and in some cases that partner is the state.
The logic follows that the favor requested will be a huge data dump that somehow the Chinese government will use to influence all those 12-year-old girls miming to their favorite Billie Eilish songs into voting for a particular candidate in the domestic elections of a Western democracy.
That candidate, who will no doubt win, will then be on call to the Chinese government to carry out its wishes by destroying the economy, enslaving the people and putting enemies of the state in prison camps.
Or something like that.
Also on rt.com
TikTok violates children's privacy & feeds them with Nazi memes, media and NGOs wail – just in time to justify US ban
Maybe that is the plan from Beijing. It's hard to tell. But using interference with TikTok to achieve this overthrow of the decadent West seems a long way to go about it.
After all, the Chinese already own other companies we all use every day, to whom we are blissfully unaware that we are freely handing over our personal information that could potentially be accessed by a foreign power.
There's Disney, of which 57 percent is in Chinese hands. But we don't give it a second thought when paying to download Frozen 2. There's wholly-Chinese owned Volvo, with all our GPS data and trip info just sitting there ready for download. How many trips to Tesco did you make? And why?
Then there are the other Chinese owned businesses, like British Steel and LEVC (maker of London's iconic black cabs), massive investments in our energy sector with a 33.5 percent Chinese stake in Somerset's Hinkley Point, a 20 percent stake in Sizewell C in Suffolk and a chance to build its very own nuclear reactor on British soil at Bradwell in Essex. The first outside China.
There's also the activity in the North Sea, from where the China National Offshore Oil Corporation delivers "more than 25 percent of the UK's oil production, and 10 percent of the country's energy needs," as it boasts on its website.
And there are significant Chinese stakes in South Western Railway, Heathrow Airport, Thames Water, finance, tech and telecoms companies… the list goes on and on, very much like the menu at a dim sum chow house.
I have Disney+ at home, used to drive a Volvo, am a customer of Thames Water and use black cabs occasionally. If the Chinese government wants my personal details, it's not gonna take long.
Also on rt.com
George Galloway: UK ban on Huawei is national self-harm. China's riposte could devastate the ailing British economy
Yet despite these extensive, complex and very rewarding ties – on both sides – no one is talking about pulling them apart, when it's quite clear that so close and so reliant is the UK's relationship on trade with China that if Beijing wished, then it could quite easily cause mayhem on an industrial scale.
Never mind the diplomatic ding-dong over Hong Kong.
Why could that be? Maybe it's because it's better to make a lot of noise, the sort that attracts the approval of our friends across the Atlantic, but in the grand scheme of things is nowhere near as important as investment in the energy sector or crucial heavy industry, manufacturing and transport.
So you can see how the British government is thinking; any future UK relationship with TikTok – those plans for 3,000 jobs here – can be risked as long as the return for that disappointment appeases Donald Trump fighting his own battle with the Chinese tech outfit. Rest assured that political capital banked with the US could well be handy further down the track.
While we are desperately trying to piece together long-term trade relations with the two biggest economies in the world, there are always going to be casualties. And as disingenuous as the reasoning might be right now, that could mean game over for TikTok in the UK.
Nothing personal, as they say, it's just business.
Like this story? Share it with a friend!
The statements, views and opinions expressed in this column are solely those of the author and do not necessarily represent those of RT.
You can share this story on social media: