Skid marks on a rainbow CROSSWALK are now a hate crime? Suddenly, I see merit in defunding the police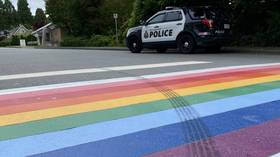 When a car left tyre marks on a rainbow-themed crosswalk, Vancouver's cops swung into action fearing it was a deliberate act of homophobic vandalism. But when BLM thugs defaced the city's statues – the police stood aside.
Like most people, I've watched the Black Lives Matter riots with a sense of incredulity.
Despite the fact US police kill more unarmed white people than their African American counterparts, the world is still buying the idea that 1) all cops are bad, and 2) all black people are good.
Neither are true. However, this fallacy is fast becoming the biggest contagion since Covid-19.
From Melbourne to London and beyond, 'liberals' (aka middle-class Antifa members and readers of the Guardian) have staged aggressive demonstrations across the planet.
In addition to destroying statues and vandalising war memorials, one of BLM's other tactics is to demand the police be defunded – and, so far, they've had some success.
New York's cuckolded mayor, Bill de Blasio, recently slashed a whopping one billion dollars from the NYPD's already-modest budget, causing a predictable surge in violent crime.
In the past month alone, there's been a 142-percent increase in shootings. Specifically, the July 4 weekend recorded 63 incidents of gun violence and 11 separate firearm fatalities.
Last Sunday, a one-year-old child was brutally shot and killed during a BBQ in Brooklyn.
So, given the correlation between police presence and low crime, it's no massive plot twist to learn that I haven't previously supported BLM's bizarre mission.
Yet, much to my own surprise, I'm starting to see some merit in the idea...
Not because I trust the mob to enforce justice, of course, but because modern policing is fast becoming a universal laughing stock.
The latest example of this comes from Canada, where the West Vancouver Police Force has been busy investigating the horrendous crime of... tyre marks on a public road. No kidding!
Granted, it wasn't just any piece of tarmac – it was a rainbow-themed crosswalk to mark the city's month-long Pride celebrations, but hey, we're still talking about skid marks here. Hardly the crime of the century.
Yet, according to officers, it was a deeply urgent matter.
"This is very upsetting," gushed Const. Kevin Goodmurphy, who led the investigation. "For whatever reason, this person has chosen to leave a gesture of hate on a crosswalk that stands for the exact opposite."
"The crosswalk itself was a very meaningful piece and it stands and will continue to stand as a symbol of our commitment to promote diversity and inclusion," he added.
"This impacts the community at large and there are detrimental impacts that it has emotionally for a lot of people, especially given what this crosswalk represents."
Together, Goodmurphy and his colleagues issued both bulletins and CCTV footage to trace the mystery driver, who later came forward and casually explained that it was simply a case of innocent tyre burn, not rampant homophobia.
Embarrassing? Yes. A waste of police time? Absolutely. A one-off lapse in judgement? No way.
See, this sort of behaviour is now endemic in police departments across the Western world. Once the enforcers of law and order, they're now so desperate to appease the left-wing mob that they've forgotten their original oath. Protect & serve? More like virtue & signal.
Don't believe me? Just look at how this very same police force reacted when thousands of Black Lives Matter activists blocked the city's streets for days on end, causing major disruption. Or when thugs vandalized the City Hall statue of Captain George Vancouver.
There were no public appeals or community reassurances. Instead, they just stood aside for fear of being 'cancelled' by the very people who they're supposed to control.
And, for this reason, they deserve very little – if any – public money.
So, yeah, let's defund the police. Let's tear the whole system down. Then, when people realise how much it's needed, we can rebuild it with some dignity.
The statements, views and opinions expressed in this column are solely those of the author and do not necessarily represent those of RT.
You can share this story on social media: