The murder of a young woman is abhorrent, but please, Canada… INCELS are not a terrorist group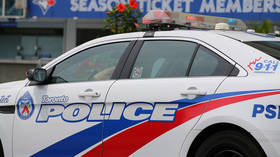 What happened to Ashley Arzaga is disgusting – she's clearly the innocent victim of a violent crime. But to call it 'incel terrorism' is woke madness.
Ashley Arzaga didn't die in the atrocity of a Bataclan-style rampage, nor the devastation of London's 7/7. Thankfully, she also wasn't slaughtered in 9/11, where the horror played out on the world stage over a gruelling 102 minutes.
Instead, the 24-year-old's brutal murder occured in a massage parlour, where she was stabbed to death by a machete-wielding teenager, who legally can't be named.
Just like the other 266 senseless murders which took place in Ontario during 2018 (the province's highest murder rate since 1991), Arzaga's killing was both cruel and bloody. Nobody could argue otherwise.
But it was not terror-related.
This is despite what 'woke' prosecutors have asserted this week, after they upgraded homicide charges into terror-related offences, as defined in Sec. 83.01(b) of Canada's Criminal Code.
They believe a letter in the accused's pocket shows his alleged crime was performed in honour of the so-called 'incel' phenomenon – AKA involuntary celibates, or young people (frequently men) who can't get laid.
If successful, the charge will be seminal. It'll be the first time that Canada's anti-terrorism laws have been used to prosecute an act of violence by a suspect who was not an Islamist extremist.
Naturally, this has delighted the left, who have long wanted crimes against women to have their own unique classification. Especially if they are committed by white, Western, heterosexual men.
However, their ambition is misplaced. Worse still, it threatens to undermine real victims of terrorism. Let me 'mansplain' why...
First off, by its dictionary definition, terrorism is "the unlawful use of violence and intimidation, especially against civilians, in the pursuit of political aims". It is not one person's derangement, even if that derangement has a focus (and that focus is female).
Secondly, the 'incel' phenomenon – if you can even call it that – is not a collective of dissidents who are funded by secret donors, working towards the same goal of overthrowing a status quo. They are disenfranchised criminals with personal vendettas.
Trust me, I've witnessed the fallout of terror attacks close-up, and they are markedly different.
Also on rt.com
Kiss me now, you Nazi! Refusing to date woke women makes you 'dangerous' & 'far-right', apparently
I was 12 when the IRA detonated two bombs in Warrington, Cheshire, on March 20, 1993. They killed two young boys – Tim Parry and Johnathan Ball – outside a high-street pharmacy where my sister worked.
I was also on the London Underground in July 2005 when a syndicate of Islamic terrorists detonated bombs on the Tube network, killing 52 commuters.
More recently, on May 22, 2017, my niece was one of thousands at the Ariana Grande concert in Manchester's MEN Arena, where Salman Ramadan Abedi – part of a broader network of jihadists – detonated a shrapnel-laden bomb, injuring 139 and murdering 23.
My niece still has flashbacks and ended up in therapy.
The key difference between these incidents and Arzaga's killing is that, with the former, the violence was used to pressure military or governmental change. For example, Islamic extremism is usually motivated by a desire to rid Muslim lands of US/Western/Jewish 'exploitation'. Likewise, the IRA historically wanted British withdrawal from Northern Ireland.
Conversely, 'incels' don't want such power. They don't desire to change a given situation or overthrow a regime; they simply want to avenge it for their own personal gratification – which is very different.
Politicians and lawmakers who are pushing their own agenda (for their own fulfilment) would do well to remember that, rather than obfuscate the meaning of terror.
If you like this story, share it with a friend!
The statements, views and opinions expressed in this column are solely those of the author and do not necessarily represent those of RT.
You can share this story on social media: