Instead of tearing her down, we should be rallying for Nicola Sturgeon to be the next UK prime minister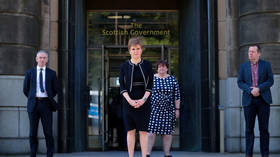 The English establishment is trying to gaslight Scotland into believing its First Minister is a conniving separatist out to break the Union, but the facts speak for themselves. Right now, she looks like the best leader in Britain.
There's a difference between constructive debate and whipping up hysteria. Scotland and its First Minister has suffered the latter for too long, but now things have hit a high watermark.
Conservative fundamentalist Jacob Rees-Mogg stood in the House of Commons accusing Nicola Sturgeon of modelling herself on Donald Trump.
Why?
She refused to rule out imposing a 14-day quarantine on any visitor to Scotland from elsewhere in the UK.
Part of Rees-Mogg's jibe was tied to Boris Johnson's erroneous claim that there was no border separating Scotland and England. Maybe both are bitter that their land was captured with ease by The Romans, while Scotland wasn't.
Government-backers The Daily Mail also waded in accusing Sturgeon of "leaving millions in holiday limbo" as part of "a cynical ploy".
She earned that by refusing to agree to Boris Johnson's plan – and with good reason.
As it currently stands, England has removed the need for international quarantine for 59 countries. Scotland - along with Wales and Northern Ireland - is considering whether to join them.
Both of these decisions – imposing a quarantine for arrivals from England and allowing international arrivals – are completely logical, and Sturgeon would be negligent if she wasn't painstakingly debating them.
Scotland is on the verge of being completely free of Covid-19. It has been slower to ease up on lockdown and has been able to convey clearer instructions to its population, with National Clinical Director Jason Leitch popping up on all sorts of TV, radio and online platforms.
The major fly in the ointment is actually the border with England, which is not even close to turning the tide on the virus. The entire city of Leicester has shut down all over again due to an outbreak, with reports that other cities may follow suit. So with Covid-19 still rattling around, for Boris and his Brady Bunch to start taking the brakes off is a senseless joyride that's certain to end in a crash.
On the same day (July 10) England lets people from 59 countries pour in, Scotland will make it law to wear a face mask in shops.
Still the other establishment newspaper The Daily Telegraph labelled Sturgeon the "stumbling block" to holidays. Are we trying stop adding to the horrendous 43,995 death toll, or ensuring some families get two-weeks on a beach overseas?
The issue extends beyond Covid-19.
Historian David Starkey resigned, before he was pushed, from an honorary fellowship at Cambridge University for saying slavery was not a genocide because of the survival of "so many damn blacks".
His toxic views aren't new, but not many people seemed to mind back in 2015, when he was being toxic about Scotland's democratically elected government and the national flag – the St. Andrew's cross.
He said: "You have as a symbol the twisted cross – the Saltire or the Swastika. You have a passionate belief in economic self-sufficiency; known by the Nazis as autarky and the Scots as oil."
Asked to explain his words, he added "democracy doesn't always get it right" and called to Scotland as a "feeble little country".
Feeble?
This is the land whose people gave the world the telephone, the television, modern economics and the first true antibiotic, penicillin. Scots founded both the BBC and the Bank of England. It's a nation that has always steered its own destiny.
Glasgow Celtic were the first British team to win football's biggest prize in 1967, with a team comprised solely of Scots. While the first black player Andrew Watson appeared for Scotland in 1881, whereas England shamefully didn't select a senior non-white until 1978.
Right now, students in England end up shouldering a mountain of debt, whereas the Scottish government covers the cost, promoting education and social mobility. Then there's things like Scottish Water being publicly owned, investing 35 percent more per household and charging 14 percent less than England, where it's private and priority is given instead to £2 billion of annual dividend payments to shareholders.
Even the Scottish parliament is horseshoe shaped to encourage collaboration, instead of the bear-pit "us against them" layout of Westminster.
This is not to paint Scotland as some magical land, it's got plenty of faults and areas to improve. But that doesn't excuse the demeaning and arrogant attitude of the English establishment.
Plus, let's be honest. Wouldn't almost everyone prefer Nicola Sturgeon to Boris Johnson as Prime Minister?
We all know in our heart of hearts – she's a better political operator and leader, even if she is Scottish. That's not a bad thing, is it?
The statements, views and opinions expressed in this column are solely those of the author and do not necessarily represent those of RT.
You can share this story on social media: