UK media wants a Sturgeon vs Johnson superhero clash. She is wise to rise above it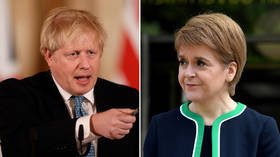 TV stations and newspapers who disagree with Scottish independence are doing their best to provoke Nicola Sturgeon during the Covid-19 crisis. But Scotland's first minister won't take the bait.
Reporting on the Covid-19 crisis for the BBC's flagship daily TV bulletin 'News at Ten', Scottish correspondent Sarah Smith said to the millions watching: "It has been obvious that Nicola Sturgeon has enjoyed the opportunity to set her own lockdown rules and not have to follow what's happening in England or other parts of the UK."
Put to one side the fact that Smith later apologized – only after a backlash – for using the word "enjoyed."
For the avoidance of doubt, I am sorry that by mistake I said last night that Nicola Sturgeon was "enjoying the opportunity" to set a different policy https://t.co/a6r3LLkUHl

— sarah smith (@BBCsarahsmith) May 19, 2020
It was a sentiment that encapsulated what is becoming an unwelcome theme on Britain's media landscape. It's clear an appetite has developed to manufacture something akin to a battle between two Marvel superheroes – Britain's prime minister vs Scotland's first minister. The BBC's 'Newsnight' even produced a graphic more suitable for a Hollywood action movie, with the politicians facing off.
Hostile press conferences
It's not just the national broadcaster, though. Sturgeon has to deal with a notably more hostile atmosphere at her daily televised Covid-19 press conferences than any of the British government do. She attends the briefings every day, whereas Johnson regularly abdicates to cabinet members.
And it's become increasingly evident at these media events that Sturgeon is becoming a target for newspapers and other broadcasters who are keen to encourage her to criticise BoJo and anyone else in Downing Street.
In her first conference after the controversial BBC broadcast, she spoke of "good cooperation" and a "collective desire to suppress the virus" across the UK, plainly stating that this was not an "us against them" scenario. But some members of the press – sadly, from Britain's two biggest-selling newspapers – couldn't accept that.
The Daily Mail asked her about "falling short of Boris Johnson's message," while the Sun's rambling question included the line: "Is it the case then you do not regret..."
Sturgeon's frustration was obvious as she bristled and sighed at the podium, clearly seeing through the tiresome attempts to feed a 'Boris vs Nicola' frenzy.
Also on rt.com
Arrogance of BoJo is fracturing UK into sovereign states & accelerating the break-up of the union
Mark of a leader
However, she delivered an answer that encapsulated what a nation's leader should aspire to – and, in the process, made the questioner look pathetic. "I am not going to be careful with my words, but I want them to be my words, because I've seen some headlines in recent days saying that we were blaming care home staff," Sturgeon replied.
"I regret every single person who has died over this. Every single day I feel that burden very heavily. I will probably for the rest of my life, not just for the rest of my time as first minister, look back on this and ask myself: 'Did we do everything we could have done? Are there things we could have done differently?'
"I don't think it's the case we will not have made mistakes. But trying to say: 'Do you regret, or do you not regret?' I regret having to stand here every day. I regret this pandemic. I regret every single death.
"I will always look critically, self-critically, as well as absolutely accept the scrutiny coming from journalists and others about what we have done and not done."
This dignified reply is exactly why Sturgeon is enduring this campaign. Large parts of the media cannot, or will not, respect a level-headed, non-belligerent leader who rises above petty point-scoring.
The BBC and newspapers involved, all financed by London-based paymasters, are frustrated by someone not taking the bait. They are annoyed about not being able to manipulate the news cycle to their needs – which are pressing, since most newspaper corporations have serious financial problems. And they expect to run roughshod over some pesky politician from Scotland.
They understand that if they are unable to chip away at Sturgeon's performance during the pandemic, they cannot weaken the case for Scottish independence.
Media backing Johnson
That's why the British mainstream media don't assume the same disrespectful tone with Johnson. They don't zing in the same style of leading questions to box him into a corner as they do with Sturgeon. He's their dog in the fight, the one they want to see triumph and protect their beloved union.
The irony is, he's such a poor proponent of media relations that he would walk right into their trap – but that wouldn't suit their agenda.
Independent research suggests their plan isn't working. Press Gazette recently ran a poll among 2,700 people across the UK, asking them to nominate who they feel has been the most impressive high-profile politician during the Covid-19 crisis.
Sturgeon was top, with 29 percent. Johnson was fourth, receiving 14 percent. So for all the media's sordid attempts to create a dream narrative that would culminate with 'Mr Britain' crushing 'The Tartan Queen', the ordinary public are seeing through it.
She's popular because her straight-talking style is dynamic, impressive and decisive. The BBC and big-selling newspapers dislike the fact that they can't tarnish her. And they are frustrated that she isn't going to indulge them in their trivial plots. Put simply, she's operating on a different level.
Like this story? Share it with a friend!
The statements, views and opinions expressed in this column are solely those of the author and do not necessarily represent those of RT.
You can share this story on social media: