Superman actor Dean Cain takes heat for arguing 'cancel culture' would censor 'truth, justice, & the American way' motto today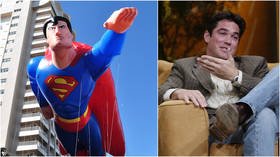 Actor Dean Cain, who portrayed Superman in a 1990s TV show, has set Twitter ablaze after arguing that modern 'cancel culture' would have outlawed the superhero's catchphrase, "Truth, justice and the American way."
Speaking with Fox's Ainsley Earhard on Thursday, the conservative actor took aim at 'cancel culture,' dubbing it "like an early version of George Orwell's 1984" which would have barred the 90s-era character from uttering his iconic slogan.
"I promise you that Superman – I wouldn't today be allowed to say: 'Truth, justice, and the American way,'" Cain said, responding to a recent op-ed in Time Magazine calling for a "re-examining" of how superheroes are portrayed on screen.
Also on rt.com
'You're 25 years late': Non-white Superman actor trolls site calling for 'diverse' Man of Steel
Cain's take – which also involved heavy praise for police, who he called "heroes" in their own right – was quickly savaged online, making the actor's name trend across Twitter. While some critics took shots at Cain's praise for law enforcement, others challenged his claim about 'cancel culture' altogether, arguing that Captain America is still widely popular and has yet to be thrown down the memory hole.
Award-winning comic book writer Tom King also waded into the fray, countering that he had used the "American way" catchphrase in a comic earlier this year and was not canceled for it, prompting a minor walk-back from Cain.
Though the Trump-supporting actor made no mention of immigration during the Fox segment, netizens nonetheless took offense on the behalf of illegal aliens – seeing that Clark Kent is himself a literal alien from outer space – apparently suggesting that only natural-born Americans can praise the "American way."
Like this story? Share it with a friend!
You can share this story on social media: