Create chaos, welcome refugees, pay millions to US firm to process applications, pay refugees to go home. Well done, Europe!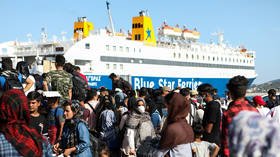 The refugee crisis of 2014–2019 provided rich pickings for some, but it was European citizens who lost out as taxpayers' money was spent on paying big business to deal with the deluge of asylum applications.
The recent revelations about the role played by the US management consultancy giant McKinsey in the processing of asylum applications on overcrowded Greek islands four years ago expose just what a great business opportunity the whole 'refugee crisis' was.
Let's remind ourselves what happened. Starting from late 2013, the numbers of people seeking entry into Europe from the Middle East and North Africa started to rise significantly. This could be seen as a direct consequence of destabilizing Western 'regime-change' operations in Libya, Iraq, Syria, and Afghanistan.
In 2015, the number of first-time asylum seekers applying for entry into EU states reached a staggering 1.2 million – a number more than double that of the previous year. Over half came from just three countries: Syria, Afghanistan and Iraq.
There were definite push factors in explaining this Biblical level of migration, but there were pull factors too. The giveaway was that more than a third of these migrants sought asylum not in the first country they came to, but in Germany.
German Chancellor Angela Merkel had encouraged this by saying that her country would offer sanctuary to refugees. "Wir schaffen das" ("We can do this"), she declared. This welcoming stance was lauded by liberals across the continent as extremely worthy, but was it practical?
Compassion is a good thing, but it soon became clear that Germany – and Europe – wouldn't be able to cope with the huge numbers involved. Meanwhile, Turkey threatened to swell the numbers even further by sending even more refugees, who had come via its borders into the EU.
As a gambit for receiving more money from Brussels, you can't blame the wily Turkish President Recep Erdogan for taking advantage of the situation. It's Europe's leaders, and, in particular, Frau Merkel, who should carry the can for what happened. The German government hired McKinsey to handle the applications, and, according to reports, was paid more than 45 million euros to help clear the backlog.
But that's not all. In January 2017, a contract worth 992,000 euros was signed between McKinsey and the European Asylum Support Office (EASO), the EU's asylum agency, to assist in the implementation of the EU's Joint Action Plan. The Balkan Insight website reveals that the contract came with an attached 'exception note,' stating that "due to the time constraints and the political pressure, it was deemed necessary to proceed with the contract to be signed without following the necessary procurement procedure."
We can make our own minds up as to whether the deals represented value for money. Balkan Insight notes that, although in its May 2017 report, McKinsey hailed its success in reducing the 'total process duration' of the asylum procedure from an average of 170 days in February 2017 to 11 days, there were only 1,500 fewer refugees on the Greek island in question in April 2017 than there were in January of that year.
Also on rt.com
Soft touch UK immigration fails as chaos in Libya turns asylum seeker into alleged terrorist who slaughtered three innocents
Even allowing for the work it did pro bono, what we can say for sure is that the refugee crisis proved very lucrative for McKinsey. But did the German government and the EU really have to outsource?
Surely a better policy would have been to make it clear that such numbers could simply not be dealt with? Merkel basically encouraged migrants to come, in the expectation that all would be admitted, and then German and EU taxpayers had to foot the bill for the ensuing chaos at a time when European economies were hardly thriving.
The refugee crisis – the main cause of which was Western meddling in Middle Eastern and North African internal affairs – was not handled well from start to finish. By February 2017, the German government was offering asylum seekers up to 1,200 euros each – from a total budget of more than 40 million euros – to voluntarily return to their home countries.
Say that all are welcome, then pay someone else to sort through the huge number of applications, before offering to fund people to go home is not the best way to use your resources. Not that you'll find McKinsey complaining. It's too busy counting its money.
Think your friends would be interested? Share this story!
The statements, views and opinions expressed in this column are solely those of the author and do not necessarily represent those of RT.
You can share this story on social media: