How much do we REALLY know about Kim Yo-jong, the outspoken sister of Kim Jong-un who's now North Korea's No. 2?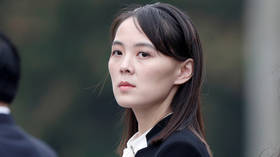 Kim Yo-jong has been in the news lately, calling defectors in South Korea 'human scum' and blowing up buildings. But what is her background and is she being groomed for the top job if anything happens to Kim Jong-un?
This month, the world got to see a rather disturbing, different side of Kim Yo-jong. Although she had previously been regarded as a significant North Korean political figure, her actions over the past two weeks have put her name in news headlines around the world.
Also on rt.com
North Korea threatens to 'set Seoul on fire' while South promises it will 'pay a price' for military action
It all started on June 4, when she publicly lashed out at Seoul for failing to prevent anti-North Korean propaganda from being spread across the border. She demanded that South Korean authorities take strong action against the defectors and activists spreading the 'disinformation,' and threatened serious repercussions, such as closing down the inter-Korean liaison office and scrapping a military agreement with the South, if her warnings went unheeded.
Despite Seoul reassuring Pyongyang that immediate action would be taken on the propaganda issue, KYJ wasn't having any of it. She had all the communication lines with Seoul cut off on June 9 and warned that more actions would follow. Then things really got out of hand. On June 16, she ordered the liaison office to be blown up completely. As the face behind this act of aggression, she instantly became one of the most recognizable members of the North Korean regime. But how much do we really know about this increasingly powerful figure?
Early years
KYJ is believed to have been born on September 26, 1987, making her 32 years old. She is the only daughter of Ko Yong-hui, who is also the mother of Kim Jong-un and Kim Jong-chol. Ko, a Japanese-born member of the prestigious Mansudae Art Troupe, was a common-law wife of Kim Jong-il. KYJ is the youngest of Kim Jong-il's seven children.
She, like Kim Jong-un, is believed to have attended school in Bern, Switzerland from 1996-2000, under the alias 'Kim Yong-sun.' While there, she initially took a supplementary German language class, and was later integrated into a regular third-grade classroom in 1997. At some point in her schooling, she transferred to Liebefeld-Steinholzli public school under the pseudonym 'Pak Mi-hyang.'
Also on rt.com
Why does MSM believe bizarre rumors coming from the South about North Korea? The two countries are still technically AT WAR!
She completed some coursework at a Western European university following her mother's death in 2004 and is said to be fluent in several languages, including French. KYJ and her brothers lived together in an apartment located at No. 10 Kirchstrasse before her aunt and uncle defected to the United States in 1998.
Her whereabouts and activities until 2007 are not clear. At the time, she was appointed to be a junior cadre in the central party, working under her father or her aunt, Kim Kyong-hui.
Climbing the ranks
KYJ resurfaced in 2008 after Kim Jong-il suffered strokes in August and September of that year. She then completed some coursework at Kim Il-sung University (reportedly in computer science) and started appearing in public more frequently in 2009 to prepare for her brother's succession process.
She made her first, albeit unofficial, appearance in North Korean state media while accompanying her father on a trip to the Wonsan University of Agriculture in May 2009. Some time after this, she started working in the National Defense Commission and Kim Jong-il's personal secretariat. She also joined the close aides that attended her father's visits and inspections, but remained largely in the background.
In 2011, South Korean media caught a glimpse of her and her other brother, Kim Jong-chul, at an Eric Clapton concert in Singapore. Later that year, she then made her first official domestic media appearance at her father's funeral. But her first appearance as a government official didn't come until 2014, during the 13th Supreme People's Assembly (SPA) elections.
Also on rt.com
'Conniving human scum': North Korea is very angry at the South, but it's not Seoul's attention it wants
That year, she was appointed as vice-director of the Propaganda and Agitation Department, which manages North Korea's cultural affairs and news media. Notably, the department is in charge of political education, regular ideological indoctrination activities, and public events. She was effectively tasked with building her brother's cult of personality.
Regarding her personal life, KYJ is believed to have married in January 2015 and gave birth to her first child four months later. She is married to Choe Song, the younger son of Korean Workers' Party's (KWP) Secretary Choe Ryong-hae. Her husband works in the KWP Finance and Accounting Department and is said to have ties to Office 39, the KWP's division in charge of raising funds for the North Korean regime.
Then, in 2017, she was promoted to an alternate member of the country's top decision-making body, the Politburo. Her rise in influence was reflected by the fact that the US included her on its blacklist for "severe human rights abuses."
Debut on the world stage
2018 was the year the wider world was introduced to the North Korean leader's mysterious sister. KYJ made her international debut during the PyeongChang Winter Olympics when she visited South Korea as the North Korean representative. The occasion marked the first visit to South Korea of a member of the ruling Kim family since the Korean War.
South Korean media portrayed her as a soft-spoken, approachable figure, much less daunting than her brother. She was all smiles when meeting South Korean President Moon and his wife, and they appeared to get along quite well. Things seemed to be going smoothly until early 2019, when Kim Jong-un and Donald Trump met for a second summit in Hanoi, Vietnam.
Also on rt.com
WATCH North Korea's Kim re-emerge in public amid rumors of DEATH
The summit ended abruptly after the US refused to alleviate any sanctions against North Korea and chose to maintain its hardline stance. This resulted in the collapse of bilateral talks and the beginning of what would become a long, drawn-out stalling of progress between the two nations. After Hanoi, KYJ was reportedly demoted and kept a low profile for a few months.
She then reappeared later in the year and issued her first two direct orders to the military in December. The first one was directed at the political divisions of all-female units, urging them to "remain alert to the working conditions and health of the female soldiers," while the second directive emphasized the importance of the military's logistics system and proposed specific plans to improve the military's supply chain.
Second in command?
This April, KYJ was reappointed to her post as alternate member of the Politburo after a reshuffle of top officials. At home, she has continued to perform her role as 'propagandist-in-chief' for her brother and has expanded her responsibilities to include overseeing a review of the country's public bonds program, among others.
This year marked a particular turning point in her political career, as she began actively engaging in the aggressive war of words game the North Korean leadership so loves. In March, she publicly lashed out at Seoul after it expressed "strong concern" over Pyongyang's firing of two short-range ballistic missiles. She described the South's presidential office, the Blue House, as "a burnt child dreading fire," and referred to Seoul's comments as "gangster-like assertions."
Her various insults against the South eventually turned into physical action with the blowing up of the liaison office.
This begs a number of questions: How much power does she really have? Where is Kim Jong-un during these testing times? And why has he chosen her to be the face of this anti-South rage campaign?
Also on rt.com
How badly does mainstream media want Kim Jong-un dead?
KYJ's recent increase in public appearances coincides with her brother's notable absence from public view. Kim Jong-un has only made three public appearances since mid-April, while his sister has been in the public eye much more often than usual.
But one thing is worth noting here; this isn't the first time something like this has happened. In 2014, Kim Jong-un disappeared from public view for nearly six weeks due to alleged medical problems, returning after a month with a walking stick. During that time, his sister briefly took over the management of some of his state responsibilities. It's possible that could be the case this time as well.
Alternatively, however, Kim Jong-un might have other plans for his sister. According to a high-level North Korean government source for Daily NK, KYJ's recent hardline stance against Seoul is part of efforts to expand upon her "revolutionary achievements," a key measure of leadership in the country. According to the source, she is focusing her efforts on expanding her authority through the Propaganda and Agitation Department. This latter point is quite intriguing given that Kim Jong-il solidified his role as the successor to his father by being promoted through the ranks within that very same department.
Also on rt.com
North Korea vows to sever ALL communications with Seoul
That same article also speculates that the top levels of North Korean leadership may be trying to increase KYJ's political clout "to prevent revolutionary elders from causing any trouble." The elders are key members of the Korean Workers' Party, military and other government agencies.
For all we know, KYJ might be in the process of being groomed to play an 'empress dowager'-like role in the future were something to happen to her brother. She would then have to ensure the country's stability until Kim Jong-un's son, rumored to be 12 now, is old enough to take on the top leadership position.
Still, despite her recent increased notoriety, she is unlikely to be calling all the shots. It is much more likely she is being used as a tool to get the leadership's message across to the world and maintain regime stability at home.
Think your friends would be interested? Share this story!
The statements, views and opinions expressed in this column are solely those of the author and do not necessarily represent those of RT.
You can share this story on social media: