Lest We Forget, absolutely. But World War II has nothing to do with BLM, statues or Covid-19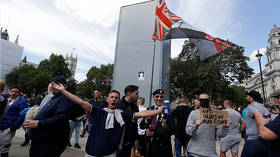 World War II and the UK's role in it are crucial parts of history, but we have been invoking it at every turn – from coronavirus to statues. Time to realise our exploits 75 years ago don't always matter.
This summer sees the 75th anniversary of the end of the Second World War, though you'd hardly know it had actually finished in the UK. While the actual anniversary of VE Day passed with little more than some controversy over socially-undistanced conga lines, other more pressing events in the Spring of 2020 have already seen the WW2 Card played.
We've had calls to summon the 'Blitz Spirit' in order to 'defeat' coronavirus and, now, hundreds of people willing to die (ok, not die - take coke, pee on memorials and hurl racist abuse) in defence of a Winston Churchill statue that had been graffitied during a Black Lives Matter protest.
It's a peculiar obsession that we Brits have with that war (other wars are available). Despite having the biggest empire in the history of humanity when it broke out, the narrative is that of a plucky little island almost single-handedly taking on 'the Hun' with nothing more than guts, ingenuity and a determination to grow our own vegetables. What do you mean, other countries were involved?
Also on rt.com
Slavoj Zizek: Greta and Bernie should be leading in these troubled times, but they are NOT RADICAL ENOUGH
Contrary to popular belief, I'm not stupid. It would be madness not to recognise the seismic impact of the war and this country's crucial role in its very welcome outcome. It's something to be proud of and I'm very much for remembrance and education. However, our current relationship isn't doing anyone any favours; it's holding us back as a nation and really needs to change.
It's a multifaceted relationship that can be quaint and quirky, but can also be the root of xenophobia and the Little Englander mentality.
On one level you have your eccentric 'fandom,' where people collect Spitfire-shaped teapots and dress up as air-raid wardens. Harmless hobbyists, for the most part, as long as their hand-grenade cigarette lighter has been decommissioned.
Then there's the war-based entertainment. War films are hardly a solely British trait and, as one look at the film releases (and awards ceremonies) in any year shows, global conflict, genocide, espionage, resistance and mass bombings continue to provide fertile ground for scriptwriters.
But us Brits brought the war into our homes and haven't let it leave. I read comic books like The Victor, full of wartime heroics, in the 1980s. Two of the biggest sitcoms in UK history, Dad's Army and 'Allo 'Allo were about the war, with the latter ending in 1992.
We've never stopped making cosy wartime TV costume dramas like Foyle's War and World on Fire. All being produced by and for people who don't remember the war, feeding us the 'plucky little island' mythology but without any life experience to weigh against it.
Next, you have the VE Day enthusiasts. The ones who did those congas at street parties despite lockdown because Churchill didn't singlehandedly punch Hitler to death just so some virus could stop them doing a silly dance. Their houses are adorned with union flags galore, bunting, and perhaps a giant model Spitfire dangling over their front yard. Very much two fingers to anyone who doesn't love winning world wars.
A more recent – and more sinister – phenomenon is the rise of the 'Poppy Mob'. What used to be an understated and respectful practice of wearing a small red poppy around Remembrance Day each November 11 (a symbol inspired by World War I but now very much linked to World War II) to acknowledge those who had died in service, has now been hijacked by people dressing up in ridiculous outfits to 'out-poppy' each other and an angry Poppy Police bullying, shaming and threatening anyone - particularly public figures - who doesn't wear a poppy. Because Montgomery kicked sand in Rommel's face so that we had the freedom to intimidate people who don't share our opinions.
But the darkest, most poisonous element of all is how the far right and football hooligans (not exclusive groups) have appropriated the war for their agenda of violence and hate. When they travel abroad to watch England play, they trash towns and attack police and locals, all while singing songs about 'German bombers.' They make the hissing sound of gas chambers to fans with Jewish connections.
When Churchill's statue was graffitied, they swarmed on London in their hundreds, hoping for a scrap and claiming that "Churchill killed Hitler." They got drunk, took drugs, goaded the small gathering of BLM protesters, got punched, and turned the city into a depository for beer cans and urine. Their Nazi salutes and the fact that they'd run a mile from any real war is beyond irony. They don't care about the war or its heroes; they'd fight over different shoe-sizes if it was the only excuse left.
Thankfully, they are a minority, albeit one that refuses to go away. But even the non-violent, non-bullying levels of war obsession are a problem. They render people incapable of critical thought or reflection. No matter what else happens or what the country does, we won the war. We don't need to worry about the future because our past is so great. We can beat Covid. We'll 'win' Brexit because the world needs us, just like it needed us in 1939. No surrender!
The UK, once a country obsessed with progress, now spends far too much time looking backwards. It's an affliction of a once-powerful nation that had a glorious last hurrah, but one which knocked it off the top rungs of the global ladder. While we've basked in Battle of Britain memorabilia and 'Keep Calm and Carry On' posters (which were never actually used during the war), we've been overtaken by, of all countries, Germany and Japan, for whom defeat meted out some much-needed and very motivational humility.
So, yes, remember. Yes, appreciate. Yes, celebrate. But please, please stop illogically linking everything to the war and let's move on.
The statements, views and opinions expressed in this column are solely those of the author and do not necessarily represent those of RT.
You can share this story on social media: