Black votes matter: Why George Floyd's death may have wrecked Donald Trump's re-election hopes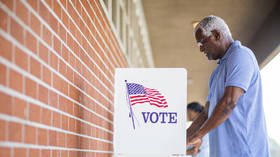 The US President's approval rating among African Americans has slumped by almost half since Floyd's death – which is a significant blow to his chances of winning November's election.
Between December 2019 and February of this year, Donald Trump's approval rating among African American voters rose to unusually high levels for a Republican president, reaching a peak of 23 percent.
This apparent consolidation of a sizable minority of black support was shaping up as a considerable advantage for the US president, going into his re-election battle in November. Black voters are a critical part of the Democratic base – and a slump in their support for Hillary Clinton in 2016 was a big factor in Trump's narrow electoral college victory.
Now, battered by Covid-19 and the deterioration in race relations in the wake of the George Floyd murder, the fragile but tangible support the president had accrued with black voters has drastically faded, falling by almost half to just 12 percent.
While the president's handling of coronavirus may be a contributory factor, the Floyd killing has been a dramatic and decisive event, and extremely consequential, both demographically and electorally. This is particularly true, given the slight margins we are likely to see in many battleground states, with few independent voters to scrap over, and the need for both parties to consolidate their base.
The re-opening of cultural wounds, President Trump's antagonistic rhetoric over Floyd, and the return of black support to the Democratic fold has reshaped the political landscape.
Better than Abraham Lincoln?
Shortly after his 2016 win, Trump attributed his standing with black voters to the notion that practical realities had superseded traditional affinities and loyalties. "We did great with the African American community. I'd talk about crime, I'd talk about lack of education, I'd talk about no jobs, and I'd say, what the hell do you have to lose, right?"
While his recent claim that he has "done more for the African American community than any other president" since Lincoln, was characteristic hyperbole, there was, in fact, a considerable amount for him to brag about. During his administration, the black unemployment rate had reached a record low, as had the gap between the black and white unemployment rates. In addition, Trump had signed a significant criminal justice reform bill into law, and increased funding for historically black colleges and universities.
Trump's State of the Union address earlier this year emphasized this record – an indication that he and his campaign were serious about increasing support among the African American community ahead of the election.
The campaign has been investing more money and resources in an attempt to attract African American voters than any Republican presidential campaign in recent memory, including an $11 million Super Bowl commercial, and adverts taken out in local black newspapers and on radio stations. Much of the campaign's ongoing social-media investment evokes the 2004 Bush re-election effort, which had aimed to stoke sentiment among a certain demographic of black voters who have conservative views on issues such as immigration, abortion, gender roles and gay rights.
Also on rt.com
The 2020 US election will be the most expensive ever, but the BILLIONS spent will barely affect the outcome
Black votes are crucial in swing states
This effort was paying off. At the end of 2019, the Trump 2020 campaign issued an email entitled "Black Voters Are Raising Their Voices in Support of President Trump. Recent Polls Show Significant Increase in Support from the Black Community." That was referring to Rasmussen and Emerson polls that showed his favourability rising among black voters. Trump also had a consistent edge in many of the battleground states needed to win the electoral college.
Though his 23 percent approval rating in February is fairly low, any fluctuation in black voting patterns can make a massive impact. In 2004, George W Bush won the support of 11 percent of black voters. In 2016, Trump did slightly worse, gaining eight percent, but outperformed John McCain (four percent) in 2008, and Mitt Romney (six percent) in 2012 among black voters.
Trump's achievement wasn't so much a reflection of his outreach, agenda or personal appeal, as it was an outcome of Barack Obama's near-unanimous support among black voters in 2008 and 2012. Trump's eight percent was somewhat conventional for a GOP candidate. So, any indication he could do better than that this November, as the pre-Covid and pre-Floyd polls indicated, was significant – a feat that could have been a crucial element in him winning re-election.
There are a lot of caveats here. Firstly, there isn't necessarily a correlation between approval ratings and actual voting intentions. There is a strong expectation that, during the election campaign, especially if Biden picks a black running mate and when Obama enters the fray on behalf of his former vice-president, the African American community will "come home" to the Democrats. Traditionally, around nine out of 10 African Americans cast their votes for them.
But even a small shift can be decisive. Obama's massive support from the African American community meant that, in 2012, for the first time, the percentage turnout among black voters topped that of whites. Black turnout was especially high in swing states, such as Wisconsin, Ohio, Michigan and North Carolina. It is estimated that the national black voter turnout rate in 2016, with Hillary Clinton as the nominee, was down about 4.5 percent from 2012.
It's the turnout, stupid
The effect of this drop was telling. In 2012, Obama won Detroit, Michigan, with its large African American population, by 281,743 votes to Mitt Romney's 6,019. Four years later, Clinton won Detroit by 234,871 to Trump's 7,682. Her 46,872-vote drop turned out to be crucial in a state that, overall, went to Trump by just 10,700 votes, or 0.3 percent.
Similarly, Trump unexpectedly won the state of Wisconsin, by a tiny margin of 0.77 percent, or 22,748 votes. In Wisconsin's Milwaukee County, which is 38 percent black, Obama won 332,438 votes in 2012. In 2016, Clinton got 288,822 votes. The 43,616 drop can be attributed, in part, to a voter ID law that suppressed turnout across the state by making voting more restrictive, but the discrepancy in support is still significant, irrespective of the law's effects.
Trump won Pennsylvania by 44,292 votes out of more than 6,000,000 cast, a difference of 0.72 percent. About a third of those votes came from a swing in Philadelphia County, where the residents are 44 percent black. In Ohio's Cuyahoga County, which encompasses Cleveland, 458,422 votes went to Obama in 2008, and 447,254 in 2012. Clinton, in 2016, won just 398,276. The Democratic vote in Cuyahoga County fell by roughly 50,000.
Secondly, it's hard to parse the crossover effects on the polling numbers of the president's response to Covid-19 and his response to the George Floyd incident with its aftermath of mass protest.
My own view is that the Floyd death is the more decisive. Yes, the black community has been hit hard by the coronavirus epidemic, with many in the media alleging the impact has been disproportionate, but the harsh consequences and sacrifices required are a national experience. And though Trump's response can be criticized, and some of his messaging considered jarring, he is not to blame for the crisis itself. With some arguable discrepancies and iniquities, and frustration at the president's tone, the black population has suffered, and is slowly reviving, along a broadly similar parabola to the rest of the population.
Also on rt.com
As a UC Berkeley professor and a person of color, I REFUSE TO SERVE the Democratic party and #BLM – and so should you
Long-simmering tensions rise again
The Floyd case is more than economic, however – it is cultural. All the fault lines of race, prejudice and privilege have spilled out into the open on a massive scale. While the Democratic Party was not the obvious beneficiary of the outrage, the president destroyed a vast amount of gradually and expensively accrued goodwill among the African American population with his antagonistic and reactionary response, including his now-notorious decision to have the streets around the White House cleared with rubber bullets and smoke grenades for the sake of a photo-op outside a nearby church.
His emphasis on criticizing the looters and arsonists, his indifference to giving a unifying address, and his ongoing obstinacy over Confederate monuments and refusal even to consider changing the names of military bases named after Confederate generals, has meant that that, based on practical realities superseding traditional affinities, tensions and loyalties, his connection with black voters is now unravelling.
Long-standing, simmering tensions and culture-war issues are now, to a great degree, overtaking the practical "pocket-book" concerns that had earned him a fragile rise in the polls among the black community.
If much of the president's declining poll ratings among African Americans could be attributed to Covid-19, there would have been the chance of a revival again, depending on the extent to which the economic circumstances of the black community improved toward the end of the year, as the effects of the lockdown wore off. But the cultural resentments, in the wake of Floyd, are more entrenched, and, in a political sense, more mobilizing and animating, especially for younger voters, who, until now, were lukewarm about having a 77-year-old Democratic nominee in Joe Biden.
One man's death – and an eight-minute video of it – has had an extraordinary, perhaps decisive effect on the political landscape, five months out from the general election.
Think your friends would be interested? Share this story!
The statements, views and opinions expressed in this column are solely those of the author and do not necessarily represent those of RT.
You can share this story on social media: