Removing Rhodes statue would be a total whitewash of both British and African history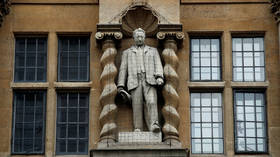 Fourteen Oxford professors have rebelled against their vice-chancellor, who invoked Nelson Mandela's acceptance of Cecil Rhodes to defend his statue. But dismissing Mandela doesn't sound like the spirit of Black Lives Matter.
It's hard to comprehend why the BLM movement is making such a song and dance about the Cecil Rhodes statue, when even the anti-apartheid icon Nelson Mandela had no qualms about having his own good name associated with the man of the hour here.
The controversial historical figure – once described as the "Hitler of Africa," which really sounds like an exaggeration – may have been one of the founding fathers of the oppressive regime that helped get the ball rolling with apartheid, which Mandela bravely dedicated his whole life to fighting the good fight against.
Yet that didn't stop the great man of peace – who people seem to conveniently forget was once a terrorist himself – setting a fine example of "turning the other cheek" when he joined forces with the Rhodes Trust in 2003 to jointly set up the Mandela Rhodes Foundation.
Let's not forget that Mandela said at the time, "In this, I am certain, Cecil John Rhodes and I would have made common cause." You can read Mandela's full speech here, in which he offered up some fulsome praise of Rhodes, by acknowledging the major contribution – both good and bad – he made in helping to "build and develop" the South Africa of today with his "passion."
Also on rt.com
Cancel these: 12 problematic things our new CULTURAL COMISSARS should address ASAP
Rhodes would probably have rolled in his grave at the thought of being strongly associated with a black African such as Mandela. In fact, he's probably lucky to still have a grave at all, after Robert Mugabe's regime once wanted to dig him up and ship him back to England.
But even this evil dictator respected the dying wishes of Rhodes, saying: "We don't know where he died in South Africa, but he demanded that he be buried here. The colonialists here in Zimbabwe listened to his wish, which was written in his will, and buried him here."
If even such Africans themselves can respect this reviled man's last wishes, surely BLM should be able to go along with Mandela's philosophical attitude towards Rhodes?
I'd imagine Mandela, who clearly had no qualms about his name being linked with such a divisive figure, would be aghast at the thought of pulling down the statue at the University of Oxford's Oriel College. Why? Because he, of all people, knew that history only ends up repeating itself if we just sweep it under the rug.
We need to be constantly reminded of our history to learn from past mistakes. As Oxford's vice-chancellor, Professor Louise Richardson, correctly stated about Mandela: "He said that we have to acknowledge our past but focus on the future. Hiding our history is not the route to enlightenment. We have to understand our history and we have to confront our history."
Also on rt.com
George Galloway: This monument-toppling cultural revolution does not absolve Britain's imperial crimes, historical or modern
But the Irish-born professor now appears to be (almost) a lone voice in the wilderness here, after being unfairly lambasted by 14 of her Oxford colleagues in an open letter to the editor of the Daily Telegraph, which was published on Wednesday.
They said she shouldn't "presume to speak for black students" – which is fair enough. But they also claim that she was somehow "ventriloquising" Mandela's words in an effort to defend colonial-era statues, which sounds like a total bulls**t argument. I reckon she's as capable as anyone of surmising what Mandela would have thought based on his own words in his aforementioned speech on Rhodes – and his decision to associate himself with Rhodes by setting up a foundation in their joint names.
Let's not forget that Oxford stated at the time, "Following careful consideration, the college's governing body has decided that the statue should remain in place and that the college will seek to provide a clear historical context to explain why it is there." The spokesperson added they were reluctant to remove it, but wanted to foster "a spirit of free speech and open debate, with a readiness to listen to divergent views."
No doubt the estimated £100million of funding it was claimed (but denied) that donors had threatened to withdraw from the university if the statue was toppled played no small role in all this back in 2016.
But in the BLM era, money is now of no importance of course. Instead, if the 14 academics are allowed to have their way, it's going to amount to a cowardly capitulation by the university, because keeping up appearances at all costs is the name of the game here.
Also on rt.com
Sadiq Khan sets up a commission for tearing down London's statues as he attempts to drag the capital from 2020 to Year Zero
What next? Do we pull down the pyramids because they may or may not have used slaves to help build one of the Seven Wonders of the Ancient World?
The BLM movement should be all about equality – not more, and nothing less. They shouldn't be wasting their breath on this trivial nonsense, but rather focusing on the bigger picture: which is, making sure society allows everybody an equal footing, shouldn't it?
Perhaps BLM would be better served demanding more statues of their own historical figures, instead of trying to pull down the white ones.
I'll leave the last word here to Oxford University's Chancellor, Lord Patten: "For all the problems associated with Cecil Rhodes's history, if it was all right for Mandela, then I have to say it's pretty well all right with me," he told the BBC."Almost every aspect of history, you have to look at both sides and, normally there is more than two sides."
Think your friends would be interested? Share this story!
The statements, views and opinions expressed in this column are solely those of the author and do not necessarily represent those of RT.
You can share this story on social media: