'As soon as I saw the slaveowner's statue being toppled in Bristol, I knew the real anti-racism protest was OVER'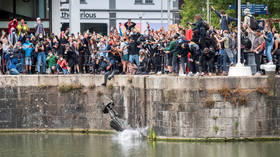 All the commissions, acts of contrition and pulling down of statues that have happened since George Floyd's murder will not bring about the fundamental changes our broken societies desperately need.
In the space of just two weeks, we have moved from the horror of watching a black man publicly murdered by the state in the form of white police brutality in Minnesota, USA, into what may seem like inane debates about public statues and old television programs.
The minute I saw Edward Colston's statue was being pulled down in Bristol in the UK, I knew the real grassroots anti-racism protest was dying. I'll explain why.
I'm not condemning the pulling down of statues by local communities who feel they have no connection with those symbols, which are mostly erected by councils and politicians to honor and celebrate their receipt of large amounts of money from a rich businessman. Many of these historic statues represent cash-filled envelopes rather than the communities they sit in.
Equally, I don't even have a problem with the BBC and other media outlets having a critical perusal of their back catalogues. I was actually very happy to see 'Little Britain' along with David Wallliams and Matt Lucas, its creators, thrown off Britbox. I have used that show as a teaching tool to university students over the past 10 years to show them what institutional racism, and classism, looks like – and the real consequences of the white middle-class male gaze, where women are presented and represented in one dimension and working class and people of color are exoticized as the hero, the villain, or the savage.
These sorts of privileged middle-class male gazers sit at the controls of all of the bodies that decide what we watch, can laugh at, and whose stories get told – and who is to be laughed at or have their lives narrated by others, rather than themselves. I teach my students that understanding how this control works at a national, local, and individual level is key to finding out how power works.
As I watched the spectacle of the statue of Colston, a slave trader and philanthropist, pulled down and dragged into the water in Bristol, I knew it was just that – a spectacle. And simply another way for those with power to take over the narrative again.
While I have enjoyed these acts of symbolism and found amusing the mass self-flagellation of the white middle classes pleading for forgiveness for prejudices of which they claim they were not aware, through adopting black tiles on their social media and creating top-10 lists of their favorite black people, let's be honest.
None of this came from below. Not one person I know from the council estates I have lived on in Nottingham and in East London has ever thought that these sorts of things were in their top-10 list of priorities. Those remain what they have always been – the lack of decent paid jobs, lack of opportunities to become a person with autonomy over their own thoughts and lives, the lack of having any power at all in their communities, the fear of poverty, and the constant dismissal of their stories and their life experiences. These are common themes in working-class communities, across all races and ethnicities.
Instead of worrying about statues or 30-year-old comedy shows, we should rather take a serious look at how unequal Britain is and at the mechanisms of this injustice.
These include a political system that puts the political party first rather than the people; a profit-driven economy that values almost nothing unless it has a potential for making money; and a whole cultural structure that validates that economic base.
Instead of tackling that, our local and national elected politicians and businesses and institutions of power fall over themselves to conjure up acts of virtue that all amount to fiddling while Rome – or Minnesota – burns. The Labour mayor of London, Sadiq Khan, has commissioned a project to look at diversity in the public realm in the capital. Prime Minister Boris Johnson wants yet another commission to look at inequality in Britain. A leading Labour MP, David Lammy, wants to focus on black representation in elite institutions such as Oxbridge and the judiciary.
My serious question here is will any of these commissions look at housing, food poverty, and an unequal and unfair education structure that merely replicates and reproduces inequality? I very much doubt it.
Let's take housing as one example of the institutionalized inequality that blights working-class lives. Over the past few years, the same politicians mentioned above have allowed thousands of luxury blocks of flats to be built on top of razed council housing estates. These social housing homes have been demolished almost exclusively by local Labour councils in London. In 2018, it was conservatively estimated that 31,000 residents in London were facing the loss of their council-built homes in demolition programs sanctioned by the mayor of London's office.
We have also just passed the third anniversary of the Grenfell Tower fire – in which 72 people lost their lives because the Conservative council in the Royal Borough of Kensington and Chelsea failed to take seriously the fears of the local community regarding the refurbishment of their 1960s tower block. As usual, the views of the working-class residents were ignored, and the council pressed ahead with wrapping the building in combustible cladding, solely to improve an aesthetic that was unpalatable to the area's wealthy residents.
The erection or removal of statues are symbolic decisions made by those with the most power to celebrate or denigrate any point, person, or narrative in history. Rather than argue among ourselves about effigies of dead white men, let's do something positive and lasting for people who are still alive today. People of all colors deserve decent housing they can afford. Jobs that pay well enough to allow people not just to eat and clothe themselves, but to live proper lives. And schools and colleges that give their children a fair and equal chance to learn and progress.
These are the sorts of things that really matter. Not bloody statues.
Think your friends would be interested? Share this story!
The statements, views and opinions expressed in this column are solely those of the author and do not necessarily represent those of RT.
You can share this story on social media: