Marcus Rashford's 'think of the children' message is clueless – but cheerleading masses give him validation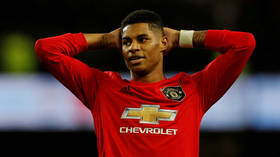 Footballer Marcus Rashford has become the face of a widely applauded grassroots campaign demanding free meals for underprivileged children, but made an embarrassing mistake by venturing into areas he clearly knows nothing about.
Most people revel in receiving support or adulation. Manchester United star Marcus Rashford is no exception, but he experienced it off the field this week, when he published an open letter to Britain's MPs.
It was a plea to make food vouchers available to poor children over the six-week school summer holidays. Boris Johnson ultimately performed a U-turn and announced kids could claim them.
Before that was confirmed, though, and after a torrent of praise for his initial powerful letter, including a large amount of media coverage, Rashford attempted to turn the screw on Boris.
He rattled off a series of tweets to his 2.8 million followers, before going to training, one of which read: "When you wake up this morning and run your shower, take a second to think about parents who have had their water turned off during lockdown."
1. When you wake up this morning and run your shower, take a second to think about parents who have had their water turned off during lockdown #maketheuturn

— Marcus Rashford (@MarcusRashford) June 16, 2020
This would be a heartbreaking occurrence, and only the downright cold-hearted would not be sympathetic – had it been based on facts.
Since 1999, providers have not legally been allowed to disconnect a non-business customer's water supply.
In fact, if you do lose water for more than 12 hours, the supplier is duty-bound to supply you with an alternative source, such as bottled water or a mobile tank, until normal service resumes.
Rashford's next tweet was: "When you turn on your kettle, to make a cup of tea or coffee, think of those parents who have had to default on electricity bill payments just to make ends meet, having lost their jobs during the pandemic."
While disconnection is not illegal, the UK's six largest providers – British Gas, EDF Energy, npower, E.ON, Scottish Power, and SSE – are all part of the Energy UK Safety Net.
It's a scheme to identify vulnerable customers and prevent them from disconnection.
Also on rt.com
'Racist symbols': F1 champion Hamilton demands removal of statues after protesters topple slave trader monument in Bristol
The organization states: "A customer is vulnerable if, for reasons of age, health, disability or severe financial insecurity, they are unable to safeguard their personal welfare or the personal welfare of other members of the household."
It vows to reconnect anyone who is deemed to be vulnerable within 24 hours.
Some of the energy firms have also made statements or pledges to their customers and donations to Covid-19 charities.So, while Rashford's intentions were noble, it wouldn't have hurt if he had expressed them with a little more knowledge of the entire situation.
The first person to rebuke him online was the extremely unpopular Secretary of State for Work and Pensions, Thérèse Coffey.
Despite having held on to her seat in the last four general elections, she is loathed by a section of the population. So, after she spoke up, the debate hurtled off on a tangent about how the government should be ashamed of how it has handled the pandemic. The initial subject, and Rashford's faulty facts, were safely forgotten.
It should be noted, the government is supporting 9.1 million jobs with its Covid-19 furlough scheme, which continues until October. And 2.6 million self-employed workers have received payments based on their previous average earnings. Chancellor Rishi Sunak is one of the few to emerge from this with any dignity.
But, believing too much in his own ego, Rashford jumped in and proved he was clueless about how things really operate. His contribution helped whip up unnecessary anger and that shouldn't be applauded.
Also on rt.com
Olympics must NOT become political protest ground, gold medals transcend issues of race
It's easy to imagine a utopia where everyone is comfortable – and we all wish that existed. It doesn't. Putting out idealistic tweets based on falsehoods only causes more division and frustration among those who already feel disenfranchised.
Naive Rashford really needs to get more informed – but, of course, he doesn't have to, seeing as he already has a faithful fan base to boost his message, and a massive pool of anti-government sentiment to tap into for validation.
Perhaps if he wants to have his say, he should hang up the boots and run for office – put his money where his mouth is, and see how loose he can play with the facts then.
Think your friends would be interested? Share this story!
The statements, views and opinions expressed in this column are solely those of the author and do not necessarily represent those of RT.
You can share this story on social media: