Most Americans think 'All Lives Matter' is a positive message. Yet why are we being told it's as good as a hate crime?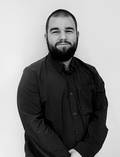 Zachary Leeman
is the author of the novel Nigh and journalist who covers art and culture. He has previously written for outlets such as Breitbart, LifeZette, and BizPac Review among others. Follow him on Twitter @WritingLeeman
is the author of the novel Nigh and journalist who covers art and culture. He has previously written for outlets such as Breitbart, LifeZette, and BizPac Review among others. Follow him on Twitter @WritingLeeman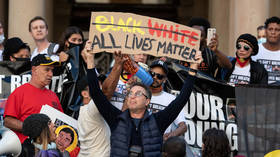 Despite pushback from activists against the phrase "all lives matter" amidst George Floyd protests, a poll suggests the majority of people are not offended by the words and only a small, vocal minority are behind the outrage.
If you have spent even a little time looking through social media posts or reading media headlines in recent weeks, it's likely become obvious that "all lives matter" is one of many triggering phrases that has been pointed to by Black Lives Matter activists as simply not culturally acceptable to say.
According to a new poll, however, the majority of people appear to see the words as positive.
Also on rt.com
We're fighting over statues because we don't learn enough history, warts and all
Numbers don't lie
Questioning nearly 1,500 people, a YouGov/Economist poll shows that across races, regions, and ages, the majority of people find no comeuppance with the three words.
In total, 56 percent of respondents said they saw the phrase as positive. That number remains above 50 for males and females and barely dips below that halfway mark for black people polled.
The number also dips below 50 percent when one gets into younger age groups, as only 37 percent of people between the ages of 18 and 29 see "all lives matter" as a positive message. That number rises as the age groups questioned get older.
Also on rt.com
HBO Max has pulled 'Gone With the Wind' from its service in order to fight racism and, frankly my dear, I DO give a damn!
To put the numbers in better perspective, those that think "all lives matter" carries a negative connotation are in the minority almost entirely across the board.
Only 23 percent of those polled said it pushed a negative message. For black respondents, only 28 percent saw a negative stance in the words. The highest the outrage goes, according to the poll, is among college grads, adults below the age of 29, and people with incomes of over $100,000 a year. Even in these categories though it was still only 37 percent, 40 percent, and 35 percent who thought "all lives matter" is negative.
Disproportionate outrage
These numbers don't quite match up to the outrage we have seen over the phrase, suggesting a vocal minority is pushing the divisive narrative through social media and volatile protests.
Anyone who dares to use the words in response to the Black Lives Matter movement finds themselves the target of online outrage that suggests a much larger portion of the nation is offended. Activists claim the words are used to belittle the BLM movement and downplay the hardships faced by black Americans.
Longtime Sacramento Kings play-by-play broadcaster Grant Napear resigned from his position this month after sparking outrage by saying the phrase during an exchange with a former player. He also lost a radio show over the controversy too.
Also on rt.com
Americans already tried living without police, and it wasn't called the 'Wild West' for nothing! Is THAT what you want?
Asked what he thought of the Black Lives Matter movement, Napear merely said, "All lives matter...all of them."
Other celebs like Heidi Klum have walked back support for the phrase after facing backlash for daring to utter or even post it.
Companies and public figures have done their best to distance themselves from the phrase as well. Anyone who says "all lives matter" to their iPhone Siri feature will get a response encouraging them to read more into the Black Lives Matter movement.
Amazon founder Jeff Bezos recently went into a rant against an email from an angry customer using the phrase, affirming his alliance with BLM and ensuring people he won't change his "stance." While one would think a billionaire businessman wouldn't need to waste his time answering angry emails from customers, Bezos' obvious virtue signaling shows how frightened people are to be attached to a phrase we are told is offensive to the current movement.
Also on rt.com
Authoritarian liberals calling to end cop movies/TV shows NOW will NOT fix any racism or police brutality problems
Not a serious conversation
Looking at the practical results of a poll on the matter and weighing them against the narrative we see playing out in the media and on social platforms, it becomes clear that there is a serious disconnect with reality. While endless media op-eds tell us how dangerous a phrase like "all lives matter" is, it is not a concern for the majority of people. A vocal minority has hijacked a cultural moment and is now using it to simply spread divisiveness by labeling everything from television shows to phrases they don't like as racist. This progresses no serious conversation and merely opens the door for easy villainization, a favorite hobby of virtue signalers looking to 'belong' and 'be part of' what they see as a definitive movement in history.
But a moment cannot be definitive if we, as a culture, are putting too much stock in what the loudest and most extreme among us say. And as this movement to bully people into toeing the line and only expressing themselves through approved language like "black lives matter" grows — but we see it does not match up to practical reality — it's time we reevaluate whose outrage exactly we should be listening to.
The statements, views and opinions expressed in this column are solely those of the author and do not necessarily represent those of RT.