Complacency, chaos and scandal: The soap opera of Bumbling BoJo's six months in charge of the UK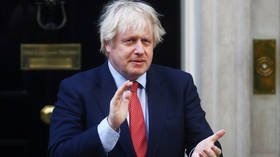 Boris Johnson has now been British PM for six months, and his rollercoaster reign has been marked by one incompetence after another. It's enough to make you nostalgic for Theresa May.
It's exactly half a year since Boris Johnson strolled December's General Election. The Conservative leader romped home with 44 percent of the vote and 365 seats in the House of Commons, affording him a landslide majority of 80.
Clearly, his 'Get Brexit Done' slogan hit home.
But BoJo has gone on to snatch defeat from the jaws of victory. Today is day 183 of his reign, and it's been an unmitigated disaster so far.
It began with an ideal metaphor, as, in true fat-cat style, he spent the New Year celebrations on the private Caribbean Island of Mustique. Questions arose, which have yet to be answered, as to who picked up the £15,000 bill. One thing is clear; it wasn't Boris.
That aside, the then still-married PM enjoyed the sunshine along with girlfriend Carrie Symonds without a care in the world.
As he relaxed on an idyllic beach, Covid-19 was starting to take a grip and the World Health Organization began investigating, making the public aware of its concerns.
On January 30, it declared it a Public Health Emergency of International Concern.
Also on rt.com
Boris Johnson promised strong leadership over Covid-19 but delivered an omnishambles
Preoccupied by Brexit
But Boris and his Brady Bunch government were fixated solely on Brexit, and on January 31 at 11pm they formally notified the European Union that the UK had purchased its one-way ticket.
Then, in a pitiful act, while other nations sent planes to repatriate citizens from China as Covid-19 spread like wildfire, the UK simply told its 30,000 subjects to get out of the country if they were able to.
By the first week of February, there were three confirmed cases in Britain, but little changed. It was more of a distraction for BoJo as he undertook a domestic power grab, appointing a lame duck chancellor at the Treasury, giving him carte blanche to drive from the backseat.
The incumbent Sajid Javid, too savvy to be a patsy, resigned, fizzing: "I was unable to accept those conditions and I do not believe any self-respecting minister would accept those conditions."
In his place with Boris's blessing came Rishi Sunak.
After the leaves fell and March ushered in spring, the PM – having missed five Cobra meetings on the coronavirus in the two previous months – was leading a sleepwalking UK to the precipice.
The country saw its first domestic death, a woman in her 70s, and a week later, BoJo warned lots more were going to "lose loved ones."
But there was no end to major events crammed full of people. The Cheltenham Festival had a four-day attendance of 251,684. In Glasgow, 47,494 football fans saw Rangers play Bayer Leverkusen. The day before BoJo spoke, Liverpool hosted Atletico Madrid in front of 52,000. The Spanish supporters were shocked to be allowed to attend, with their government having already banned football.
Also on rt.com
BoJo's decision to throw Huawei 5G deal on the scrapheap shows UK poodle still obeys its US master
Belated lockdown
Finally, after much pressure, the government announced the lockdown on March 23. But it was 10 days after WHO Director-General Tedros Adhanom Ghebreyesus had warned, "Not testing alone. Not contact tracing alone. Not quarantine alone. Not social distancing alone. Do it all."
The UK, under an ill-prepared Boris, had done none.
The restrictions sparked panic buying. Fights broke out in supermarkets. There were national shortages of toilet paper and flour as goods were rationed.
Then the devastating potential of Covid-19 really hit home on a personal level, when BoJo was diagnosed with it in early April and rushed into hospital.
Despite a worrying few days in intensive care, he pulled through and was discharged for a week of recuperation at his official retreat, Chequers.
But around Britain, things were going from bad to worse.
The testing facilities were described as a shambles as the UK lagged behind other nations. Healthcare workers used swimming goggles and cheap plastic aprons, as the country faced a severe shortage of Personal Protective Equipment.
Unsurprisingly, the death toll rose quickly with experts predicting the UK would have the highest in Europe.
Sadly, they have been proven correct.
Tale after tale arose showing the government had been aware what precautions it should take for a pandemic, but had ignored them.
Also on rt.com
Media could ask Cummings about needless deaths & crashing economy. But their 'gotcha!' moment is a stupid car trip
Dominic Cummings scandals
There was still time before May to fit in another scandal, as it transpired BoJo's chief adviser Dominic Cummings was attending the Scientific Advisory Group for Emergencies meetings, which is supposed to offer candid and independent advice to the government.
Boris barely noticed the fallout, though, as he welcomed new son Wilfred, possibly his sixth child – although no one is entirely sure, given his colourful private life.
On May 10, he scaled back the lockdown and, in a car crash televised address, debuted his new slogan 'Stay Alert,' which was met with widespread confusion. The leaders of Scotland, Wales and Northern Ireland refused to follow his lead and the UK began to disintegrate as each nation followed its own rules.
But there were bigger problems in store as rumours began to swirl that Cummings was at the centre of another scandal, having broken lockdown.
Denials and rebuttals flew in both directions, before it was confirmed by Cummings in a bizarre press conference that he had driven 360 miles from London to Durham due to childcare concerns (and had done another 30-minute drive while there to 'test his eyesight').
As fury engulfed the country at this blatant show of double standards, BoJo stuck two fingers up at the prevailing mood by refusing to sack his trusted lieutenant.
In June, the chaos continued as more than a million children failed to return to school, against BoJo's wishes, due to the schools being unable or unwilling to accommodate them.
And of course, throughout his reign as PM, there has been a wave of innuendo and speculation about the nature of his relationship with Jennifer Arcuri, a US businesswoman who once had a stripper's pole in her living room.
A report decided a criminal investigation wasn't necessary over claims she was given public money and allowed to attend foreign trips due to her personal relationship with Boris.
But mystery still surrounds the nature of the intimate friendship and the Greater London Assembly is now looking into the affair, as the trips all occurred during his spell as Mayor of London.
Also on rt.com
Mainstream media tries to paint Britain as a Dis-United Kingdom that's polarised like the US. The truth is very different
Difficult tasks ahead
So, what to make of the last six months? Shambles. Fiasco. Catastrophe. Call it what you like. Many feared the worst when BoJo took over, but few could have predicted it would turn out quite the way it has.
And any light at the end of the tunnel is an oncoming train, because he is hell-bent on wrapping up Brexit in the next six months. The EU steadfastly reports progress is minimal, and the UK is on course to crash out with no deal.
That would be armageddon with the economy on life support post-lockdown. Government borrowing surged to a staggering £62 billion in April alone and eight million furloughed jobs are being underwritten by The Treasury, with many millions expected to face unemployment when that ends.
The Organisation for Economic Co-operation and Development predicts that the UK will be the hardest hit of all major economies in 2020, slumping by 11.5 per cent.
Now is the time for BoJo to recalibrate, focus on leading, listen to experts and swallow his pride about his ideals – he's craved the title of PM for years, now he has to actually act like one.
But we've seen little evidence so far that he's capable of doing this. It's enough to make many Britons wonder if Theresa May might have been a better option after all. Or even David Cameron.
Instead the country is being led by a man-child, who might be able to recite proclamations in Latin but is nothing more than a low-rent carpetbagger.
Britain deserves better.
Think your friends would be interested? Share this story!
The statements, views and opinions expressed in this column are solely those of the author and do not necessarily represent those of RT.
You can share this story on social media: