Uber cancels delivery fees for black businesses, fighting racism with...more discrimination!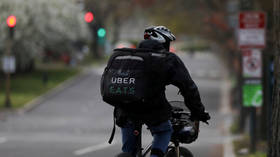 Wouldn't it be great if when you order take-out, your delivery company discriminated against restaurants based on race? That's not the musings of a hungry Klansman, but the actual policy of Uber Eats in 2020.
In the wake of George Floyd's death, protests and riots have swept the United States. And, in fitting with the woke times we live in, America's major corporations have all lined up to offer their own politically-correct corpo-speak statements, vowing to play their part in ending racism and injustice.
Ridesharing firm Uber has gone one step further, with a social justice-minded solution straight from the segregationist south of old. This week the company has announced that it would waive Uber Eats delivery fees for "black-owned restaurants" in the US and Canada, and would promote these businesses on its app. In addition, the firm also announced it would offer discounted rides for black-owned small businesses "hit hard by Covid-19" (but presumably not by the riots and arson of recent weeks).
You asked for a way to find Black-owned restaurants on Uber Eats. 🖤 We listened.You can support and order from Black-owned restaurants across the US & Canada with a $0 Delivery Fee. See app for terms & availability. pic.twitter.com/J2CBMJMfXN

— Uber Eats (@UberEats) June 4, 2020
"We know this isn't enough," company CEO Dara Khosrowshahi said in an email to customers. "It won't be enough until we see true racial justice. But we plan to work day in and day out to improve, learn, and grow as a company."
Promoting black businesses at the expense of others certainly seems like a bizarre inversion of Jim Crow-era segregationism. Were the races reversed, Uber would make Strom Thurmond proud.
It may also be illegal. Shortly after Uber announced the move, commentators piled on the company, accusing it of violating discrimination laws. Were the restaurants directly employed by Uber, that much would definitely be true. Title VII of the 1964 Civil Rights Act prohibits employers from discriminating based on race, color, religion, sex and national origin.
Uber only acts as a middleman, ferrying food from restaurant to consumer. However, the 1964 Act also bans racial segregation in public areas like restaurants, a provision that makes Uber's plan start to look legally suspect.
I'm pretty sure this is illegalImagine doing this for white owned businesses Hypocritical racist billion dollar companies virtue signaling through racism is incredibly insensitive+ you're violating discrimination laws in many states Absolute bad move

— ELIJAH (@ElijahSchaffer) June 6, 2020
Legal wrangling aside, Uber faces a more immediate problem of establishing just what makes a business "black-owned." Will the Silicon Valley firm dispatch teams of racial scientists to restaurants around the country? Will they grade restaurant bosses against a color chart to establish their blackness? Will they accept DNA test results, or deploy Nazi-style racial phrenology to assess their clients?
If any of these ideas seem ridiculous, that's because they are. But so too is attempting to reverse-engineer racial discrimination to satisfy the demands of the woke Left.
Uber is not the only organization to introduce such wacky solutions to racism though. It's just the latest. In 2017, Harvard University "celebrated diversity" by holding a blacks-only commencement ceremony. Research last year found that no fewer than 74 universities and colleges across the nation offer racially segregated housing options, in the name of giving minorities 'safe spaces', away from the specter of white supremacy.
Also on rt.com
Yes Black Lives Matter, but we mustn't allow being white to become the new original sin
Uber shouldn't get a pass just because it's on the 'right' side of the racial divide. And, as corporation after corporation fall over each other to proclaim their wokeness amid the US' worst race riots since 1968, customers should remember that discrimination based on skin color is still racism, no matter what the cause.
At the very least, the choice to spend their money discriminately – supporting black, brown, white or whatever-owned businesses – should be a matter of conscience, not a compelled choice.
Yet in an era when pledging fealty to the tenets of wokedom is a prerequisite to do business in America, and when white liberals literally kneel before their black peers and demand forgiveness for their supposed 'white privilege', the American public seem to have long given up on judging each other by the "content of their character."
But cheap soul food is a nice consolation prize, isn't it?
Think your friends would be interested? Share this story!
The statements, views and opinions expressed in this column are solely those of the author and do not necessarily represent those of RT.
You can share this story on social media: