Nike and more giants of corporate wokeness SIDE with the rioters – but that won't keep LOOTERS at bay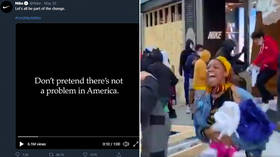 The global titans of corporate wokeness have sided with the mob. But virtue-signaling isn't going to stop their stores being looted, and isn't going to improve the lives of their sweatshop laborers.
In the intersectional hellscape that is the modern age, corporations can no longer just sell their goods to the masses. Instead, they must sell an image of woke piety. Gillette can't just sell razors, they must also chide their male customers into confronting "toxic masculinity." Ben and Jerry no longer sell ice cream, they sell anti-Trump #Resistance.
Also on rt.com
This is the BIG reason why corporate America has gone woke (plus 4 more)
Nike is a pioneer in this area, ever since it embraced kneeling NFL quarterback Colin Kaerpernick's brand of ethno-narcissism and grievance politics. As such, the brand with the swoosh didn't miss a beat when protesters took to the streets this week after the death of George Floyd in Minneapolis.
"Don't pretend there's not a problem in America," a solemn video from the sportswear giant wheedled on Friday. "Let's all be part of the change," it pleaded, urging its customers not to "make any more excuses."
Meanwhile, as Nike peddled performative melodrama, the protests in Minneapolis had since degenerated into riots. As Nike fought the good fight, a police station in the city was razed to the ground. Small businesses, many of them black-owned, were smashed and looted. Lawlessness spread like wildfire beyond the city too, with a fatal shooting reported in Detroit, explosives lobbed into CNN's headquarters in Atlanta, and vehicles torched in New York, to name but a few of the violent incidents that took place within HOURS of Nike's video being released.
Still, the corporate world had already decided that if they fired off enough moralizing ads, racism would be fixed and they'd sell more shoes, or something.
"Together is how we move forward," rival sportswear firm Adidas tweeted. "Together is how we make change." Logitech CEO Bracken Darrell went one step beyond Adidas' corpo-speak, penning a lengthy LinkedIn post apologizing on behalf of the white race. "Sorry is not enough," he declared. "We are all in this together." Streaming giant Netflix, meanwhile, reminded its subscribers that "to be silent is to be complicit. Black lives matter."
To be silent is to be complicit. Black lives matter. We have a platform, and we have a duty to our Black members, employees, creators and talent to speak up.

— Netflix (@netflix) May 30, 2020
However, none of this posturing changed anything. For all it's righteous indignation, Nike couldn't stop mobs smashing its stores and carrying off armfuls of Air Jordans. Likewise, it's extremely unlikely that anyone running from the multiple looted Target outlets with piles of tech gear stopped to think that Logitech's boss might be one of the 'good guys.'
Nike could come out with custom-designed rioting sneakers, daubed with Black Lives Matter slogans and stitched with the Antifa flag, and it wouldn't make a lick of difference. That's because corporate wokeness is a form of performance art, designed to appeal to guilt-ridden white liberals. At the end of the day, Woke Capitalism is still Capitalism, and they're who buy its products.
Were the Ku Klux Klan outspending young liberals in sports stores, you best believe Nike would sell white robes with the trademark swoosh.
Also on rt.com
WATCH laughing looters clear out Chicago Nike store in UNDER A MINUTE
Some may argue that the company is run by true believers; that Nike's woke activism is more than just a cynical ploy to shift units. But they'd be deluding themselves.
While Nike has appointed itself arbiter of social justice in America, it's still a corporate tyrant abroad. The company and its ilk couldn't give a crap about the third-worlders who stitch its sneakers.
Just ask the 500 Cambodian workers who were hospitalized in 2017 at factories supplying Nike, Puma, Asics, and VF Corporation. In one three-day period at these plants, some 360 workers collapsed on the job. None of these factories pay the Cambodian 'living wage' of $370 per month – or nearly enough to buy a pair of Nike Adapt BB 2.0 basketball shoes.
"Poor ventilation and chemicals inside and outside factories contribute to the gruelling working environment," the Guardian's report continued. In addition, Nike has also been accused of wage theft and abuse of workers, and of abandoning commitments to transparency.
Also on rt.com
Playing both sides: Despite woke advertising, Nike donates big to GOP
From the West, it's easy to ignore the welfare of third-world seamstresses. Their struggles take place a world away, and cutting sweatshop labor out of the supply chain would see thousands of products we take for granted disappear from the shelves.
But liberals who cheer Nike's woke pontificating might want to take a look at the company's political donations. During 2018's midterm elections, as Nike's "believe in something" campaign hit the internet, the company donated nearly four times as much money to Republican candidates as it did to Democrats.
Make no mistake about it, 'wokevertizing' is just another way for companies like Nike to grab headlines and separate the guilty from their money. Don't loot – but don't buy into the hype either.
Like this story? Share it with a friend!

The statements, views and opinions expressed in this column are solely those of the author and do not necessarily represent those of RT.
You can share this story on social media: