Want to take a knee or ask forgiveness? Go for it. The only 'white guilt' comes from those trying to stop you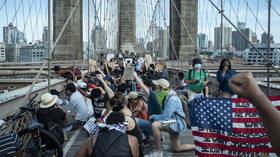 As the George Floyd protests continue, white people are condemning other white people over acts of support for people of colour. So who's applying the white guilt now?
If cliched phrases were on Spotify, "I'm not racist but…" would be a permanent fixture in the download Top 10. In the last few days, however, it's surged to Number One.
White people everywhere are telling the world how not racist they are – but also declaring that other white people shouldn't, you know, do things in a show of solidarity with black people.
"I'm not racist but you shouldn't take a knee.""I'm not racist but you shouldn't apologise." "I'm not racist but you shouldn't ask for forgiveness." "I'm not racist but you shouldn't put a black square on Instagram."
Making white people feel guilty. Sounds familiar.
Why shouldn't people do these things? Why is a gesture such a bad thing? In some individual cases, yes, it's probably quite shallow. Others might not get it. So what?
But small gestures can have big effects. When a cop takes a knee with protesters, or a kid asks a parent why Instagram is full of black squares, it's powerful and healthy. And even those people who only pop a black square on Instagram are doing something, which is better than doing nothing. Or, worse, actively denying that the issue even exists because you "don't see colour."
I've seen people argue that these gestures are making the problem worse, that they're somehow divisive, that racism only exists if we talk about race. The only way they can be divisive is if you're white and feel resentful at having to acknowledge how much easier you have things. But you're not racist, so you wouldn't feel that, would you?
As Caitlin Johnstone so eloquently explained, white privilege is very real. It can be a hard thing to comprehend because we don't know what the other side of the fence is like, and it's a very hard thing to acknowledge because no one wants to feel like they got a boost up the ladder.
Also on rt.com
Colin Kaepernick did the right thing. Black celebs like Jay Z and Beyonce aren't doing nearly enough in the fight for justice
It's also hard to let go of because it's really nice to have.
But, you see, no one's trying to make us let go of it; they just want a fair share of it. And no one's trying to make us feel guilty for having it. No one's forcing anyone to apologise. No one's making you take a knee.
Likewise, no one should be making you feel guilty for doing any of those things if you want to; that's the only white guilt, and it's not part of some 'liberal agenda'. If they don't want to make even the simplest gesture in support, if they want to remain silent or in denial while overt bigots and white supremacists shout loudest, that's their choice. They don't have to say or do anything.
Because they're not racist.
Think your friends would be interested? Share this story!
The statements, views and opinions expressed in this column are solely those of the author and do not necessarily represent those of RT.
You can share this story on social media: