Colin Kaepernick did the right thing. Black celebs like Jay Z and Beyonce aren't doing nearly enough in the fight for justice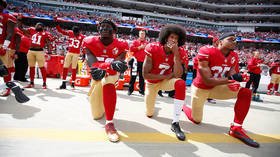 The former NFL player who was first to take a knee paid for his protest with his career. It seems other black stars are fearful of losing theirs if their response to US's race war is anything to go by.
The eruption of civil disorder across the USA leads back to one man: Colin Kaepernick. He was a star in the NFL, a quarterback who used his speed to run with the ball to thrilling effect.
His profile was significant, as you would expect of one of the leading players of a sport that is ingrained in America's DNA.
But he hasn't played since 2016, when he ripped up a $126 million contract with the San Francisco 49ers.
Kaepernick was forced out of the league after he began his now famous protest of 'taking a knee' while the US national anthem played.
Initially he sat down but this was missed by the media, and he wanted the world to be aware that he was rallying against the police brutality of black people.
Also on rt.com
'I don't see racism at all in the NFL': Denver head coach Vic Fangio says American Football sets a good example for US society
So dropping to one knee as the Star-Spangled Banner played became Kaepernick's sign of defiance.
His friend Brandon Marshall – who played for the Denver Broncos – copied the protest in the following weeks. At the time, he explained: "I'm standing up for what I believe in."
Commenting now after the tsunami of lawlessness that has engulfed the US over the past seven days, Marshall said: "I think people are looking at [Kaepernick] now like, 'OK, maybe he knew.' People didn't want to hear the message after, 'Oh, they were kneeling.' They didn't want that message, weren't ready for it, didn't listen."
Everyone should have listened. But in particular, why didn't the powerful, rich, influential black population in America listen?
Lengthy protest
Kaepernick kept up his protest for the 2016 season, dropping down as the anthem rang out.
It seemed like everyone took a jab; Donald Trump referred to him and any other player who took the knee as a "son of a bitch" while the NFL's commissioner Roger Goodell commented: "We live in an imperfect society. On the other hand, we believe very strongly in patriotism in the NFL."
Even today, the controversy lingers. Earlier this week Drew Brees of the New Orleans Saints said: "I will never agree with anybody disrespecting the flag of the United States of America or our country."
Kaepernick was clear in his motivation. He said:"I am not going to stand up to show pride in a flag for a country that oppresses black people and people of color. To me, this is bigger than football and it would be selfish on my part to look the other way."
Also on rt.com
Saints & sinners? NFL quarterback Drew Brees criticized by teammate after speaking out against players' kneeling protests
He stuck to his rhetoric and it cost him his career, as the league shunned Kaepernick. No team wanted to touch him due to pressure from sponsors and by refusing to compromise, he sacrificed all the years of effort and work it took to become a professional sportsman.
While still only 32, Kaepernick will never be able to turn back the clock and reclaim the peak years he has lost. That's what makes what he did even more inspiring.
He had the money and lifestyle to reap the benefits of all those hours honing his craft as a kid. But he refused to buckle.
What happened to George Floyd didn't only highlight the issue Kaepernick had tried to change. It highlighted the lack of action from his peers.
Full-page advert
Jay-Z is one of the world's most famous African Americans. His entertainment company Roc Nation took out a full-page advert dedicated to George Floyd's memory in newspapers such as the New York Times, the Chicago Tribune and the Philadelphia Enquirer.
It featured a quote from Martin Luther King, with Jay-Z one of the signees.
But he – and Roc Nation – agreed a deal with the NFL last year to oversee the league's entertainment programming.
He was also pictured laughing with Roger Goodell, about to shake hands. It's perplexing to say the least.
Also on rt.com
Jay-Z screams for justice in US jogger case, as video shows the accused are guilty. Would he do this if the victim was white?
Jay-Z was already an extremely wealthy man. Surely there was no need to do a deal with the NFL?
Similarly, his wife Beyonce has created a webpage linked to her social media to seek justice for George Floyd, and urged her fans to sign a petition.
But she was happy to attend last year's Super Bowl with Jay-Z and their daughter. How does that square with the way the league ostracised Kaepernick?
Perhaps America's biggest black couple could learn a lesson from Rihanna, who has stated she will not sing at NFL events because of the issue.
Social media activity
That same sentiment can be cast on others. LeBron James, the biggest name currently in the NBA, posted a message on Instagram with his Los Angeles Lakers teammates.It read "If YOU ain't wit US, WE ain't wit Y'ALL!."
Earlier this week Canadian rapper Drake handed over $100,000 to the National Bailout Fund, a black-centered organisation that supports people caught in the legal system.For the record, his annual earnings in 2019 were $75 million.
Another performer, Travis Scott, posted the black square to mark Blackout Tuesday on social media but still took to the stage at the Super Bowl last year.
TV mogul and billionaire Oprah Winfrey wrote on Instagram: "I've been trying to process what can be said or heard in this moment. I haven't been able to get the image of the knee on his neck out of my head."
Plenty more could be named and shamed.
This is not about forcing anyone into taking a stand. But making relatively paltry donations or throwaway social media posts is a betrayal of what Colin Kaepernick began.
Also on rt.com
Instagram narcissists, please tell us how exactly Blackout Tuesday helps address structural inequalities of US society?
If all these powerful black people want to change things, why don't they follow his lead? The sports stars should refuse to play. The effect would be devastating, as they're the stars of many of the major teams.
Pop stars and rappers should refuse to release music or perform concerts. Their work is adored by the younger generation, so leave the arenas empty.
Entertainers should refuse to participate in TV shows. Viewers love watching them, so leave the schedules bare.
Yes, it would cost them money and likely some fans too. But the black community, thanks to their very talented and hard-working people, has a sizeable over-representation in the fields of sport and entertainment. That's serious currency in the US. This will hit where it hurts, including the white industry bosses.
We've seen with Covid-19 that a systemic shutdown of industries can happen if there's a will.
So my message to America's black rich and famous? If you want to seriously help your oppressed people and seek justice, show it.
Kaepernick gave his career. You won't have to if you all do it together. Make change an action, not a wish.
Think your friends would be interested? Share this story!
The statements, views and opinions expressed in this column are solely those of the author and do not necessarily represent those of RT.
You can share this story on social media: