Anonymous is back & has 'declared war' on the US police. But does it even matter?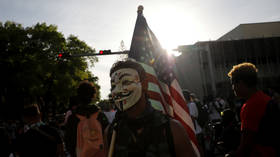 Like a phoenix, Anonymous, the once-infamous hacker collective, rose from the fires of burning US cities this week following protests against the killing of George Floyd, releasing a video declaring war on US police in response.
Anonymous, for any readers unaware, is a hacker collective that was once a regular feature on news channels throughout the world – known for various cyberattacks and leaks made against governments.
Founded in 2004, the decentralized group sports the Guy Fawkes mask as their symbol, drawing inspiration from the graphic novel 'V for Vendetta,' in which an anarchist revolutionary topples a fascist government.
Following George Floyd's killing, which after circulating widely online has fomented protests on both sides of the Atlantic, Anonymous, relatively quiet for the past three years, has woken from its slumber, promising to expose the Minneapolis Police Department's 'many crimes to the world,' by releasing email addresses and passwords of the department's website.
Also on rt.com
Anonymous declares WAR on Minneapolis Police in video message attributed to hacker group
But that is not the only threat the group has made in recent days. Although this writer always viewed Anonymous as more style over substance, it seems the clandestine group have a few more aces up their sleeves.
In the wake of the protests, the collective has leaked and hinted at several explosive reveals that are once again putting them on the map, and with good reason.
Together with the leaked emails, the group has once more brought into the public eye what it alleges to be Jeffrey Epstein's little black book of contacts.
Mr Epstein is of course the disgraced billionaire pedophile who died in his cell last year. Many attest that Epstein was murdered, citing that he may still have been able to avoid jail thanks to his affiliated network of individuals spanning the upper echelons of celebrity, royalty and business who would have been happy to see him go. In short, it seems that his unfortunate demise led to the fortunate lack of reprisal for many.
You can read 'Jeffrey Epstein's Little Black Book,' which first appeared in court documents from Epstein's 2008 prosecution for procuring underage girls for sex, here.
Also on rt.com
Bill Clinton hung out with Epstein because of affair with late financier's madame Maxwell, new book alleges
In any case, Epstein's little black book is a long and varied read. To name and shame but a few on the document spanning almost 100 pages, we can find former prime minister of the UK Tony Blair, Hollywood actor Dustin Hoffman of 'Rain Man' fame, and even the nephew of George Soros, Peter Soros.
To this day, it is unconfirmed whether this list is of actual or aspirational acquaintances or both. However, your odds of being a bit on the shady side ride a lot higher if your name is on it. Prince Andrew, who we now know was an actual acquaintance, for example, does feature.
However, as groundbreaking as this story was initially, the problem with Anonymous and how it is sharing headlines across the media world this week is why we should begin questioning the group's validity.
An offshoot of Anonymous, Operation Death Eaters, for example, already took a lot of credit in 2019 after sharing secret files belonging to Jeffrey Epstein.
Amongst the files linked were – you guessed it – his little black book. However, the sad reality for these two groups, both infamous for hacking and infiltrating the internet, is that the little black book was already found readily available in a 2015 article by the now defunct Gawker.
We need your help amplifying this and finding more information on #Epstein's net of conspirators. You can start by searching inside his personal address book the infamous 'little black book'; see any familiar names? Post them in the #OpDeathEaters hashtag. https://t.co/yKv5ng7gW5

— OpDeathEaters (@OpDeathEaters) February 22, 2019
Then there are the new Princess Diana leaks, which suggest that she was murdered for threatening to blow the lid on a widespread conspiracy sex-trafficking network. This, too, is from over a year ago, posted once again from its affiliate OP Death Eater group.
But what about the released emails? Isn't that showing that Anonymous is here to save us from the Minneapolis police state enforcers? Apparently not, according to Troy Hunt, owner of Have I Been Pwned, which tracks stolen credentials, who says the claims by Anonymous are "certainly fake." Some 659 of the 689 Minneapolis police emails, for example, were already available in the Have I Been Pwned database, much of which was sourced from a 2012 LinkedIn data breach.
And it is for this reason, amongst the lies and distortions of past and present leaks – clear attempts to direct traffic to their other social media profiles (yawn) – that it matters zilch that Anonymous has declared war on the Minneapolis police. For at this point, they've done even less than I have to help the protesters, apart from make another one of their edgy videos.
Like every other company today, Anonymous has decided to adorn that same virtue-signaling mask we see everywhere elsewhere. We are legion, indeed.
If you like this story, share it with a friend!
The statements, views and opinions expressed in this column are solely those of the author and do not necessarily represent those of RT.