Moscow has secret Covid-19 CURE for chosen elite: Western media's favorite Russian pundit voices new conspiracy theory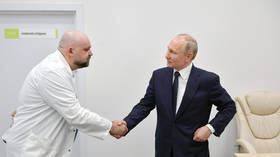 As a rule, Western correspondents covering Russia – either by necessity or design – often use extreme or fringe voices to fit their reporting agendas. One of the most frequently cited may have finally jumped the shark this week.
A handful of Russian 'experts' frame the narrative in the US/UK media. The most widely featured include Tatyana Stanovaya of the Carnegie Center (an American think tank funded by George Soros, the US and UK governments, and the EU), Gleb Pavlovsky (a former Vladimir Putin adviser and political strategist, who was dismissed in 2011) and Valery Solovey, once a professor at Moscow's prestigious MGiMO University.
Putting aside Stanovaya (reasonable enough, albeit one-note) and Pavlovsky (so far past his sell-by date that he's a political museum piece) the continued platform granted to Solovey is incomprehensible. The academic is a David Icke-style conspiracy theorist who makes Alex Jones and Rachel Maddow look like perfectly balanced operators.
On Tuesday, he told listeners of liberal radio station Echo of Moscow that the Russian government has a secret drug to cure Covid-19 which is reserved for only a select few.
Валерий Соловей в эфире "Эха" рассказал, что лекарство от коронавируса уже есть, но его дают не всем. Дали Кадырову и ещё немногим. А вот Мишустину не дали, например."Вирусолог Соловееей, непростое украшееенье..." pic.twitter.com/RVJkqCMvoW

— настоящий Низовцев (@zimbru_khv) May 26, 2020
Solovey was speaking about reports on the condition of Ramzan Kadyrov. Some Russian media outlets had suggested that the Chechen leader had been flown to Moscow for treatment after showing symptoms of the virus.
"In Moscow they gave him a medicine, there is a very effective drug for the coronavirus, extremely effective, a few people got it already, people who are very close to the Kremlin, and to Mr Putin," he explained. "By the way, Prime Minister (Mikhail) Mishustin didn't get this medicine, this drug in 2-3 days healed all symptoms of coronavirus."
Also on rt.com
Russian capital to see quarantine rules relaxed as govt outlines anti-coronavirus plan until 2021
In Solovey's La La Land
Basically, Solovey, in all seriousness, was saying that the Kremlin has found a cure for Covid-19, and is keeping it secret from the whole world. Not only that, Putin was apparently willing to take the risk of his own prime minister dying from the disease, and presumably his press secretary, Dmitry Peskov, as well, but decided to save himself, the leader of Chechnya, and a few others. Both Peskov and Mishustin were hospitalized in recent weeks.
Not only does Solovey think Putin is some kind of sociopathic remedy hoarder, keeping the elixir for himself while tens of thousands die around the globe and economies are devastated (including Russia's), he clearly believes the Russian president has no concept of commercial value. Could you only imagine how much money Russia could make from mass producing an antidote to coronavirus right now?
Also on rt.com
How US & UK media have ratcheted up Covid-19 information war against Russia to distract from problems at home
Let's say the Kremlin charged the reasonable sum of $100 a dose, and every advanced country in the world bought up enough to cover half of their populations? That would be $16 billion from the US alone. Plus, another $22 billion from the European Union, with China paying out another $35 billion. At that rate, Putin could save the world, and go on a $100 billion domestic infrastructure splurge, sending his popularity to new heights, both at home and abroad.
But no, according to Solovey, Putin would rather spend spring in lockdown at his residence outside Moscow, while unemployment and discontent grows in Russia, and even the May 9 parade to celebrate the 75th anniversary of Soviet Russia's World War II victory over Nazi Germany had to be postponed. Not to mention the national vote to change the constitution, back in April.
Clearly, Solovey is a crank and a loon. But he has, without question, been among the top few voices most commonly solicited by British and American journalists in Russia in recent years. This, once again, serves to expose the incredibly low standards of Western media in covering the world's largest country. A diet of mostly agenda-driven feckless hacks citing inept agenda-driven pundits, with readers, unwittingly, consuming an absurd cocktail of drivel.
Also on rt.com
I've been to China's wet markets and eaten their wonderful delicacies. Demanding their closure over Covid-19 is cultural snobbery
Honest reporting?
In February, he warned Russia would invade Belarus, even putting a time scale on it ("within a few days"). This obviously didn't happen.
That came after a crazy prediction last summer that Moscow street protests were set to bring down Putin. These were small events, not even close to the size of similar demonstrations in 2011 and 2012.
Earlier last year, he predicted the Russian "system will collapse. [The] Key phase of [the] crisis will last a few days: days that will shock Russia & affect the world." This was relayed by BBC's Moscow correspondent to his Twitter followers.
Fascinating article in a mainstream Russian paper today, claiming "Putin's no longer the guarantor of stability". Political scientist predicts "the system will collapse. Key phase of crisis will last a few days: days that will shock Russia & affect the world." #ReadingRussiapic.twitter.com/gnEHzNfHl8

— Steve Rosenberg (@BBCSteveR) April 5, 2019
Back in 2016, Solovey said Putin was going to quit because he was sick, adding that "the truth" would emerge by December of that year. US/UK media dutifully reported it, with the Daily Mail – Britain's best-selling newspaper – treating it like fact. Again, we know it wasn't true.
Three years before that, in 2013, Solovey said Putin's system was "degenerating" and would be "swept away" – just 13 months before the president's approval ratings went above 80 percent after Moscow's reabsorption of Crimea.
However, the most ludicrous example arguably arrived in 2017 when the Independent's Moscow correspondent claimed he had a 'scoop'"on how Putin nearly quit last year – and why Russia is teetering on acute political crisis." His main named source was, of course, Valery Solovey. Oliver Carroll told his readers that Russia was "teetering at the edge of an era."
"The last time I felt like this was at the end of the Soviet Union," he quoted Solovey as saying. "And, worryingly, people who were around at the time are telling me they feel exactly the same." To make things even more bananas, this atrocious piece of journalism also featured Pavlovsky.
Also on rt.com
Does Trump know his own government indirectly bankrolls some key promoters of the 'Russiagate' hoax?
Valery Solovey is not a reliable source. He is a conspiracy theorist. Western journalists in Moscow have long known this, but have continued to promote his punditry, to serve their own agendas. After his latest madcap outburst, will they keep quoting him? Or is this the moment the wacky professor finally gets put to the pasture?
Of course, they may be hoping that Solovey is proven right and Putin does have a secret Covid-19 cure. For that there are two hopes – Bob Hope and No Hope, and Bob Hope is dead.
Like this story? Share it with a friend!
The statements, views and opinions expressed in this column are solely those of the author and do not necessarily represent those of RT.
You can share this story on social media: