How US & UK media have ratcheted up Covid-19 information war against Russia to distract from problems at home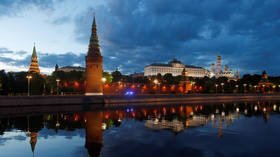 For a few weeks it seemed British and American media had decided to tone down its usual Russia-bashing while the country grappled with the coronavirus pandemic. Sadly, it was too good to be true.
Especially given the fact neither London nor Washington has much to brag about in their handling of the crisis.
In fact, even some Western hacks in Moscow privately concede that Vladimir Putin and his team have managed things better than Boris Johnson and Donald Trump's officials.
But that's off the record. In public it's different, because news editors back home in London and the US call the shots in that regard. Given 36,000 of the 88,000 workers employed in American newsrooms have either lost their jobs, had their pay reduced or been hit with part-time furloughs since January, now's certainly not the time for mavericks. Even if any of the Russia focused "hack pack" were pondering the idea of breaking ranks.
Here are some headlines from the past week: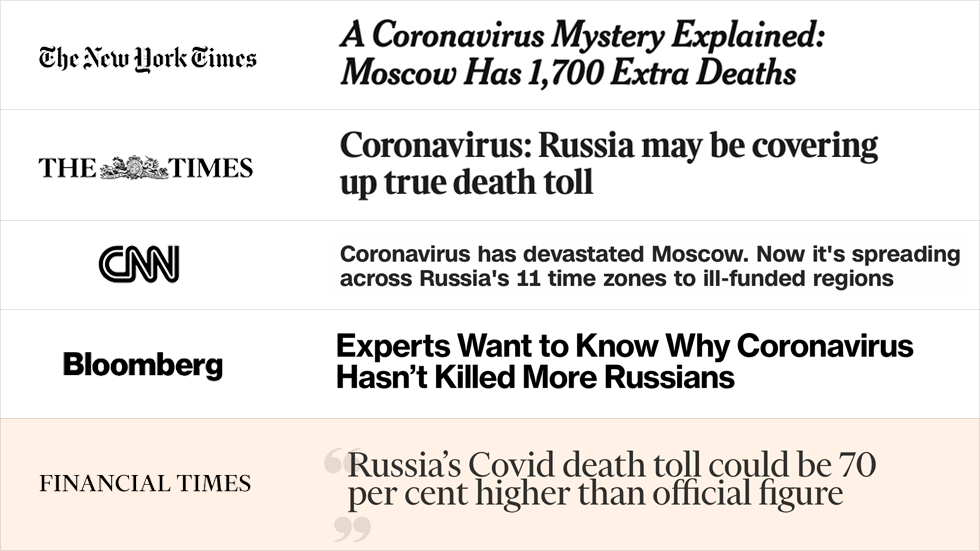 So are these US/UK media reporters truly concerned for the health and safety of Russians, or is this about diversion? Well, the headlines clearly point to the latter scenario: Anglo-American media trying to distract from catastrophic policy failures at home by exaggerating the malaise in a "bad" country.
Of course, there are issues in Russia. But they pale in comparison to the situation in Britain and America. For instance, even if the Financial Times were right about Russian numbers being 70 percent higher than advertised, it would put Russia's overall Covid-19 death toll at 4,822, compared to 91,985 in the US and 34,796 in the UK (with less than half of Russia's population), at the time or writing. That's of course if you believe the US/UK totals are sacrosanct, which they clearly are not.
In reality, Britain and America's official statistics are definitely way off the mark. As the Economist reported, earlier this month, the real British tally of fatalities between March 14 and April 24 was around 42,140, 84 percent higher than what London claimed. This discrepancy was down to miscounting in care homes and other institutions.
NEW We've updated our analysis of excess mortality, to see how well different European countries' official covid19 data capture underlying deaths:- Germany, Sweden, France + Belgium doing well (87%-97%)- UK and Netherlands rather less so (51%-54%)Source @TheEconomist@J_CD_Tpic.twitter.com/7XkBKAAw2P

— Sophie Pedder (@PedderSophie) May 7, 2020
If you submit to the FT's estimate of 4,822 and set Britain's toll at Monday's count of 34,796, plus 84 percent, then the UK's overall death rate, per capita, is an astonishing 29 times higher than that of Russia, which sums up the farcical and nonsensical nature of the newspaper's focus on Russia. If Vedomosti – its Moscow equivalent – pulled the same stunt in reverse, Russians would rightly ridicule the reports.
As it happens, Russian officials have been open about the fact that reported statistics are not gospel. Moscow Mayor Sergey Sobyanin has already admitted that his city probably has around three times more Covid-19 infections than have been registered.
After news broke over the weekend that the southern republic of Dagestan had far more deaths from complications associated with coronavirus (including at least 40 medical workers) than previously known, President Vladimir Putin spoke to the Mufti of the majority Sunni Muslim region on national TV. In tandem the head of Russia's health watchdog, Rospotrebnadzor, Anna Popova clearly explained the extent of the outbreak.
Also on rt.com
Western journalists & politicians MOCK Russian doctors driven to suicide by Covid-19 pressures
This is not the behavior of a government trying to hide the reality of the epidemic. Clearly a lesson has been learned from Soviet times, when information was routinely, and very deliberately withheld from the public. In today's Russia, when the Prime Minister Mikhail Mishustin got the virus, it was announced almost immediately, on live TV and radio, and across social media.
Contrast that transparency with the obfuscation over Boris Johnson's condition in Britain. On April 3, he posted a video saying he was "feeling better" but still had a few "minor symptoms." A couple of days later, he was in intensive care receiving oxygen.
After a somewhat shaky start, the Kremlin's messaging has been consistent. Russia's leadership has avoided conspiracy theories and the promotion of false remedies. It was in Arizona, not Astrakhan, that a man died after he ingested chloroquine phosphate. A 'remedy' his president had falsely claimed was approved to treat coronavirus.
While Boris Johnson was boasting about shaking hands with "everybody" , Putin took expert advice and cocooned himself at his Moscow residence, holding most meetings remotely. One of the two leaders contracted the virus, ended up in hospital and almost died. It wasn't Putin.
Putin is six years younger than Trump. While the Russian president is largely running his government by video conference, his American counterpart insists on pressing the flesh and conducting his business at close to normal. Both are in the at-risk category for coronavirus, especially the overweight resident of the White House. Putin has heeded the medical advice, Trump has not.
Mind you, this hasn't satisfied the Guardian. "Putin's decision to shield himself from harm, isolating away from Moscow, has badly dented his image as fearless tough-guy leader," it reported on Sunday. Of course, if Putin were personally running a field hospital in Red Square, the same newspaper would accuse him of setting a bad example by not staying at home.
As the US and UK continue to grapple with Covid-19, and elites presumably fear the eventual reckoning over their handling of the crisis the focus has conveniently turned to a traditional bogeyman. Predictably, the politicized narrative focuses on the country's alleged failings rather than its successes.
Distraction is a well-known coping strategy in stressful situations. But spreading sensationalist stories on Russia's response to coronavirus won't make the situation better in London or New York.
If you like this story, share it with a friend!
The statements, views and opinions expressed in this column are solely those of the author and do not necessarily represent those of RT.
You can share this story on social media: