Hypocritical Irish PM tells his people not to picnic during lockdown, then sunbathes bare-chested while picnicking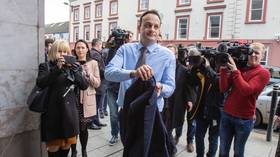 In his latest PR blunder, and ignoring his own government's Covid-19 advice, Leo Varadkar was snapped enjoying a picnic in a park. The tasteless photos of him laughing and joking have left a bad taste in the mouths of the public.
It's perplexing how a supposedly media-savvy politician such as the Irish caretaker prime minister, or taoiseach, Leo Varadkar has such an unfortunate propensity of putting his proverbial foot in it.
In his short tenure as leader, Varadkar has suffered more hiccups than a drunken sailor on shore leave. And that's despite setting up a new government strategic communications unit and spending "more than 126 times the amount" on advertising and marketing than his predecessor during his first year in office alone.
Just one example of how he's nothing short of an international embarrassment: in the fall of 2018, the world's media reported how he wrote a gushing letter on official state notepaper to gay icon Kylie Minogue in a desperate effort to meet her when she was visiting Dublin.
But, never mind putting his foot in it, Varadkar has now really rubbed the public's nose in it with the topless pictures of him enjoying a picnic with friends in Dublin's Phoenix Park on Sunday.
Also on rt.com
It will 'take months for EU travel to return to normal,' says Irish PM Varadkar
After snaps of him sunbathing started circulating on social media on Monday, his spokesperson issued a statement saying he "broke no laws" and "breached no regulations." But Varadkar can't defend himself against accusations of being a hypocrite because his actions fly in the face of his own Covid-19 guidelines.
He clearly has a very short memory because it was only a week ago that the assistant secretary of the Department of the Taoiseach told a media briefing: "If you're visiting a public amenity, try not to stay too long at the site or have picnics. Please do your exercise and then go home."
By ignoring his own government's guidelines, the PM's cavalier approach to the lockdown is very much a condescending case of do as I say, not as I do. If nothing else, he was being a pompous, elitist fool and setting a bad example that will only encourage others to ignore the rules.
It may be a storm in a teacup, but Varadkar – who, to add insult to injury, "appears to be less than the required two-meter social distance from one of his friends," in one of the pics, according to the Irish Daily Mirror – is very fortunate that this embarrassing incident didn't land him in even more hot water, like Dominic Cummings across the pond.
Since the current lockdown laws in Ireland mean the general public are only allowed to travel within a five kilometers (three miles) radius of their home, it was understandable that the local media smelled blood when they discovered Varadkar had been pictured with his partner and two friends some eight kilometers from their apartment.
But the taoiseach conveniently had one of those 'get out of jail free' cards, because it's now emerged he's been staying in a plush state-owned lodge on the grounds of Farmleigh estate, which is only three km from where he picnicked. He's been residing there because it "has secure office and video conferencing facilities, which allows him to work from home." Besides, it's apparently costing him only €50 (equivalent to $55) a night, too.
But doesn't it strike you as odd that a national leader – one who's a self-confessed workaholic, to boot – wouldn't have such conveniences at his own plush apartment? The cynic in me would love to see the receipts for his stay at Farmleigh.
Also on rt.com
Ireland extends coronavirus lockdown to May 18 as PM gives first details for easing restrictions
If it weren't bad enough having to stomach the smugness of the Irish PM flouting his own rules, I reckon the sight of a topless Varadkar splashed all over the Irish papers on Tuesday morning would've put anybody off their breakfast. You'd understand it better if he looked like Putin in his prime, but the only thing the PM, a qualified doctor, has to get off his chest here is a public apology.
Of course, this is the same Varadkar who nobly went back to work one day a week as a doctor during the pandemic – with the solemn vow that it wasn't a PR stunt and he wouldn't be posing for pics when on duty. But – surprise, surprise – he was soon pictured doing just that.
I can't recall any other Irish PM in living memory who has made so many embarrassing slip-ups or as many remarkable volte-faces as Varadkar. I'm still baffled how Varadkar – now a champion of gay rights, who was once pictured with a rainbow flag draped proudly around his shoulders – was also once against same-sex marriage and gay couples adopting, believe it or not. Anybody is entitled to change their opinion, as Varadkar also did on abortion – but isn't it peculiar how a gay man once wanted to deny such civil rights to his own LGBTQ+ community?
Also on rt.com
Ireland to consider easing restrictions every 2 to 4 weeks – Varadkar
It's a subject I wrote at length about here, in which I pointed out, "These are all views espoused by US President Donald Trump – and not, you would imagine, something you would hear being uttered by a so-called progressive Irish politician, which is how he likes to portray himself to the world media."
I also still laugh at how Varadkar was left with egg on his face when he once said he "wouldn't be keen" on Donald Trump visiting Ireland – only then to become PM himself and end up fawning all over the US president in the Oval Office and even promising to learn how to play golf if the Leader of the Free World ever popped over to Ireland.
As I've always said, if an MRI scan was carried out on Varadkar, I doubt it would find any backbone. I believe he's a spineless character willing to disregard once strong-held convictions to hold on to power.
I certainly couldn't see any backbone on display in those photographs. Forget just needing to learn how to keep his big mouth shut, Varadkar should also keep his shirt on. Because the Covid-19 pandemic is certainly no picnic.
Like this story? Share it with a friend!
The statements, views and opinions expressed in this column are solely those of the author and do not necessarily represent those of RT.
You can share this story on social media: