#PassTheMic is Bill Gates' latest celebrity-backed push for globalism, but who wants more dour experts on their news feed?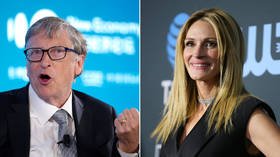 A new Bill Gates-backed project sees coronavirus experts like Dr. Anthony Fauci 'take over' celebrity social media profiles to encourage a "global response" to the pandemic. But aren't people tired of the same old talking heads?
Microsoft founder Gates has long been a vaccine evangelist and the boogeyman in a million 'population control' conspiracy theories. Now, with the coronavirus pandemic ongoing, he's teamed up with a host of likeminded experts – among them Dr. Anthony Fauci of the White House coronavirus task force and Dame Minouche Shafik of the London School of Economics – and celebrities to spread his message of global togetherness to the masses.
Under the hashtag #PassTheMic, each celebrity taking part will surrender their social media accounts to a new "expert" every day; people who according to the campaign's promotional video "know what they're talking about."
Actress Julia Roberts kicked things off on Thursday when she handed her Instagram account over to her "hero" Fauci, who touted the latest developments toward vaccines and therapeutics, and the importance of a "global response" to the virus.
Friday saw London School of Economics Director Dame Minouche Shafik again call for a global response to the crisis, railing against travel bans, nationalism and protectionism, and calling for cash transfers to the third world. In her blog post, she also found the time to warn of the potential rise of Nazi-like extremism as a result of Covid-19.
Also on rt.com
US Fed blames rise of Nazis on Spanish flu in preemptive bid to dodge responsibility for post-Covid extremism
#PassTheMic is organized by the One Campaign, an NGO founded by perpetual tosspot singer Bono and funded by the Bill and Melinda Gates Foundation. Though it sets itself the lofty goals of ending poverty, inequality, discrimination and disease, the One Campaign was slated in 2010 for donating only 1.2 percent of its funds to charity, and a whopping 53 percent to salaries. Furthermore, despite its focus on alleviating African poverty, the One Campaign was found in 2018 to have dodged tax in South Africa, and the organization's higher-ups were accused of abusing employees there for half a decade.
In response to the salary controversy, the One Campaign described itself as an advocacy organization and not a charity. During the coronavirus outbreak, this advocacy has continued unabated. Its #PassTheMic videos and posts link to a page urging readers to demand an international response to the disease. In the words of Dr. Craig Spencer, who'll be taking over Sarah Jessica Parker's social media, the goal is a "permanent and hopefully sustained change in the consciousness of who we are together."
A conspiracy theorist would call this a PR campaign for the New World Order. A cynic would call it peak Western liberalism: feelgood mantras like "trust the science" and "global action" repeated by celebrities to push international homogenisation and siphon money from the West to the global south (with the One Campaign's administrators taking a generous cut along the way).
But who cares? Who's being won over by Julia Roberts' Fauci fangirling? Who's salivating at the thought of a neoliberal lecture from Dame Minouche Shafik? And who, more importantly, is going to be converted to the globalist cause by these celebrities?
Also on rt.com
'We're prepared for the consequences': US Gym bosses face JAIL for 'constitutional right' to open for 2nd straight day
#PassTheMic isn't going to appeal to anyone unreceptive to this cause in the first place. It's a campaign aimed at the 'rootless cosmopolitans' and not the regular stiffs sick and tired of seeing the likes of Fauci on television. Can you imagine a lockdown protester in New Jersey deciding to "trust the science" after tuning in to Julia Roberts' Instagram story? Or the swathes of recently unemployed Washingtonians who just got scammed out of their benefits agreeing that the US really needs to send more money to Africa on the advice of a British economist?
Or anyone affected by the illness and lockdown measures caring what celebrities think in the first place? From a naked Madonna calling the virus the "great equalizer" from her bathtub, to 'Wonder Woman' actress Gal Gadot leading a star-studded and horribly off-key rendition of John Lennon's 'Imagine' from her mansion, the coronavirus has shown celebrities to be even more grating and attention-seeking than ever during isolation.
The global do-gooders and officially-approved "experts" can come up with any amount of hashtags and enlist the help of any celebrities they want, but when all's said and done, if they're repeating the same platitudes, it's just more preaching to the choir.
Think your friends would be interested? Share this story!
The statements, views and opinions expressed in this column are solely those of the author and do not necessarily represent those of RT.
You can share this story on social media: